Alternators are the devices that convert any kind of mechanical energy from a prime mover into alternating electric power (AC current), at specific voltage and frequency. Since its first introduction, alternators have become an essential part of modern day power generation system. Rising demand for power for a variety of applications has resulted into an increase in the penetration of alternators. Applications such as automotive, industrial manufacturing and Processing, power plants and many others make extensive use of alternators in order to fulfill their power requirement. Alternators are used extensively in power generation plants using non-conventional energy sources.
The post-recession revival of the automotive industry is one of the major factors contributing to the rise in demand for alternators. Every modern day on-road vehicle is equipped with an alternator in order to provide AC electric supply to different modules of the vehicle. With the consistent rise in automotive industry, the demand for alternator is also expected to demonstrate considerable growth during the forecast period. Similarly, perpetually rising power consumption across applications such as marine, telecommunication towers, commercial and residential infrastructures is another prominent factor promoting the alternator market. In addition, alternators are used for locomotive traction motors, marine and mining application. Growing heavy industries and consistent rising demand for AC power supply is expected to continue boosting the overall alternator market in the following years.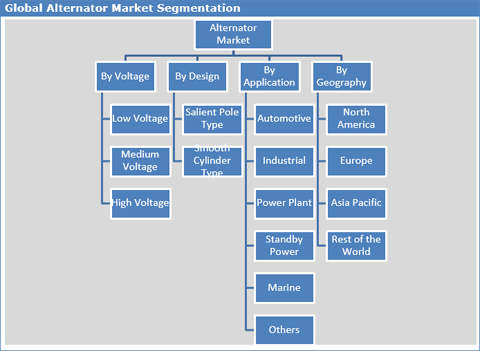 The report titled "Alternator Market- Growth, Future Prospects and Competitive Landscape, 2017-2025 offers strategic insights into the global alternator market with the market size and estimates for the duration 2015 to 2025. The said research study covers in-depth analysis of multiple market segments based on voltage, design, application, and cross-sectional study across different geographies. The study covers the comparative analysis of different segments for the years 2016 & 2025. The report also provides a prolific view on market dynamics such as market drivers, restraints, and opportunities.
In order to help strategic decision makers, the report also includes competitive profiling of the leading alternator manufacturers, their strategies, market positioning and key developments. Some of the major players profiled in the report include Controlled Power Technologies, Ltd., Valeo Group, Lucas Electrical, Ltd., Controlled Power Technologies, Ltd., ASIMCO Technologies Ltd., Hitachi Automotive Systems, Ltd., Hella KGaA Hueck & Co (Japan), Mitsubishi Electric Corporation, The Bosch Group, Denso Corporation, Mitsuba Corporation, Cummins, Inc., and Emerson, Electric, Co. among others. Other in-depth analysis provided in the report includes:
Current and future market trends to justify the forthcoming attractive markets within the alternator market.
Market fuellers, market impediments, and their impact on the market growth
Market inclination insights including evolution of alternators and key trend analysis for alternator market
In-depth competitive environment analysis
Trailing 2-Year market size data (2015 – 2016)
SRC (Segment-Region-Country) Analysis
Overall, the research study provides a holistic view of the global alternator market, offering market size and estimates for the period from 2017 to 2025, keeping in mind the above-mentioned factors.