Key Market Insights
"Increasing application of trace chemical detector in security driving the market"
Trace chemical detector (TCD) is widely used in a number of industries such as defense & security, chemical & pharmaceutical, oil & gas, and healthcare & research. Predominantly, a trace chemical detector is essential for contamination analysis, chemical composition analysis, elemental trace analysis, impurities analysis, trace metal analysis, etc. To keep the surrounding, product, and people safe from any chemical ill-effect, these industries primarily use trace chemical detectors. The growing need of TCD from the above-mentioned industries is driving the global trace chemical detector market with a CAGR of 6.1% from 2019 to 2027.
Chemical trace analysis is vital for maintaining a product's purity; especially during manufacturing processes. Even a minute amount of foreign chemical present during the manufacturing process can lead to quality deterioration or in worst case mishap like a blast of severe nature. In pharmaceutical and healthcare industry chemical agents such as chlorine, phosgene and cyanide and nerve agents such as sarin, soman and tabun are of major concern as manufacturing, transportation, and dispersion of these agents is easy. Rapid detection of these chemicals using TCD enables faster, efficient and tailored response by military, first responders and homeland security and helps to control the situation in minimum time.
Moreover, with the advancement in technology, TCD systems are miniaturized to a handheld device that has great potential to use in public places such as airports, metro stations, government offices, malls and other likely places where there is a usual gathering of people. In 2018, the global trace chemical detector market was accounted for US$ 1.93 Bn and estimated to grow with a CAGR of 6.1% during the forecast period.
Market Snapshot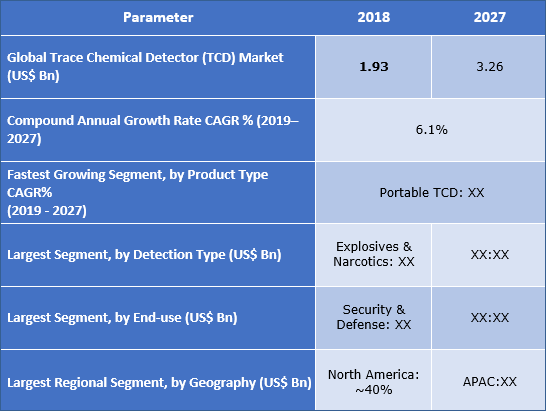 Get a sample copy for more information
End-use Segment Analysis
"Explosives and narcotics segment majorly driving demand"
A growing number of airports across the globe and strict security policy at the airports is driving the demand for explosives detector across the globe. The rising threat from the terrorist organizations and increasing incidences of drug-trafficking across the world has a high demand for the narcotic detectors. Also, increasing concern about air-passenger safety and the threat of hi-jacking further influencing the market. Further, major players in the market are actively partnering with other airport authorities to increase their sales. In November 2019, Smiths Detection Group Ltd. has been awarded the Gold Coast Airport of Sydney, Australia. The company is setting its HI-SCAN 6040 CTiX that provides advanced explosives detection with low false alarms rates.
Get a sample copy for more information
Regional Analysis
"North America the largest & Asia Pacific, the fastest market"
North American region has a highly developed chemical, and pharmaceutical industry. The U.S. is the major market for TCD, as high demand is coming from its security and defense sector. Further, a large number of airports present in the region along with its tight security protocols has high demand from homeland security, airport security, and other important government premises. In 2018, the North American region has captured over 40% share of the global trace chemical detector market.
Furthermore, the U.S. has the biggest oil refinery capacity with over 18.8 million barrels per calendar day of refining capacity as of January 2019 and the oil boom of the North America and presence of major chemical companies such as DuPont, Linde plc., Air Liquide, BASF SE, the region has a high demand for TCD. Additionally, Asia Pacific has shown the great potential of growth in 2018. The regional countries like China and India showing high growth in its chemical, pharmaceutical, healthcare, and defense industries owing to its growing economy. This, in turn, has a high demand for TCD, thereby growing its share in the global trace chemical detector market.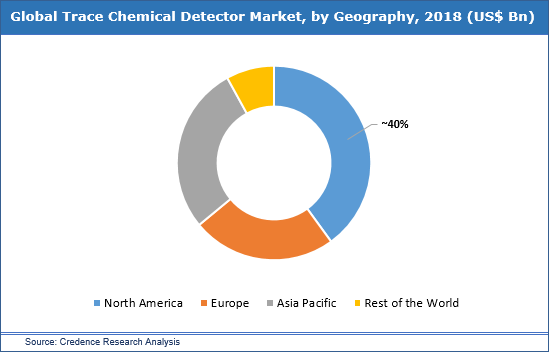 Get a sample copy for more information
Key Industry Development:
In December 2019, Rapiscan Systems received an order of US$ 15 million from the leading global logistics company. The company will provide multiple units of Rapiscan® RTT® 110 installed with explosives detection systems.
In November 2019, Rapiscan® Systems RTT®110 has achieved ECAC 3.1 standards, awarded by European Civil Aviation Conference (ECAC). ECAC standards is the highest testing standard used for explosives detection systems in Europe. With this recognition, the company has established its excellence in explosives detection systems.
"Emerging partnership trend is keeping the market competitive"
The overall trace chemical detector market is fragmented and market players are focusing on partnership with other players to boost their market position. Following is the list of companies covered in this report.
List of Companies Covered:
ABB
Siemens
FLIR® Systems, Inc.
Smiths Detection Group Ltd.
RIGAKU CORPORATION
TeknoScan Systems
AMETEK Inc.
Rapiscan Systems
Bruker
Nuctech Company Limited
Others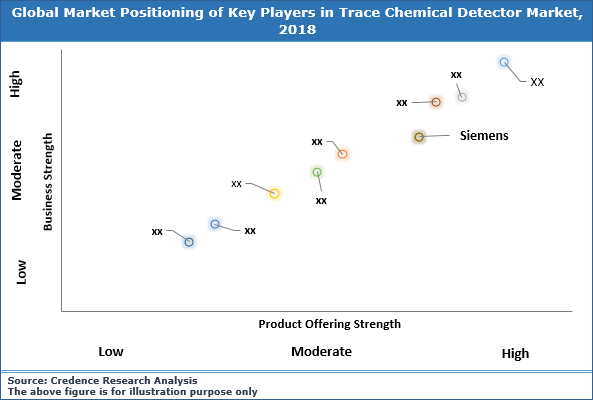 Historical & Forecast Period
The research report presents the analysis of each segment from 2017 to 2027 considering 2018 as the base year for the research. Compounded annual growth rate (CAGR) for each respective segments calculated for the forecast period from 2019 to 2027.
Market Segmentation
ATTRIBUTE
DETAILS
Research Period
2017-2027
Base Year
2018
Forecast Period
2019-2027
Historical Year
2017
Unit
USD Billion
Segmentation

Product Type Segment (2017–2027; US$ Bn)
• Benchtop TCD
• Portable TCD

Detection Type Segment (2017-2027; US$ Bn)
• Explosives & Narcotics
• Hydrocarbons
• Composites
• Metals & Alloys
• Polymers

End-use Segment (2017-2027; US$ Bn)
• Security & Defense
• Oil & Gas
• Healthcare
• Chemical & Pharmaceutical

Geography Segment (2017–2027; US$ Bn)
• North America (U.S. and Rest of North America)
• Europe (U.K., Germany, France, and Rest of Europe)
• Asia Pacific (Japan, China, India, and Rest of Asia Pacific)
• Rest of World (Middle East & Africa (MEA), Latin America)
The current report also comprehends qualitative market valuation factors such as key market drivers, market trends, restraints and opportunities that give a better market understanding of the global trace chemical detector market. Additionally, the global report also comprises a graphical representation of a competitive landscape based on their market initiatives and strategies, product portfolio and business strengths.
Unique data points of this report
Recent trends across different regions in terms of development of trace chemical detector market
Attractive investment proposition for application segment as well as geography
Key questions answered in this report
What was the market size of trace chemical detector market in 2018 and forecast up to 2027?
What are the key factors driving the global trace chemical detector market?
What are the key market trends and high-growth opportunities observed in the trace chemical detector market?
Which is the largest regional market for trace chemical detector market?
Which segment will grow at a faster pace? Why?
Which region will drive the market growth? Why?
Which players are leading the trace chemical detector market?
What are the key strategies adopted by the leading players operating in the market?