Ammunition can be defined as the material which is fired, scattered, dropped or detonated by means of any weapon. These ammunitions can be in the form of bombs, rocket, shots, shrapnel, bullets and shells. The human race has a long history of wars and use of ammunition has been one of the key factors which have impacted a great many wars significantly from time to time. Conflicts amongst different countries across the globe, rising terrorist activities and domestic instability in poor countries have resulted in an increase in demand for ammunition. An application such as defense and public safety make extensive use of ammunition for maintaining peace, law, and order. In addition, ammunition is also used for sports and hunting applications which include firearms. Thus the demand for ammunition has witnessed a significant growth from past many years.
Upgradation of previously existing and the introduction of new firearms has promoted the development of modern ammunitions. Present day ammunition is capable of high destruction at different levels according to the firearms in which they are going to be applied. Ammunition manufacturing companies are striving to develop improved ammunition in order maintain their market positions. Consistent rise in terrorist activities in the region of Asia Pacific, Europe, and North America have encouraged the use of more ammunition. Public safety services, homeland security services, and local forces across different countries also use firearms time-to-time in order to sustain law and order. Many countries such as the U.S. promotes sports hunting which again includes the use of ammunition. Sports involving firearms are one of the major contributors in modern day ammunition market. All the above-cited factors are promoting global ammunition market and is further expected to grow at a significant rate in the following years.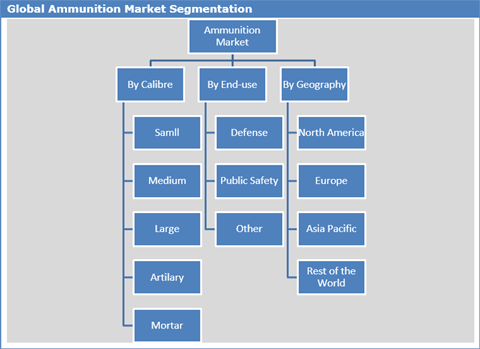 The report titled "Ammunition Market- Growth, Future Prospects and Competitive Landscape, 2017-2025 offers strategic insights into the global ammunition market with a focus on the market size and estimates for the duration 2015 to 2025. The said research study covers in-depth analysis of multiple market segments based on caliber, end-use and cross-sectional study across different geographies. The study covers the comparative analysis of different segments for the years 2016 & 2025. The report also provides a prolific view on market dynamics such as market drivers, restraints, and opportunities.
In order to help strategic decision makers, the report also includes competitive profiling of the leading ammunition manufacturers, their strategies, market positioning and key developments. Some of the major players profiled in the report include General Dynamics Corporation, Magtech Ammunition Company, Inc., Remington Arms Company, Inc., Denel PMP, Ruag Ammotec, Maxam, Global Ordnance, Federal Premium Ammunition, Hornady Manufacturing, BAE Systems, Poongsan Corporation and Nexter Munitions. Other in-depth analysis provided in the report includes:
Current and future market trends to justify the forthcoming attractive markets within the ammunition market.
Market fuellers, market impediments, and their impact on the market growth
Market inclination insights including evolution of ammunitions and key trend analysis for ammunition market
In-depth competitive environment analysis
Trailing 2-Year market size data (2015 – 2016)
SRC (Segment-Region-Country) Analysis
Overall, the research study provides a holistic view of the global ammunition market, offering market size and estimates for the period from 2017 to 2025, keeping in mind the above-mentioned factors.