The global angiography devices market was valued at US$ 9,496.6 Mn in 2017 and expected to grow at compound annual growth rate (CAGR) of 5.7% during the forecast period from 2018 to 2026. Angiography devices market are poised to grow during the forecast period owing to rapid technological development in the angiography systems in the recent years with better diagnostic and therapeutic capabilities. For instance, the newer generation angiography systems offered by technology giants such as Siemens, Philips Healthcare, GE Healthcare, Canon and Shimadzu offer lower magnitude of X-ray, while maintaining image quality. This has been made possible by using combination of new X-ray tubes, sensitive detectors, latest image reconstruction software and better image guided facilities. Moreover, emphasis on research & development and supportive scenario for new company emphasizing on breakthrough solution will drive the market. In 2018, National Institutes of Health (NIH) funded US$ 2.2 Mn to company named SentiAR to develop advance augmented reality images for improved visualization in cardiac procedures and interventional surgeries.
Another significant factor driving the angiography devices market is continuous rise in the cardiovascular diseases (CVD) particularity coronary heart diseases in middle aged people and geriatric population. CVD is responsible for highest number of deaths worldwide, accounting for 17.9 million of 31% of overall deaths across the globe as stated by World Healthcare Organization (WHO). More than 75% of the CVD deaths occur in lower-income and middle-income countries. Thus emerging economies, especially Asia Pacific and Latin America exhibit a lucrative market for angiography devices due to high target population and growing awareness and diagnostic facilities in the region.
Market Synopsis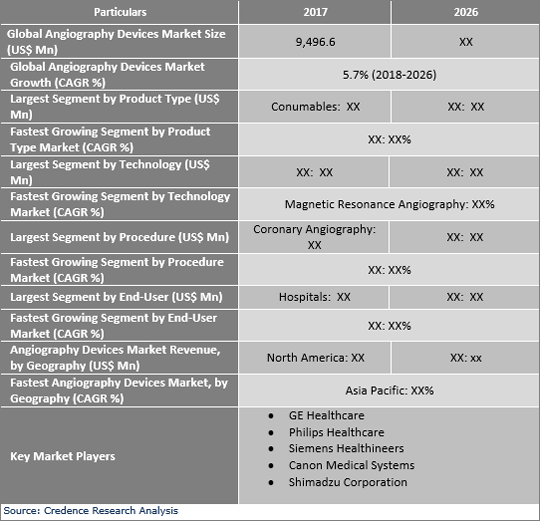 Get a sample copy for more information
"Consumables Accounted for the Largest Share by Product Type"
In 2017, consumables held the largest share in the global angiography devices market in terms of product. The consumables segment is further segmented into catheters, balloons, guidewires, contrast media, vascular closure devices, and angiography accessories. The market is driven by constant demand for consumables as it is disposable and required in every angiogram procedure. Catheters held the largest market share in consumable segment. Angiography systems will grow at steady rate due to technological development and demand for new imaging facilities in developing nations. On the basis of procedures, coronary angiography held the largest share in 2017. Growing prevalence of coronary heart diseases globally is the prime reason for the growth of the market. Angiography is the primary examination for detecting arterial blockages and non-invasive nature of the procedure makes it highly advisable.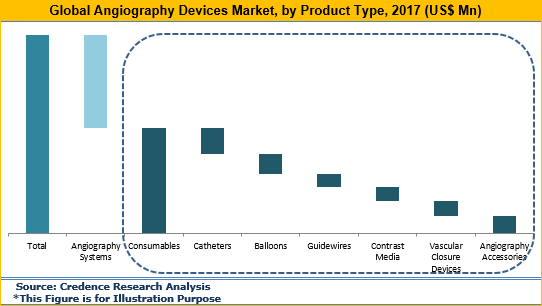 Get a sample copy for more information
Historical & Forecast Period
This research report presents the analysis of each segment from 2016 to 2026 considering 2017 as the base year for the research. Compounded annual growth rate (CAGR) for each respective segments calculated for the forecast period from 2018 to 2026.
Report Scope by Segments
Angiography devices market report furnishes quantitative analysis along with its latest market trends. The market is segmented based on product type, technology, procedure, end-user and geography.
ATTRIBUTE
DETAILS
Research Period
2017-2027
Base Year
2018
Forecast Period
2019-2027
Historical Year
2017
Unit
USD Million
Segmentation

By Product (2016–2026; US$ Mn)
• Angiography Systems
• Consumables
o Catheters
o Balloons
o Guidewires
o Contrast Media
o Vascular Closure Devices
o Angiography Accessories

By Technology (2016–2026; US$ Mn)
• X-Ray Angiography
• Magnetic Resonance (MR) Angiography
• Computed Tomography (CT) Angiography

By Procedure (2016–2026; US$ Mn)
• Endovascular Angiography
• Coronary Angiography
• Neurovascular Angiography


By End-User (2016–2026; US$ Mn)
• Hospitals
• Specialty Clinics
• Emergency Centers and Diagnostic Centers

Geography Segment (2016–2026; US$ Mn)
• North America (U.S., Canada)
• Europe (U.K., Germany, Rest of Europe)
• Asia Pacific (China, Japan, Rest of APAC)
• Latin America (Brazil, Mexico, Rest of Latin America)
• Middle East and Africa (GCC, Rest of Middle East and Africa)
The angiography devices market is studied to understand the current and future trends and dynamics. The study scope includes market size and forecast for all considered segments studied in the report for the period from 2016 to 2026, along with compound annual growth rate (CAGR) for forecast period from 2018 to 2026, 2017 being the considered as the base year. The key players currently engaged in angiography devices market include Siemens Healthineers, GE Healthcare, Philips Healthcare, Canon Medical Systems, Shimadzu Corporation, Abbott, Medtronic, Plc., Boston Scientific Corporation, ANGIODYNAMICS, Cardinal Health and B. Braun Melsungen AG among others.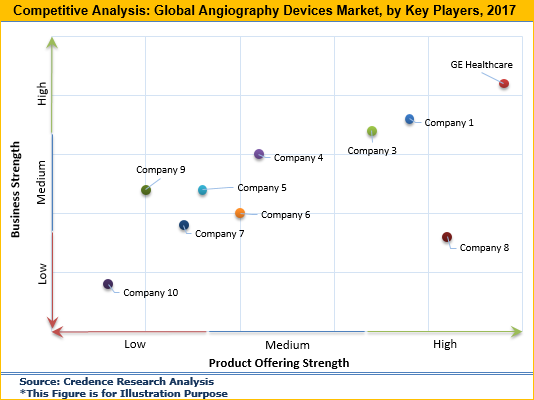 Get a sample copy for more information
Key questions answered in this report
How the global angiography devices market will perform during the forecast period from 2018 to 2026?
What are the latest trends in the angiography devices market and valuable opportunities for key players?
Who are the leading players in the global angiography devices market?
Which is the leading and fastest region in the global angiography devices market?
What are drivers and restrains governing the global angiography devices market?