Overview:
Balloon dilatation catheters are used to enlarge the narrow passage within the body, when the muscles become weak and do not open in the right way. A majority of people encounter this narrowing because of various reasons such as indigestion from frequent acid reflux caused scarring in esophagus, for the management of urethral strictures, for the airway related problems, in angioplasty, in tuboplasty, and in pyeloplasty. Previously, such conditions were treated surgically. However, with the introduction of balloon dilatation catheters, the respective procedures have become easier and safe through non-invasive methods.
Balloon dilation is a non-invasive procedure in which a deflated balloon is positioned to the specific area and thereafter inflated to the preset size to perform the required procedure. Complications and contradictions are rarely associated with dilation procedures. The global market balloon dilators is categorized on the basis of type of applications such as interventional cardiology, peripheral intervention, cardiovascular surgery, gastroenterology & hepatology, and interventional oncology.
The global balloon dilators market is predicted to be dominated by North America due to the prevalent systemized healthcare infrastructure and expenditure. Advancement in technology for balloon dilatation catheters and vast adoption rate for the use of catheters will boost the growth of the market. The market of balloon dilator in Asia Pacific will see a growth due to increase in factors such as incidence of diseases related to GI tract, cardiovascular, population pool, and unhealthy lifestyle.
The global balloon dilators market is categorized on the following bases:
Global Balloon Dilator Market , by Application, 2015-2025 (US$ Mn)

Interventional Cardiology
Peripheral Intervention
Gastroenterology & Hepatology
Interventional Oncology
Cardiovascular Surgery

Global Balloon Dilators Market , by Geography, 2015-2025 (US$ Mn)

Europe

Germany
United Kingdom
Rest of Europe

Asia Pacific (APAC)
North America
Middle East & Africa

South Africa
GCC
Rest of MEA

Latin America (LATAM)

Mexico
Brazil
Rest of LATAM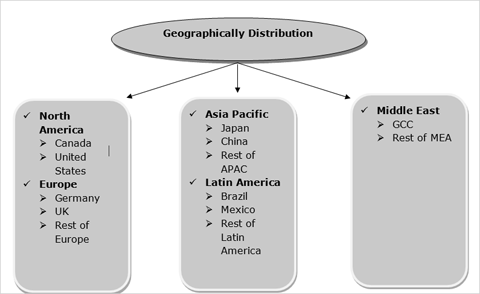 Key Players Identified for Balloon Dilators Market include:
AMG International, B. Braun Melsungen, Bard Medical Division, Boston Scientific Corporation, CONMED Corporation, Cook Medical, Cordis Corporation, Karl Storz GmbH, Medtronic plc., Merit Medical Systems, Inc., Olympus Corporation, Smiths Medical, and Terumo Corporation
This report offers:
A synopsis on the global markets for balloon dilators
Market trends evaluation for the duration 2015-2025, with historic information for 2015, and forecasts through 2025, with particular CAGRs in the course of 2017-2025
Market competition analysis tools such as fractal map evaluation, market share analysis
Qualitative evaluation tools such as challenges, market drivers and future scenarios
Emphasis on every level of market category based on product approvals, launch, and existing and predicted market dynamics
A common overview of the industry structure
Company profiles emphasizing key information about the main players functioning in the balloon dilators market