Industry Outlook
Brain computer interface technology is a significant communication tool between systems and users. This technology was initially developed for biomedical applications, leading to emergence of assistive devices. Brain computer interface has also facilitated restoration of the movement ability and replacement of lost motor functionality. The promising future of brain computer interface has encouraged researchers to study the importance of brain computer interface for non-paralyzed humans with medical applications. The scope of brain computer interface research has further spread to non-medical applications. Recent studies have also targeted normal healthy individuals in exploring the application of brain computer interface as a potential input device and generation of hands-free applications.
Market Synopsis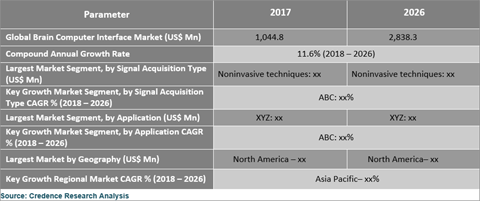 Get a sample copy for more information
"Greater demand for noninvasive signal acquisition techniques to be witnessed in the market"
Based on the types of signal acquisition methods, the global brain computer interface market is segmented into invasive techniques such as intracortical and cortical surface techniques; and noninvasive techniques such as magnetoencephalography, functional magnetic resonance imaging, functional infrared spectroscopy and electroencephalogram. Between the two, noninvasive techniques the global market in terms of revenue. Wider applicability of this technology including medical and entertainment purposes mainly contribute to the dominance of this segment. Additionally, growing use of these techniques in home applications will open further growth opportunities in the global market. On the other hand, the growth of invasive techniques segment is anticipated to remain stable during the forecast period. Vital position of invasive techniques in enabling motor control, and vision restoration will enable stable position of this segment through 2026.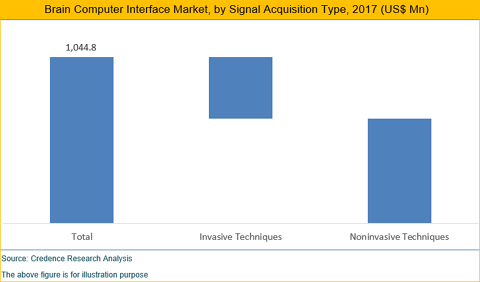 Get a sample copy for more information
"Demand for environment control applications to pick pace"
Based on applications, this market is segmented as Communication, Motor Restoration, Environmental Control, Locomotion, Entertainment and Others (neuromarketing, security, etc.). Brain computer interface currently is widely adopted for healthcare, gaming, entertainment and communications applications. In healthcare, this technology finds sustainable position in treatment of paralysis, neurological diseases, sleep disorders and assessment of neuroscience. However, it is anticipated that the demand for brain control devices in home or environment control segment for purposes such as lighting control, use of communication systems, access control and so on will flourish. Smart environments such as smart workplaces, transportation and smart homes can exploit brain computer interfaces to control daily human life. It is also anticipated that we shall soon witness cooperation between brain computer interface and internet of things.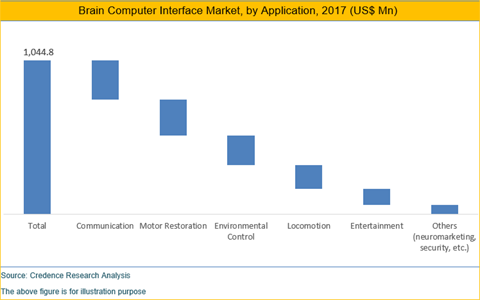 Get a sample copy for more information
"North America to spearhead the global brain computer interface market"
In 2017, North America is the largest market for brain computer interface on the global front, and accounts for over 35% of the global market. High incidence and prevalence of neurodegenerative diseases, and swift adoption of new technologies are the key factors attributed to the dominance of North America. Additionally, growing popularity of virtual gaming also is a key characteristic of North America market. Domicile of several major players in the U.S. also assists in characterizing the dominance of North America market. Asia Pacific, however, is anticipated to register the fastest growth during the forecast period from 2018 to 2026. Large potential patient population, and growing healthcare expenditure along with disposable incomes are the key attributes for the rapid growth of Asia Pacific market. Japan and China are the most prominent regions in Asia Pacific market.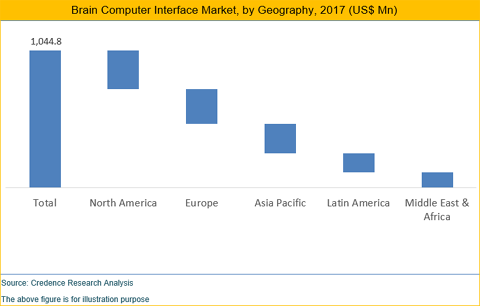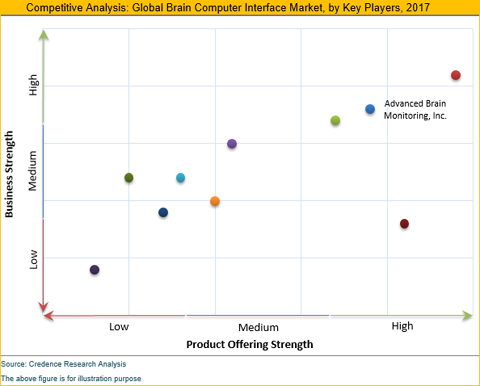 Historical & Forecast Period
This research report presents the analysis of each considered segment for the period from 2016 to 2026, having 2017 as the base year for estimations. Compounded annual growth rates (CAGRs) for each segment are calculated for the forecast period from 2018 to 2026.
Report Scope by Segments
The brain computer interface market report provides quantitative assessment of the industry terms of current and forecasted market size, while also presenting the market dynamics. This market is segmented based on signal acquisition type, applications, and geography.
ATTRIBUTE
DETAILS
Research Period
2016-2026
Base Year
2017
Forecast Period
2018-2026
Historical Year
2016
Unit
USD Million
Segmentation

By Signal Acquisition Type (2016–2026; US$ Mn)
• Invasive Techniques
• Intracortical
• Cortical Surface
• Noninvasive Techniques
• Magnetoencephalography (MEG)
• Functional Magnetic Resonance Imaging (fMRI)
• Functional Infrared Spectroscopy (fNIRS)
• Electroencephalogram (EEG)

By Application (2016–2026; US$ Mn)
• Communication
• Motor Restoration
• Environmental Control
• Locomotion
• Entertainment
• Others (neuromarketing, security, etc.)

Geography Segment (2016–2026; US$ Mn)
• North America (U.S. and Rest of North America)
• Europe (U.K., Germany, France, and Rest of Europe)
• Asia Pacific (Japan, China, India, and Rest of Asia Pacific)
• Rest of World (Middle East & Africa (MEA), Latin America)
As mentioned, this report offers market size and forecast of each considered segment in the study scope for the period 2016 to 2026. Furthermore, quantitative information sets for each such segment are provided in the study for better market analysis. Market assessment factors such as drivers, challenges and opportunities are also covered in this report. In addition this report provides profiles of key players operating in this market such as Advanced Brain Monitoring, Inc., ANT Neuro, Brain Products GmbH, Cognionics, Inc., Compumedics Ltd., Integra LifeSciences Corporation, Neuroelectronics, InteraXon, Guger Technologies OG, Natus Medical, Quantum Applied Science and Research, Inc., OpenBCI, Neurosky, Inc. and Mind Solutions Inc.
Key questions answered in this report
What is the market size of the global brain computer interface market and at which CAGR will the global market progress through the forecast period from 2018 to 2026?
Which are the key dynamics determining the prevailing and expected trends in the global brain computer interface market?
How much is the share of invasive signal acquisition techniques in the base year 2017?
Which factors support the strong position of electroencephalogram solutions in the global brain computer interface market?
Which application area occupies the strongest position in the global market, and why?
How will the rapidly growing Asia Pacific market fare through 2026?