Industry Outlook
Breast implants are used for reconstruction or cosmetic purpose. Breast augmentation, also known as breast enlargement and augmentation mammoplasty has been gaining significant popularity during the last decades for the purpose of improving the size and shape of breasts. Growing fad of augmenting asthetic appeal, and increasing purchasing power are the key factors that are drawing demand for augmentation procedures worldwide. Additionally, as the prevalence of breast cancer is consistently increasing worldwide, the procedure rate of mastectomy surgeries is also correspondingly increasing. This in return, has led to growing adoption of breast implantation procedures as a corrective measure to mastectomy.
Market Synopsis

Get a sample copy for more information
"Silicone breast implants to hold absolute majority share & round shape implants are in high demand"
Based on types, the global breast implants market is categorized into silicone and saline implants. Between the two, silicone implants are the most preferred implant type due to advantages such as most natural feeling, less likely rippling, long term performance, and availability in both round and anatomical shapes and so on. Silicone implants are further available in two types namely, regular implants and highly cohesive silicone implants, also called as gummy bear implants. As the name implies, these implants are filled with highly cohesive gel making them thicker than regular silicone implants. Gummy bear implants are gaining greater popularity due to their better performance and outcomes. Based on shapes, round shaped implants are in high demand due to their ideal position in breast augmentation. As these implants eliminate the risk of implant rotation due to their symmetrical shape, round shape implants are more preferred by surgeons as against anatomical implants.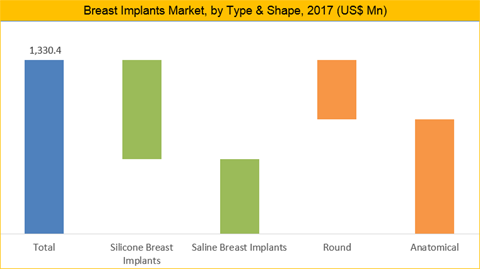 Get a sample copy for more information
"Cosmetic applications spearhead the global market"
Between cosmetic and reconstruction applications, the demand for breast implants in cosmetic purposes is higher in the global market. Breast augmentation in cosmetic application is usually performed for enhancement of size, appearance and contour. Women also prefer breast implantation after anatomical changes after pregnancy, while some desire the procedure for correction in asymmetry in breast size. Furthermore, cosmetic application of breast implantation is preferred as against conventional reconstruction surgery due to favorable asthetic outcomes of the former. Growing disposable incomes, consumerism and increasing proliferation of media in women are some of the key factors that support high demand for breast implants for cosmetic purposes.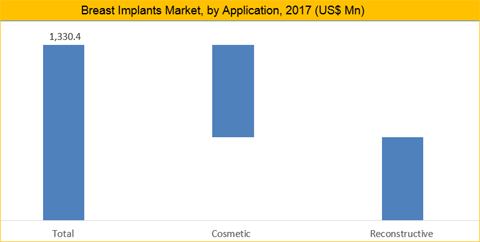 "North America and Europe to remain the largest regional markets for breast implants"
Geographically, North America is the largest regional market for breast implants. High healthcare and asthetic procedures in the U.S., along with improvements in surgical outcomes are mainly driving the breast implants market in North America. Stable demand for reconstruction after mastectomy from breast cancer is also retaining the demand for breast implants in the region. On the other hand, Asia Pacific is anticipated to witness rapid growth in demand for breast implants through the forecast period. Moderate costs of cosmetic surgeries in the region has attracted increasing counts of patients preferring procedures in Asia Pacific. Additionally, consistently growing disposable incomes are also driving the growth of Asia Pacific breast implants market.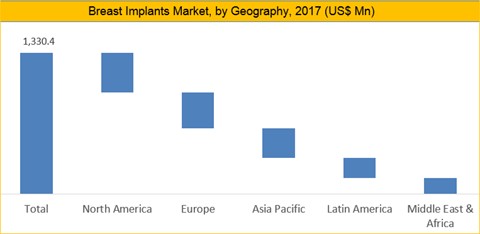 Get a sample copy for more information
Historical & Forecast Period
This research report presents the analysis of each considered segment for the period from 2016 to 2026, having 2017 as the base year for estimations. Compounded annual growth rates (CAGRs) for each segment are calculated for the forecast period from 2018 to 2026.
Report Scope by Segments
The breast implants market report provides quantitative assessment of the industry terms of current and forecasted market size, while also presenting the market dynamics. This market is segmented based on type, shape, applications, and geography.
ATTRIBUTE
DETAILS
Research Period
2016-2026
Base Year
2017
Forecast Period
2018-2026
Historical Year
2016
Unit
USD Million
Segmentation

By Type (2016-2026; US$ Mn)
• Silicone Breast Implants
• Regular Silicone Implants
• Highly Cohesive Silicone Implants
• Saline Breast Implants
• Regular Saline Implants
• Structured Saline Implants

By Shape (2016–2026; US$ Mn)
• Round
• Anatomical

By Application (2016-2026; US$ Mn)
• Cosmetic
• Reconstructive

Geography Segment (2016–2026; US$ Mn)
• North America (U.S. and Rest of North America)
• Europe (U.K., Germany, France, and Rest of Europe)
• Asia Pacific (Japan, China, India, and Rest of Asia Pacific)
• Rest of World (Middle East & Africa (MEA), Latin America)
Along with the quantitative information for each considered segment, this report also includes quantitative information presenting the prevalent trends in the market. Other market assessment factors such as drivers, challenges and opportunities are also included in the study. In addition, this report includes graphical presentation of the top market players in terms of their current market position. This study is concluded with profiles of major market players namely Allergan Plc, Sientra, Inc., Mentor Worldwide LLC (Johnson & Johnson), LABORATOIRES ARION, Hand Biomed Corp., GROUPE SEBBIN SAS, Silimed, GC Aesthetics Plc, CEREPLAS, Polytech Health & Aesthetics GmbH and Establishment Labs S.A.
Key questions answered in this report
What is the current state and forecast of the market size of the global breast implants market?
Which are the key determining factors to the dominance of silicone implants market?
Is the position of saline implants set to diminish within the forecast period?
What is the current position of round implants?
Is the demand for corrective procedures set to increase during the forecast period?
How is the progress of Asia Pacific market set for the coming years?