Industry Outlook
Building thermal insulation market was totaled 26,167.7 kilo ton in 2017 and expected to grow at a CAGR of 4.6% from 2018 to 2026. Factors such as surge in demand for insulation from residential and non-residential application coupled with rising regulation for energy saving and efficiency fuelling the market growth during the forecast period from 2018 to 2026. Thermal insulation materials mitigate the transfer of heat within the buildings consequently lowering the dependence on air conditioning which in turn reducing the energy costs.
Rising building construction and industrial activity especially in developing economies boost the demand for insulation. Moreover, people migrating from rural to urban in developing countries will stimulate building activities in urban areas and therefore building insulation demand. In developed economies, insulation demand will rebound from downturns (2008-2013) and strict environmental & governmental regulation to reduce energy consumption will lead to the adoption of new & latest building codes that will propel the demand for building thermal insulation usage.
Various international building codes and regulations plays an important role in building thermal insulation market. These codes act as a catalyst for growth but they also sometime act as a restraining factor by restricting the use of certain materials in specific applications. For instance, due to the introduction of new building codes in United Kingdom, Nigeria, China, Italy, Australia, Russia, and Mexico, these countries reduced their energy intensity by 2% annually.
Rising investments in new and aging infrastructure, renovation of non-residential buildings, and new housing projects in the U.S., China, India, and Brazil also propelling the overall growth market growth. Major players operating in building thermal insulation market includes Saint-Gobain S.A. (France), Dow Corning Corporation (U.S.), Owens Corning (U.S.), BASF SE (Germany), Covestro AG (Germany), Huntsman Corporation (U.S.), Knauf Insulation, Inc. (U.S.), Rockwool International A/S (Germany), GAF Materials Corporation (U.S.), URSA Insulation, S.A. (Spain), Atlas Roofing Corporation (U.S.), and Beijing New Building Material (Group) Co., Ltd. (China), among others.
Market Snapshot: Global Building Thermal Insulation Market Volume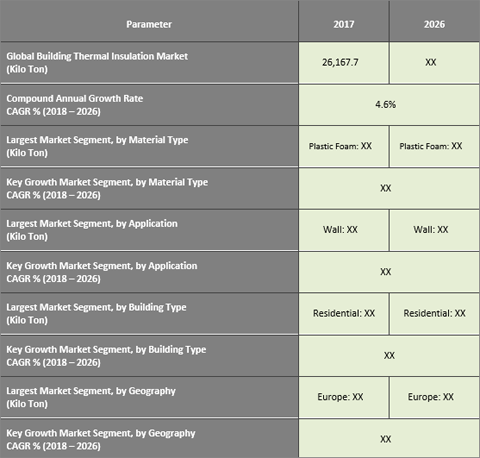 Get a sample copy for more information
"Rising Demand for Efficient and Cheap Energy Saving Materials from Building & Construction Industry, Making Plastic Foam the Leading Segment"
Plastic Foam represented the largest share of over 40% in 2017, in terms of value and volume both. Plastic foam includes polystyrene foam (EPS and XPS), polyurethane (PUR) & polyisocyanurate (PIR) foam, and others (phenolic foam, elastomeric foam, etc.). Expanded polystyrene (EPS) foam is the most widely used plastic foam material for external wall insulation especially in cold regions owing to its low price. Polyurethanes (PU) foams follows the expanded polystyrene foam in terms of volume consumption as its offers some advantages in the context of higher requirements for thermal insulation being less volumetric than other insulation materials for the same insulation efficiency.
Glass wool was the second largest material type in 2017 and expected to maintain its position over the forecast period. Glass wool is also identified as the fastest growing material type during the forecast period owing its excellent eco-friendly and fire resistant properties.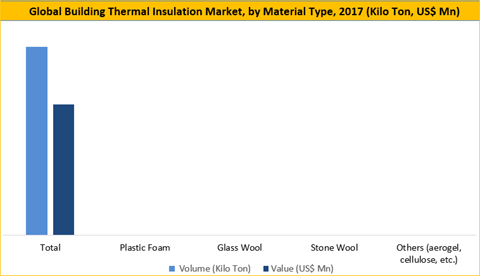 Get a sample copy for more information
"Wall Insulation Dominated the Application Segment of Building Thermal Insulation Market in 2017"
Wall application accounted for the largest value share of over 40% in 2017. Need of enhancing energy efficiency and weather proofing coupled with stringent construction standards will drive the segment growth during the forecast period. Also, walls are subject to majority of the heat loses therefore require more insulating material than roof and floor. Plastic foams are mainly used in wall insulation owing to its low cost and excellent insulating properties. Wall application includes external wall, internal wall, and cavity wall, wherein external wall accounted for the largest market value share in 2017.
Roof application is the second largest application segment of building thermal insulation market during 2017-2018. Roof insulation is projected to exhibit the fastest growth during the forecast period. Roof application is further segmented into flat roof and pitched roof.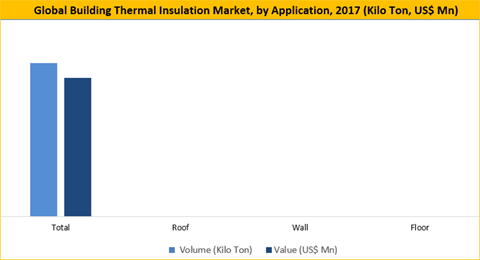 Get a sample copy for more information
"Residential Building will retain its Top Position Owing to Increasing Number of Housing Projects and Rural to Urban Migration of People especially In Developing Economies"
In terms value, Residential building sector dominated the market in 2017 and expected to grow at the CAGR of 4.8% during the forecast period. Increasing residential construction activities in emerging economies such as India, China, Mexico, Brazil, and South Korea coupled with refurbishment and re-insulation activities for old homes are also likely to aid the increasing demand. Also, rural to urban migration of people especially in developing economies contributing to the overall demand for building thermal insulation.
Non-residential building is projected to witness the fastest growth during the forecast period. Non-residential building segment includes commercial building and others (educational building, religious building, government offices, etc.). Rising awareness and the need for energy efficient structures to reduce high-energy costs in commercial and public buildings anticipated to drive the market for non-residential building segment.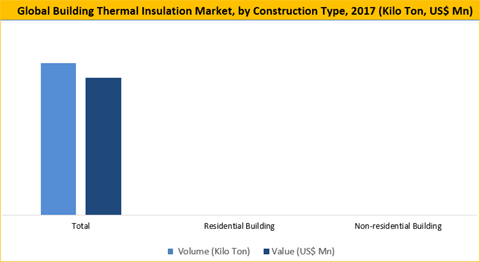 "Europe Dominated the Building Thermal Insulation Market and Expected to Maintain Its Dominant Position during the Forecast Period"
Europe held the largest market value share of over 30% in 2017. Stringent regulations from the European Commission and REACH to promote thermal insulation as a means of energy conservation to mitigate the energy cost expected to support the market growth. The Nordic countries, Germany, France, and the U.K. are amongst the highest consumers of home insulation. European Commission's Energy Performance of Buildings Directive (EPBD) governs the usage of insulating materials and their environmental impact in order to standardize the market in the region promoting the demand for building thermal insulation.
Europe is closely followed by North America and Asia-Pacific with significant market share in terms of market value and volume. Asia-Pacific is the fastest growing region owing to increasing government spending on construction activities in countries such as China, India, etc. along with energy conservation initiatives to reduce greenhouse gas emissions triggering the regional market growth.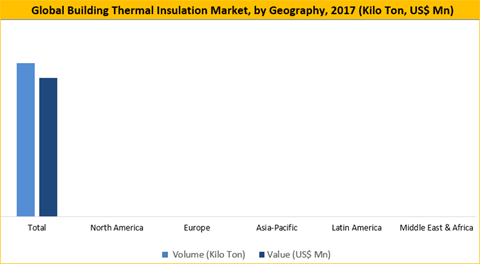 "Building Thermal Insulation Market is Moderately Competitive"
Building thermal insulation market is highly fragmented with the presence of established players offering complete range of building insulation solution. Geography & capacity expansion and introduction of new environmentally friendly green products to address the stringent environment regulations are key strategies adopted by the leading players in the market. For instance, On June 2017, BASF SE launched the new generation of eco-friendly spray foam insulation Elastospray® LWP suitable for all areas of the building envelop.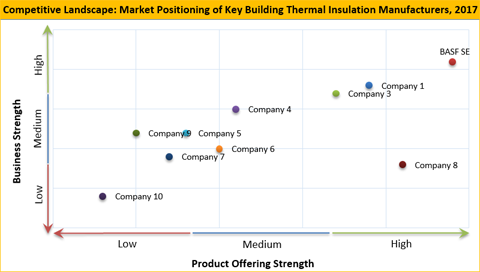 Historical & Forecast Period
Each market segment is analyzed in our study for the period of 2016 to 2026 with 2017 as the base year while period from 2018 to 2026 is considered for the CAGR calculation.
Report Scope
The report enlightens the thorough outline of global building thermal insulation market by categorizing the market in different segment given below:
ATTRIBUTE
DETAILS
Research Period
2016-2026
Base Year
2017
Forecast Period
2018-2026
Historical Year
2016
Unit
USD Million
Segmentation

By Material Type Segment (2016–2026; Kilo Ton, US$ Mn)
• Plastic Foam
o Expanded Polystyrene Foam
o Extruded Polystyrene Foam
o Polyurethane (PUR) & Polyisocyanurate (PIR) Foam
o Others (phenolic foam, elastomeric foam, etc.)
• Glass Wool
• Stone Wool
• Others (aerogel, cellulose, etc.)

By Application (2016–2026; Kilo Ton, US$ Mn)
• Roof
o Flat Roof
o Pitched Roof
• Wall
o External Wall
o Internal Wall
o Cavity Wall
• Floor

By Construction Type (2016–2026; Kilo Ton, US$ Mn)
• Residential Building
• Non-Residential Building
o Commercial Building
o Others (educational building, religious building, government offices, etc.)

Geography Segment (2016–2026; US$ Mn)
• North America (United States and Canada)
• Europe (U.K., Germany, Rest of Europe)
• Asia Pacific (China, Japan, Rest of Asia Pacific)
• Latin America (Brazil, Mexico, Rest of Latin America)
• Middle East and Africa (GCC, Rest of MEA)
This research report describes leading continents and their major countries, along with profiles of key players operating in overall market and their planned developments. Our report further defines the overall market dynamics such as drivers, challenges, and opportunities prevalent in the market to understand global building thermal insulation market more explicitly. Our in-depth quantitative and qualitative analysis of each segment up to country level highlights investment opportunities and revenue pockets in the market.
Key questions answered in this report
What are the current market trends in the building thermal insulation market and valuable opportunities for the players?
How the environmental and government regulations affect global as well as the regional markets?
Which is the most lucrative region for investment?
What is the market size and trends in emerging markets?
Which are the prime applications of building thermal insulation across different geographies?
Which is the most widely consumed material in building thermal insulation market?
Which are the major construction type of building thermal insulation and their market sizes?
Which are the leading players and their market position and strategies?