Industry Outlook
Cemented carbide is a revolutionary hard material used extensively across several manufacturing industries as a cutting tool material. Carbide is a non-metallic material and hence are able to withstand high cutting temperature without deformation or breakage. Thus, carbide tool is capable of producing excellent surface finish at relatively faster machining speed compared to high-speed steel (HSS). Carbide tools are used to machine materials such as high-carbon steel or stainless steel. However, the tool is also used to machine variety of other material such as cast iron. Owing to versatility and other aforementioned merits, the demand for carbide tools is reaching new highs and hence boosting the market value of carbide tools market.
Market Synopsis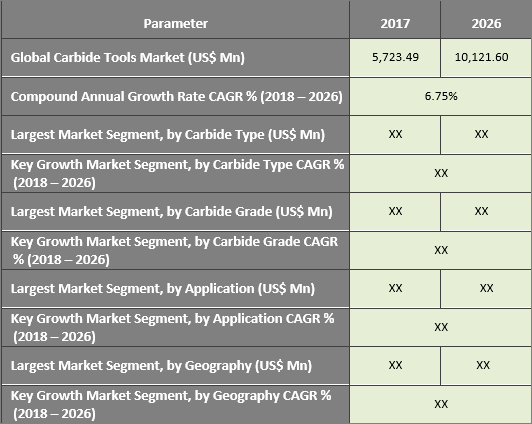 Get a sample copy for more information
"Tungsten Carbide is the Most Used Carbide Tool and Tops the Chart with Considerable Market Share"
Carbide tools are available in a number of types depending upon the binder material added to the carbide composite. At present, Tungsten Carbide is the most favored carbide tools as these tools are highly resistive to abrasion and are capable of withstanding high machining temperatures. Other forms of carbide such as calcium carbide, aluminum carbide iron carbide, and silicon carbide also claim considerable share in overall market. However, growth of Titanium carbide expected to remain dominant because of the properties of titanium that is useful in making extremely hard material.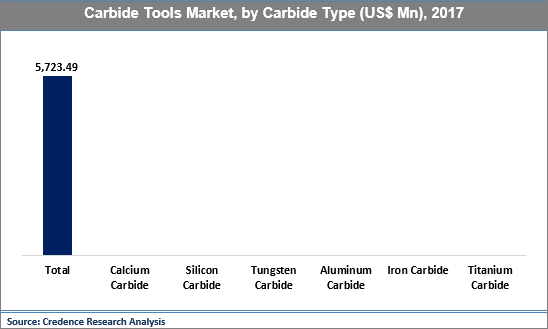 Get a sample copy for more information
"Steel Grade Carbide Holds an Upper Hand Over Cast-iron Grade Carbide in Terms of Market Value"
Steel is an irreplaceable metal across several end-use industries and matching steel is a major task for any machining center. Therefore, steel grade carbide tool is extensively used for machining steel work parts and the demand for the same is quite high compared to cast-iron grade carbide tools. The market position of both the cutting grade carbide tool is expected to remain same throughout the forecast period from 2018 to 2026.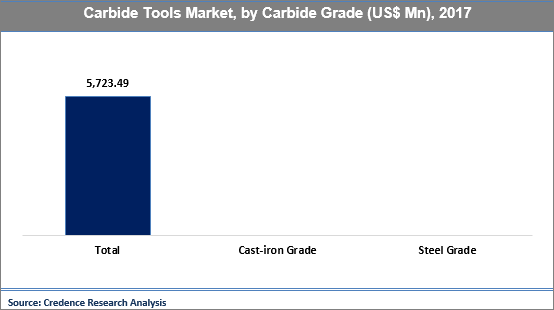 Get a sample copy for more information
"Milling Application Deploys the Majority of carbide Tools in Modern Machining Center"
By far in 2017, milling application demanded the majority of carbide tools compared to other machining applications. Horizontal machining (HMC) and vertical machine (VMC) CNC centers are extensively used across different industries including highly grossing automotive industry. Turning application trail milling application in terms of market value. Other application such as engraving, boring and shaping are also one of the major consumers of carbide tool and expected to grow at a considerable pace.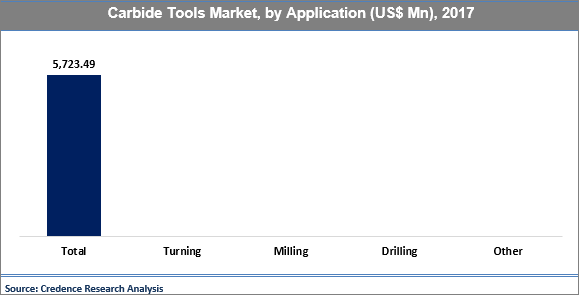 "Domination in Manufacturing Industry Helped Asia Pacific to be Crowned as the Global Carbide Tools Leader"
Rapid industrialization in the developing countries in Asia Pacific helped the region to emerge as a leader in global carbide tools market. The region is home to countries such as China, India, and Southe Korea among others which are taking huge leaps in manufacturing and processing industries. Hence the demand for carbide tool in this region is relatively high. Owing to the use of advanced metal machining centers, North America stood second to Asia Pacific in terms of market value and subsequently followed by Europe.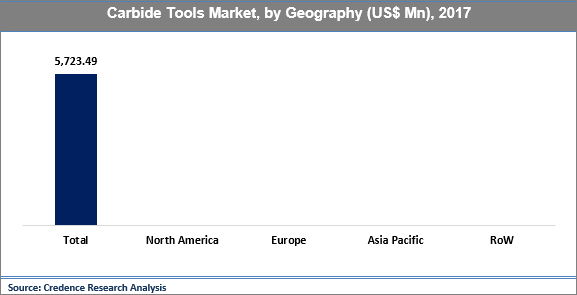 Market Segmentation
ATTRIBUTE
DETAILS
Research Period
2016-2026
Base Year
2017
Forecast Period
2018-2026
Historical Year
2016
Unit
USD Million
Segmentation

by Carbide Type (2016–2026; US$ Mn)
• Calcium Carbide
• Silicon Carbide
• Tungsten Carbide
• Aluminum Carbide
• Iron Carbide
• Titanium Carbide

by Carbide Grade (2016–2026; US$ Mn)
• Cast-iron Grade Carbide
• Steel Grade Carbide

by Application (2016–2026; US$ Mn)
• Turning
• Milling
• Drilling
• Others

Geography Segment (2016–2026; US$ Mn)
• North America (U.S., Canada)
• Europe (U.K., Germany, France, Rest of Europe)
• Asia Pacific (China, Japan, India, Rest of Asia Pacific)
• Rest of the World (Middle East & Africa, Latin America)
Competitive Landscape
The research study covers some of the leading carbide tool including Mitsubishi Materials Corporation, SGS Tool Company Pvt. Ltd., Advent Tool & Manufacturing, Inc., Best Carbide Cutting Tools, Inc., Ingersoll Cutting Tool Company, Garr Tool Company, Vora Industries, Rock River Tool, Inc., Carbide Tools Manufacturing, Inc., PROMAX Tools, Global Excel Tools Manufacturing Sdn and vhf camfacture AG. Carbide tools market is highly fragmented characterised by a number of international as well as local carbide tool manufacturers. Although already fragmented, the market still has tremendous potential to attract new entrants to claim their share of profit. Maintaining quality of tool and expansion of geographic presence is on the top of the list for leading carbide tolls manufacturers. Furthermore, reinventing of carbide tools according to the rapidly evolving machining world is also one of the major strategies adopted by the manufacturers to stay strong in this cut-throat competitive market.