"Chromatography systems market to exhibit productive growth during the forecast period"
The global chromatography systems market is growing fruitfully, valued at US$ 6.2 Bn in 2017 and expected to reach US$ 11.4 Bn by 2026. Worldwide increasing need for separation analysis in pharmaceuticals, environmental/water, biotechnology, food & agriculture applications will enhance the overall growth of the chromatography systems globally. New technology progression in the field of gas and liquid chromatography is significant. New product launches in the portable and transportable systems segment will drive the market in developed nations. Among the systems type segment, gas chromatography shall lead the market due to its enhanced applications and upsurge in adoption in pharmaceutical and biotechnology industry. High pressure liquid chromatography (HPLC) will show a significant CAGR during the forecast period. Additionally, new technology assessments in ultra-high pressure liquid chromatography (UHPLC), column chromatography, and ion-exchange chromatography will generate maximum revenue share during the forecast period.
Moreover, the demand for portable systems is gaining prominence. Growing research & development activities together with rising need for chromatography systems and instruments for protein purification will further spur revenue growth in the global market. Factors driving the overall growth in developed nations include easy affordability of advanced systems, demand for automated separation techniques, and new product launches fuels the demand for chromatography systems market globally. However, high cost, lack of skilled operators, less awareness about automated systems and affordability issues are few factors restraining the overall growth of chromatography systems market globally.
Market Synopsis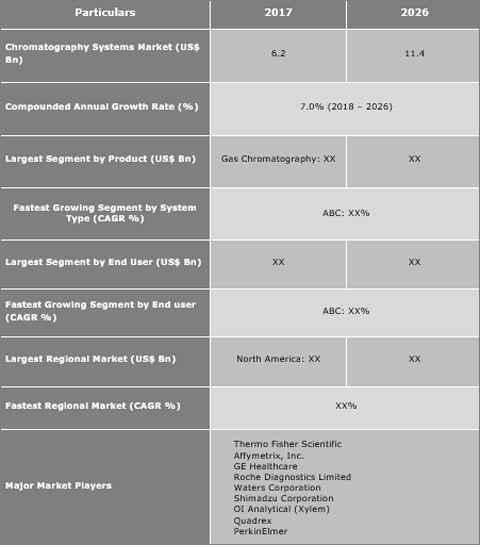 Get a sample copy for more information
"Liquid chromatography systems expected to register higher growth by 2026"
Chromatography systems are categorized into gas, liquid chromatography systems and others such as ion-exchange chromatography, supercritical fluid chromatography, column chromatography and thin layer chromatography. New product launches in the U.S., Europe and Asia Pacific along with enhanced applications in the fully automated standalone chromatography systems and portable systems will boost the market growth during the forecast period. For instance, in September 2018, SHOWA DENKO K.K. launched a novel category of Shodex high-performance liquid chromatography column (IC SI-36 4D) for ion chromatography to analyze anions, which is well compatible with hydroxide eluents. In April 2018, Waters Corporation launched the new Acquity UPLC Plus series, H-Class Plus Bio, UPLC H-Class Plus, and I-Class Plus systems with enhanced applications ranging from peptide mapping to routine product release testing. However, high cost of advanced systems (cost involved in designing and integration of automated structures) act as a restraint to the overall global market. Demand for transportable and person portable chromatography systems in developing nations will grow significantly during the forecast period.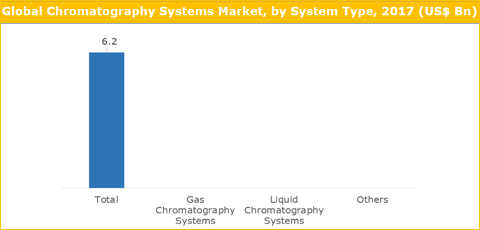 Get a sample copy for more information
"Increasing applications in biotechnology and pharmaceuticals witness a significant CAGR"
The chromatography systems and instrumentation techniques are majorly utilized in various application areas such as biotechnology, genetic engineering, pharmaceutical, food production, diagnostics, environmental/water analysis and drug discovery. New technology assessment in column chromatography and liquid chromatography in various applications (including analytical and purification) are driving the growth of the market. There is an increasing trend of using ultra HPLC (high-performance liquid chromatography) and nano-LC for LC-MS with minimized flow rates has shown promising outcomes globally. The rise in usage of multiparameter systems is evident due to their enhanced functionality, such as in purification methods, microscale bioprocessing, green bioprocessing, and others, therefore driving the market. Noteworthy development in the biotech & food industry, top organizations are going for automated advanced chromatography systems market due to high-end applications, and enhanced capabilities in gas absorption, crystallization, fractionation, distillation, separation of membranes, and solvent extraction procedures.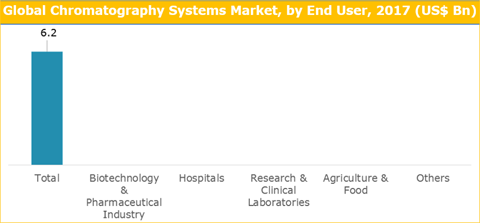 Get a sample copy for more information
"Increasing demand, new product launches and the presence of top players holds North America in dominant position"
In 2017, North America generated maximum revenue share in the global chromatography systems market; attributed to new product launches along with merger & acquisitions. For instance, In December 2017, Pall Corporation launched an automated single-use chromatography system for downstream processing named, Allegro™. In June 2017, PerkinElmer Inc. signed an exclusive agreement to acquire EUROIMMUN Medical Laboratory Diagnostics AG. Other major factors leading the market growth include the demand for effective portable gas chromatography systems and instruments, increased applications in biotech and food industry, integration of advanced data management and laboratory information systems. Rapid approval for new products, increased funding for research & development in fluid chromatography, ion exchange, and column chromatography, and increased use of advanced systems in pharmaceuticals, clinical and forensic laboratories is a major factor driving the overall growth of the market.
However, in low-income nations such as South Africa, China, India, Brazil, Mexico, and others, the availability of advanced systems and services is limited. Lack of skilled workforce, and scarce availability of traditional separation tools and techniques, and the high-cost of chromatography systems are restraining the development of the market.
"Dominance of Multinational Manufacturers with Strong Product Portfolio in the Developed Regions"
Major players in the chromatography systems market are Thermo Fisher Scientific, Waters Corporation, Shimadzu Corporation, OI Analytical (Xylem), Quadrex, PerkinElmer, Affymetrix, Inc., GE Healthcare, Roche Diagnostics Limited, Schutz Gmbh, Bio-Rad Laboratories, Pall Corporation and others. Topmost companies are manufacturing new portable gas chromatography systems along with new technology assessment solutions. Also, acquisitions and partnerships with small scale organizations will drive the market during the forecast period. In January 2018, Bio Rad Laboratories launched the NGC Fraction Collector for chromatography systems, embedded with automated collection options for analytical and preparative applications. In March 2018, Thermo Fisher Scientific launched five new products at Pittcon 2018, namely, iCAP TQs ICP-MS system, Chromeleon XTR Laboratory Management system, Dionex ICS-6000 high pressure ion chromatography (HPIC) system, Thermo Scientific ISQ 7000 single quadrupole GC-MS system and TSQ 9000 triple quadrupole GC-MS/MS system.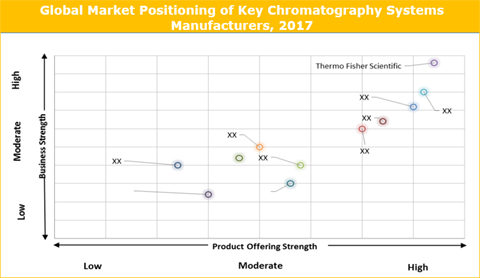 Historical & Forecast Period
This study report represents analysis for each segment from 2016 to 2026 considering 2017 to be the base year. Compounded Annual Growth Rate (CAGR) for each of the respective segments estimated for the forecast period from 2018 to 2026.
Report Scope by Segments
ATTRIBUTE
DETAILS
Research Period
2016-2026
Base Year
2017
Forecast Period
2018-2026
Historical Year
2016
Unit
USD Billion
Segmentation

System Type (2016–2026; US$ Bn)
• Gas Chromatography Systems
• Liquid Chromatography Systems
• Others

End User Segment (2016–2026; US$ Bn)
• Biotechnology and Pharmaceutical industries
• Hospitals
• Research and Clinical Laboratories
• Agriculture and Food Industries
• Others

Geography Segment (2016–2026; US$ Bn)
• North America (United States and Canada)
• Europe (U.K., Germany, Rest of Europe)
• Asia Pacific (China, Japan, Rest of Asia Pacific)
• Latin America (Brazil, Mexico, Rest of Latin America)
• Middle East and Africa (GCC, Rest of MEA)
This report also comprehends qualitative market valuation factors such as key market drivers, market trends, restraints and opportunities that give a better market understanding of the overall chromatography systems market. Additionally, the report also comprises graphical representation of competitive landscape based on their market initiatives and strategies, product portfolio and business strengths.
Key questions answered in this report
What are the current and future trends in portable chromatography systems?
What are the current dynamics in the chromatography systems market and valuable opportunities for emerging players?
Which segment accounts for the fastest CAGR during the forecast period?
Which application type holds a larger market share and why?
What is the impact of high cost of automated systems in the chromatography systems market?
What are the products and brands in the chromatography industry that are growing more significantly and why?
What is the impact of chromatography data systems in the global market?
What is the market trend and dynamics in emerging markets such as Asia Pacific, Latin America and Middle East & Africa?