Rising awareness about hygiene management across the globe is expected to catapult the demand for cotton buds
Cotton buds market expected to grow with a CAGR of 3.4% during the forecast period from 2018 to 2026. Cotton buds or cotton swabs are small wad of cotton enclosed around one or both the ends of a short rod (handles/stems). This rod is usually made up of extruded plastic, wood or rolled paper. Cotton buds are used for variety of applications like first aid, cosmetics application and cleaning, arts & crafts, earwax cleaning amongst others. Growing awareness on personal hygiene, cleanliness, and freshness has gained momentum over the years. Further, consistent population growth and their hygiene have given impetus to the body care products market which in-turn drives the cotton buds market. Personal hygiene habits and increasing disposable income coupled with improving literacy rate in the population has also paved way for rising use of cotton buds to clean the delicate areas of body and also to apply lotions or medicines in sensitive areas. Tulip is expected to be one of the most prominent player in 2017. Tulip is one of the largest manufacturer of personal hygiene products in Southeast Asia. Tulip has restricted its business to personal hygiene products and striving to maintain its position by offering excellent products complying highest quality standards worldwide.
Market Synopsis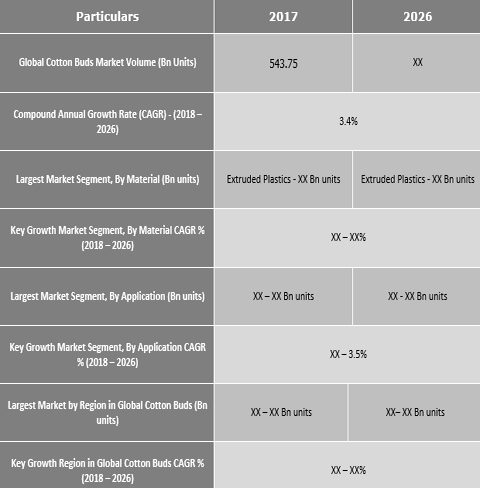 Extruded plastics projected to dominate the global cotton buds market
In 2017, extruded plastics accounted for the major market volume and is projected to maintain its dominance throughout the forecast period. Extruded plastic based cotton swabs have low non-volatile residue (NVR), low particle shedding, and are also chemically resistant. Cotton swabs with spindle of extruded plastics is used for high recovery in cases where the total organic carbon measurements are employed as analytical technique. Stringent legislations over the manufacture and sale of plastic stemmed cotton swabs as a move by British Government during the ongoing "The Cotton Bud" project has prompted manufacturers to transition towards the viable alternatives such as paper and wood. Apart from this, major retail chains such as Sainsbury, Waitrose and Tesco have committed to removal of their private labels from their shelves to support on-going movement against plastic waste.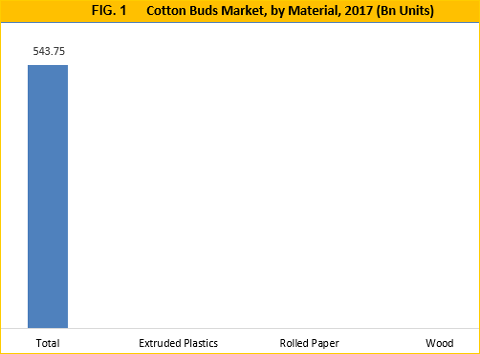 Domestic use segment to record highest CAGR during the forecast period
In 2017, domestic use dominated the cotton buds application market by volume in 2017 and expected to maintain its dominance throughout the forecast period. Baby's skin have diverse features from an adult and therefore requires special care and attention. Baby domestic application segment is projected to grow with a significant CAGR throughout the forecast period. Emerging applications of cotton buds in face paint detailing such as in marking patterns including dots, thin lines and even blending is another factor stimulating the market growth. Cotton buds are perfect hygienic tools for applying antiseptics and precise cleaning of minor cuts and scrapes. Because of the ability to change the shape of the tip for various applications, cotton buds are extensively desired for cosmetic applications. In medical applications cotton buds reach areas and crevices that are not possible by conventional methods. Therefore, swab sampling is considered as the most widely used cleaning validation techniques. Rising applications of cotton buds in the field of forensics and human genetics for collecting DNA samples by scraping cells from the inner cheek of humans is another significant factor for the market growth.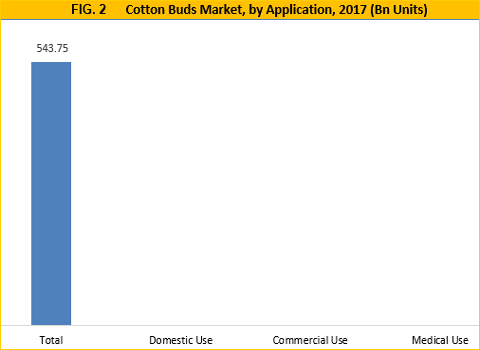 Rapid demand for cotton buds in North America projected to catapult the market growth
Globally, North America accounted for the largest share of cotton buds market. Multiple channel for sale of cotton buds worldwide is one of the major factor fueling its growth. U.S. is the second largest producers of cotton bales in the world after China. Organic cotton usage in buds manufacture is one of the latest input from the cotton industry in the U.S. to introduce insecticide/pesticide free cotton buds in the market. Spending capacity and easy availability of the product across various modes of retail channel are dominant reasons for the high growth of this market in North America. Also, presence of major manufacturing companies in Canada has also boosted the sales of cotton buds in the country.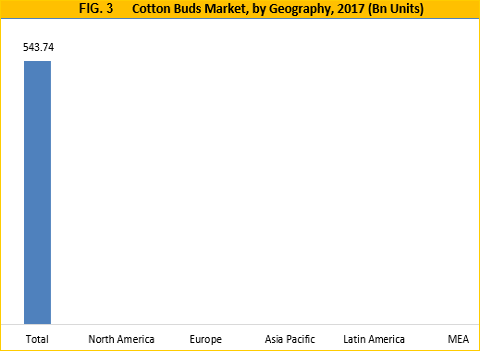 Unilever is one of the promising players in the cotton buds market
Unilever is one of the global leaders in the packaged consumer goods such as personal care products, frozen foods, tea, etc. In August 2015, Unilever, expanded its Q-tips line of products by launching multi-function electric ear swab. This three speed vibrating cotton tip is useful for separating up persistent earwax buildup as well as for everyday cleaning. This expansion will help Unilever in expanding its product portfolio which will strengthen its market position by increased local production capacity of electric ear swabs. Other major players operating in the market include Jhonson & Jhonson's, Chicco, Helenvita, Alkaloid, among others.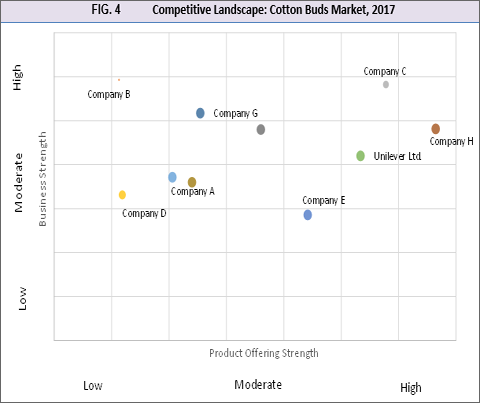 Historical & Forecast Period
2016 – Historical Year
2017 – Base Year
2018-2026 – Forecast Period
This research report presents the analysis of each segment from 2016 to 2026 considering 2017 as the base year for the research. Compounded Annual Growth Rate (CAGR) for each respective segments are calculated for the forecast period from 2018 to 2026.
Report Scope by Segments
Cotton buds market report presents the current market dynamics along with quantitative analysis of the global market. The report elucidates the detailed outline of global cotton buds market by categorizing the market in terms of material, application and geography. The objective of publishing this extensive research report is to aid the consumer goods professional and market stakeholders in making better decisions and strategic initiatives in the cotton buds market.
Material Segment (2016–2026; Bn Units)
Wood
Rolled Paper
Extruded Plastics
Application Segment (2016–2026; Bn Units)
Domestic Use
Commercial Use
Medical Use
Geography Segment (2016–2026; Bn Units)
North America

Europe


Germany
UK
Italy
France
Rest of Europe

Asia Pacific (APAC)


Japan
China
India
Rest of APAC

Latin America (LATAM)


Brazil
Mexico
Rest of Latin America

Middle East and Africa (MEA)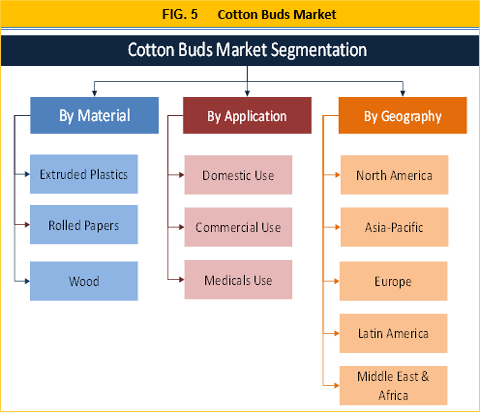 This research report further describes the major qualitative market assessment factors including key market trends, market drivers and restraints, to aid in better understanding of global cotton buds market. Each market assessment factor including market drivers, challenges and opportunities are extensively explained considering the current market scenario. This report graphically maps the market players based on their market initiatives and strategies, product offering and business strength. Furthermore, the report provides attractive investment proposition based on the extensive geographical research. Key players profiled in the report include Jhonson & Jhonson, Unilever Ltd., Chicco, Helenvita, Becutan, NUK, Sanyo, Pigeon and Tulip.
Key questions answered in this report:
What are the current market trends in the cotton buds market and valuable opportunities for the players?
How the regulatory framework affects the global as well as the regional markets?
Which are the prominent technologies and recent innovations in the market?
Which is the most successful business model implemented in the market?
How does the regulations over the use of extruded plastics affect the overall market?
What is the market size and trend in emerging markets such as China, India and Brazil?
Which are the prime applications of cotton buds among different geographies?
Which is the most promising upcoming technology?