Industry Outlook
Cutaneous mastocytosis treatment market accounted for a market value of US$ 186.7 Mn in 2017 and projected to grow at a CAGR of 5.6% during the forecast period from 2018 to 2026. Cutaneous mastocytosis is a rare disease in which uncontrolled production of mast cells leads to skin complications such as lesions, blisters, and rashes with aggravated itching. The key causes of cutaneous mastocytosis are a mutation in KIT gene which leads to overproduction of mast cells and excess accumulation of mast cell in the skin leads to chronic as well as acute reactions. The major factors that are driving this market are raising awareness related to the disease in physicians are assisting the growth of prevalence rate and expected to further assist the growth in research & development of target-specific treatment against cutaneous mastocytosis.
Market Synopsis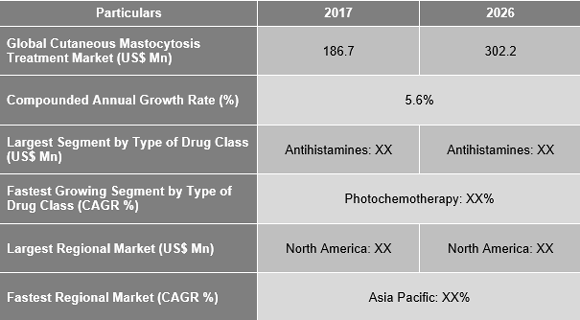 Get a sample copy for more information
"Photochemotherapy has satisfactory results and it is becoming choice of treatment for most of the dermatologists in developed as well as developing countries"
Photochemotherapy (PUVA) is identified as the fastest growing segment throughout the forecast period from 2018 to 2026 due to an effective combination of drug Psoralens and long-wave ultraviolet radiation to treat cutaneous mastocytosis is accepted and practiced by several dermatologists from developed as well as developing countries. The patients initially exposed to psoralens, drugs that contain chemicals that react with ultraviolet light & later UVA light. However, Photochemotherapy sessions required for a patient suffering from cutaneous mastocytosis are in a range of 10 to 15 times in a month.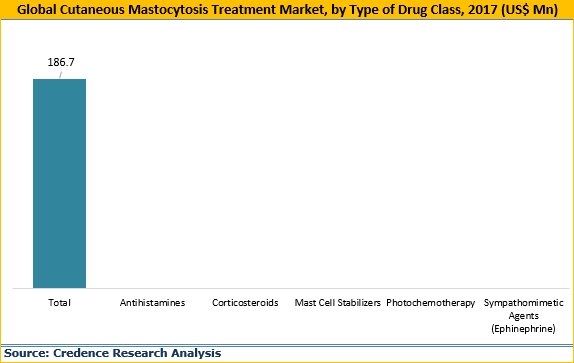 Get a sample copy for more information
"Asia Pacific is the fastest growing market due to rising awareness in dermatologists about the rare skin diseases and developing healthcare infrastructure in developing countries"
During the forecast period from 2018 to 2026, Asia Pacific identified as the fastest growing cutaneous mastocytosis treatment market mainly due to increasing awareness in dermatologists related to rare genetic disorders, and developing healthcare infrastructure is assisting the diagnosis rate. Significant economic growth in developing & developed countries of Asia Pacific has increased the overall infrastructural development including healthcare, transport, educational, and others. This has led to increasing in opportunities for local as well as migrating individuals due to which population of Caucasians is also increasing in the Asia Pacific and as the study suggests that cutaneous mastocytosis observed mainly in Caucasians.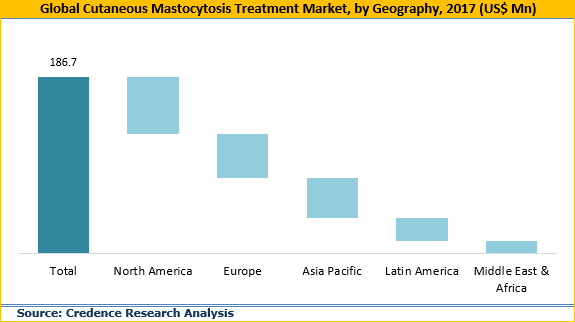 Get a sample copy for more information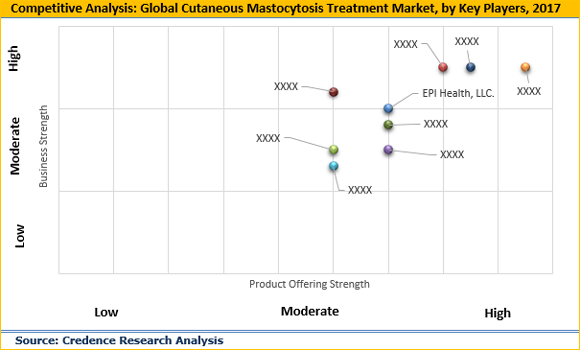 Historical & Forecast Period
The cutaneous mastocytosis treatment market analyzed considering current market trends for base year 2017 and based on future trends CAGRs calculated for the forecast period from 2018 to 2026.
Report Scope by Segments
This report covers the exhaustive study of cutaneous mastocytosis treatment market including market interpretations and assumptions analyzed based on elaborative qualitative and quantitative data segregated through primary and secondary research. Industry stakeholders through primary interviews have helped to analyze and understand market dynamics such as opportunities, drivers, & challenges further segmented to region & respective countries. This report also covers a complete study of several segments of global cutaneous mastocytosis treatment such as the type of drug class, and geography. Pipeline analysis covers information related to two molecules that are under clinical trial and expecting approval in the near future. The report also provides an understanding associated with competitive landscape of the key companies operate and present in cutaneous mastocytosis treatment market that includes company data points such as current/future business strategies, financial data, & product portfolio.
ATTRIBUTE
DETAILS
Research Period
2017-2027
Base Year
2018
Forecast Period
2019-2027
Historical Year
2017
Unit
USD Million
Segmentation

Type of Drug Class (2016–2026; US$ Mn)
• Antihistamines
• Corticosteroids
• Mast Cell Stabilizers
• Sympathomimetic Agents (Ephinephrine)
• Photochemotherapy

Pipeline Analysis
• Phase III (Sales till 2026; US$ Mn)
o Mastinib
• Phase II (Qualitative Information)
o TF 002

Geography Segment (2016–2026; US$ Mn)
• North America (U.S., Canada)
• Europe (U.K., Germany, Rest of Europe)
• Asia Pacific (Japan, China, Rest of APAC)
• Latin America (Brazil, Mexico, Rest of LATAM)
• Middle East and Africa (GCC, Rest of MEA)
The key companies currently available in the market analyzed based on recent market updates, product portfolio, financial data, and major strategies. This report also includes attractive investment proposition analyzed with the help of PESTEL analysis, which focuses on in-depth geographical research. Key companies present in the overall report are Novartis AG, Mylan NV, Teva Pharmaceutical Industries Ltd., Bausch Health Companies Inc., Pfizer Inc., Teva Pharmaceutical Industries Ltd., Sanofi S.A., Johnson & Johnson, Bayer AG, and Mallinckrodt Pharmaceuticals among others.
Key questions answered in this report
Which drug class type is in high demand to treat cutaneous mastocytosis & Why?
What are the present market strategies & policies studied & applied by major market players & competitive landscape of the global cutaneous mastocytosis treatment market?
Which are the crucial & impending geographical markets (regions and countries) in cutaneous mastocytosis treatment market & Why?
Which is the largest and fastest growing region globally?
What will be the expected sales of drugs under pipeline?