Growing adoption of drones across various industries to influence the drone simulator software market positively
With consistently growing penetration of drones across commercial as well as defense applications, drone simulator software market is set to register high growth over the forecast period. Drone simulator software is designed to create an environment in accordance to a pilot's needs as well as the type of drone. This helps testing one's skills as a drone pilot as well as train people to operate drones. The overall drone simulator software market is primarily driven by the increasing penetration of drones for various applications such as defense, photography, sports and surveillance among others.
Over the past few years, the overall drones industry has undergone immense advancement ranging from longer flight times to larger payloads. The overall drones industry is expected to cross the 3 Mn mark, in terms of units in 2018. As a result, there has been a significant growth in the demand for drone-generated data for use in commercial applications, thereby influencing the drone simulator software market growth positively. Simulations designed specifically for first-person view (FPV) freestyle and drone racing have become more popular in recent years.
Another prominent factor supporting the market growth is significant cost of drones. Drones are expensive products (ranging from a few hundred to several thousand dollars), making it very important for users to undertake a proper training before piloting the real drone. Subsequently, more users have now turned to drone simulators in order to avoid accidents/crashes. Moreover, drone simulator software are easy to install and can be used on a computer with minimal cost. This further creates positive demand for drone simulator software. Drones are widely used for military purposes in order perform operations such as border security, surveillance and combat missions among others. These factors further arises the need for related training activities, thereby spurring the demand for drone simulator software.
Market Synopsis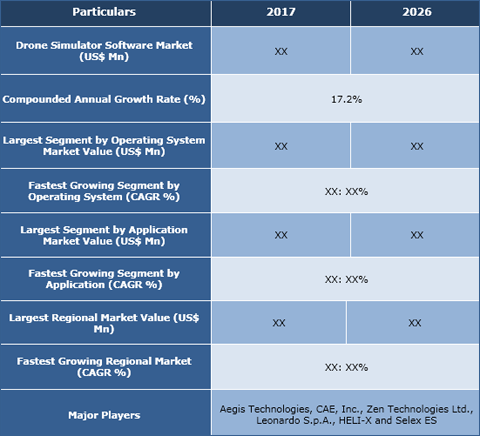 High expenditure from defense sector to continue spurring the segment growth
In 2017, the defense & law enforcement segment led the overall drone simulator software worldwide market. The segment contributed to over 2/3rd of the total market value in 2017. The segment growth is primarily attributed to heavy expenditure over drones and wide adoption across applications border surveillance, reconnaissance and combat missions. Growing geopolitical tension between countries is further leading to increased adoption of drones in the military segment. Drone simulator software market growth is expected to go hand-in-hand with continually increasing penetration of drones, especially in defense sector.
Moreover, widening application of drones for police surveillance and traffic monitoring is further contributing to the defense & law enforcement segment growth. In commercial segment, the demand for drone simulator software has emerged from increasing usage of drones across photography, journalism, delivery and sports. Moreover, movie makers and photographers are considering use of drones for capturing quality videos and photographs. This gives rise to additional training requirements using drone simulators, thereby aiding the market growth.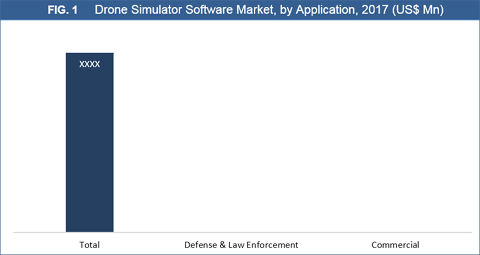 High penetration of drones across North America complimenting the demand growth for drone simulator software
The global drone simulator software market is dominated by North America contributing to more than 1/3rd of the overall market value generated worldwide. The drone simulator software market growth here is majorly attributed to the strong drone sales in the region along with presence of major companies including Aegis Technologies, CAE, Inc. and L-3 Link Simulation & Training among others. North America enjoys high penetration of drones being widely used across defense and commercial applications. Moreover, rising popularity of the Drone Racing League (DRL) in the U.S. is another prominent factor influencing the drone simulator software market growth positively.
Asia Pacific is estimated to witness a significant growth over the forecast period. The growth can be attributed to countries such as China, India, Japan, South Korea and few others having significant expenditure over military drones. Asia Pacific has witnessed numerous geopolitical tensions amongst its countries in the recent past, paving way for drones market. According to a list released by Stockholm International Peace Research Institute (SIPRI), China was the second biggest military spender in 2016, making the country a promising market for drones as well as related training software. Similarly, India too is on a buying spree for military equipment including drones. Considering the wide application of drones in the military space in the region, the requirement of skilled pilots has also increased, which in turn is expected to drive the drone simulator software market during the forecast period.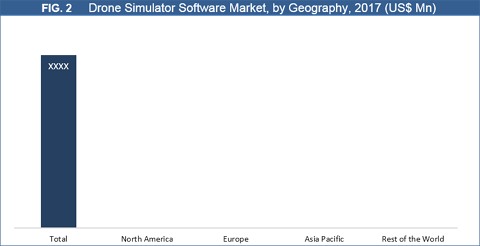 Key strategies adopted by the players and outlook of the market
Offering product differentiation is one of the most common strategies adopted by the players in this market. This strategy is particularly helpful in addressing the increasing competition in the market and also to generate increased sales. Moreover, as a result of the wide array of application that drones are used for, it further creates the need on the part of the drone simulator software market players to cater to varied requirements. For instance, FPV free rider offer fliers six different sceneries to practice. Similarly, ImmersionRC allows users to customize a drone by changing motors and batteries.
The drone simulator software market has an enormous growth opportunity in the years to come benefiting from drone delivery services. Delivery drones expected to gain in significant prominence in the following years. JD.com, a Chinese online retailer has already started drone delivery in four provinces in China. Similarly, Zipline and DHL are planning to use drones to deliver medicines in rural and remote areas. Even companies such as Google, Inc., Amazon.com, Inc. and United Parcel Service, Inc. (UPS) are working towards drone delivery service. For instance, in 2013, Amazon announced its plans for a new drone delivery service called Prime Air. In December 2016, the company made its first drone delivery in the U.K. Moreover, Amazon further plans to expand its drone delivery service that would enable it to cater to a larger customer group. These factors expected to positively affect the adoption of drone simulator software in the coming years for training related activities.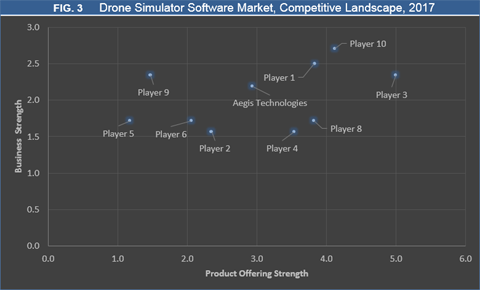 Historical & Forecast Period
2016 – Historical Year
2017 – Base Year
2018-2026 – Forecast Period
This research report presents the analysis of each segment from 2016 to 2026 considering 2017 as the base year for the research. Compounded Annual Growth Rate (CAGR) for each respective segments are calculated for the forecast period from 2018 to 2026.
Report Scope by Segments
Operating System Segment (2016–2026; US$ Mn)
Application Segment (2016–2026; US$ Mn)
Defense & Law Enforcement
Commercial
Geography Segment (2016–2026; US$ Mn)
North America

Europe


United Kingdom
Germany
France
Rest of Europe

Asia Pacific (APAC)


China
Japan
India
Rest of APAC

Rest of the World (RoW)


Middle East and Africa (MEA)
Latin America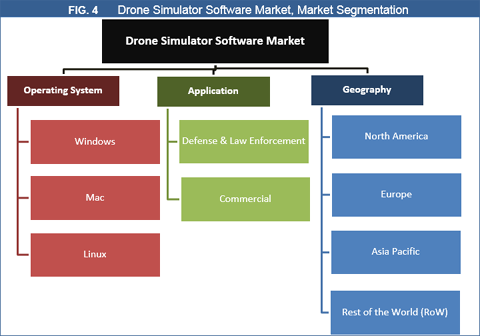 Some of the major players profiled in the report are Aegis Technologies, CAE, Inc., Zen Technologies Ltd., Leonardo S.p.A., HELI-X, Selex ES, RealFlight Software, ImmersionRC Ltd., L-3 Link Simulation & Training and Hotprops among others.
Key questions answered in this report
What is the global market size?
What are the current trends affecting the drone simulator software market?
What are the valuable opportunities for the players?
What are the key strategies adopted by the leading players in the market?
Which are the emerging markets?