The electric motor refers to a rotating machine that converts electrical power (electric current) into mechanical power. Electric motors form among the most prominent equipment used across different industrial and commercial sectors. However, use of electric motors involves several challenges such as difficult controllability (especially in the case of AC induction motors). Conventionally, electric motor control systems were designed using analog components having easy design and inexpensive components. However, these control system pose challenges such as component variation due to factors such as aging and temperature. Digital control systems (such as DSP motor control) offer several improvements over their analog counterparts. Using DSP motor control eliminates component variation/drift as most of the functions are performed digitally. DSP motor control provides high speed, high resolution and sensor-less algorithms thereby reducing the overall system costs. This enables more precise control of electric motor operation.
The most prominent factor fueling the DSP motor controllers market is the consistently rising industrial manufacturing sector worldwide. Due to continual growth in the industrial manufacturing & processing sector, the demand for related industrial equipment (such as electric motors) has witnessed high growth over the past several years. As a result, adjacent markets such as DSP motor control systems too have demonstrated remarkable growth, over the period of time. Another major factor driving the market growth is the rising shift towards digitized control systems for better control and efficiency. With the continual adoption of digital control systems along with the product advancement, DSP motor controllers market is expected to continue witnessing promising growth during the forecast period.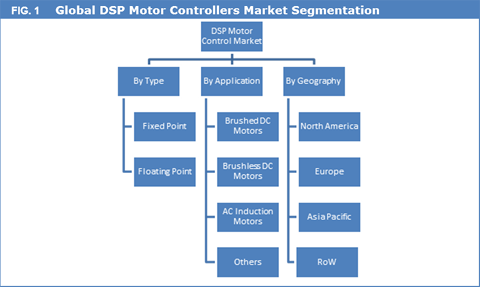 The report titled "Global DSP Motor Controllers Market- Growth, Future Prospects and Competitive Analysis, 2017 – 2025" offers strategic insights into the global DSP motor controllers market along with the market size and estimates for the duration 2015 to 2025. The said research study covers in-depth analysis of multiple market segments based on type, application and cross-sectional study across different geographies and sub-geographies. The study covers the comparative analysis of different segments for the years 2016 & 2025. The report also provides a prolific view on market dynamics such as market drivers, restraints and opportunities.
In order to help strategic decision makers, the report also includes competitive profiling of the leading providers of DSP motor controllers, market positioning and key developments. Some of the major players profiled in the report are Texas Instruments, Maxim Integrated Products, Inc., Analog Devices, Inc., Freescale Semiconductor, Inc, Microchip Technology, Inc., ON Semiconductor, STMicroelectronics, Unico, Inc., TECHNOSOFT SA, Data Device Corporation (DDC), Moog, Inc. and Jameco Electronics.
Other in-depth analysis provided in the report includes:
Current and future market trends to justify the forthcoming attractive markets within the DSP motor controllers industry
Market fuelers, market impediments, and their impact on the market growth
In-depth competitive environment analysis
Trailing 2-Year market size data (2015 – 2016)
SRC (Segment-Region-Country) Analysis
Overall, the research study provides a holistic view of the global DSP motor controllers market, offering market size and estimates for the period from 2017 to 2025, keeping in mind the above mentioned factors.