1. Market Excerpt
2. Increasing investment in urban infrastructure development to drive the demand for earthmoving equipment
The global market for earth moving equipment was valued at US$ 81.5 Bn in 2017 and expected to cross US$ 148.0 Bn by 2026 at a CAGR of 7.0% from 2018 to 2026. The market for earth moving equipment is expected to witness considerable growth with improving economic conditions and resurgence in construction industry. Countries across the world are releasing funds for urban as well as rural infrastructure development and increasingly investing in highway networks, roads, and ports development projects in order to support their economic growth. Moreover, increasing population and urbanization is supporting the new government-driven construction projects in the major countries across the globe. In addition, construction of IT parks and commercial buildings is also expected to increase throughout the forecast period with improving economic outlook. All these factors are expected to spur the demand for earthmoving equipment globally.
Market Synopsis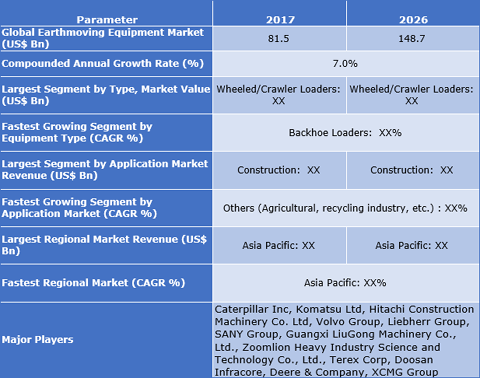 Get a sample copy for more information
Rising demand for technologically advanced products that helps in real-time monitoring has led to introduction of advance earthmoving equipment. Manufacturers are integrating advanced monitoring solutions with earthmoving equipment in order to increase productivity, reduce fuel consumption; avoid unauthorized access and to get alerts in case of illegitimate activities and mishaps. Self-propelled earthmoving equipment are also gaining popularity over traditional equipment used in road construction and earthmoving applications. Multifunctional earthmoving equipment offer higher efficiency and productivity compared to traditional equipment. In addition, use of multifunctional equipment helps to reduce number of laborers and operation time. Thus, technological advancement for real-time monitoring of equipment and introduction of multifunctional machineries are also expected to be another major driving factor for earthmoving equipment. Significant demand is also observed for autonomous and remote controlled machines due to introduction of stringent safety regulations in mining and construction sector in developed markets.
"Asia Pacific dominating the global earthmoving equipment market and expected to witness the highest growth over the forecast period"
Asia Pacific is expected to continue dominating the global earthmoving equipment with more than 39% of share throughout the forecast period as it include large markets such as India, China and Japan. India is expected to witness the fastest growth with increasing investment in infrastructure development as well as government supported housing projects in the country. Moreover, Indian Government has allowed 100% foreign direct investment (FDI) in construction sector in order to increase funding for infrastructure development projects in the country. Similarly, China's Central Government has also gradually relaxed investment regulations in construction sector and credit availability with an intention to support the growth in construction sector. Ambitious infrastructure development programs along with rising funding are expected to increase the demand for earthmoving equipment in India and China. Earth moving equipment market in Southeast Asia is also expected to witness considerable growth as countries such as Indonesia, Malaysia and Philippines are investing heavily in construction sector. Middle East & Africa (MEA) is another potential market for earthmoving equipment. Middle East & North Africa are focusing to shift their dependency from oil to commercial and non-oil industries which is increasing their investment in infrastructure development of these industries.
In the recent few years, the construction sector in the U.S. is shaping up steadily with increasing spending in residential constructions. According to the U.S. Census Bureau, total construction spending in the U.S. increased by 6.5% in 2016 compared to 2015. Improving outlook of the construction industry in the U.S. is expected to spur the demand for earthmoving equipment over the forecast period from 2018 to 2026.
Get a sample copy for more information
"Wheeled/Crawler Loaders expected to dominate earthmoving equipment market throughout the forecast period"
Wheeled and Crawler loaders offer greater payload capacity and versatility to perform multiple tasks and used in wide range of applications such as load-and-carry, digging, road construction, material handling, and other applications . Thus, wheeled/crawler loaders dominating the overall earthmoving equipment market and is expected to maintain its domination with continuous efforts of manufacturers to improve capabilities of loaders used in multiple applications. The demand for backhoe loaders is growing rapidly in emerging countries due to its increasing adoption in construction and urban engineering projects.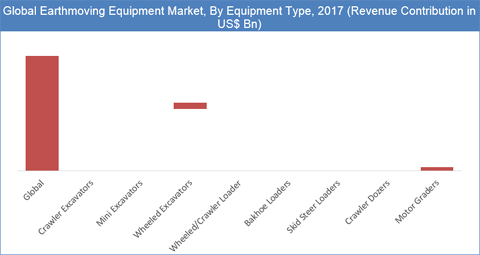 Get a sample copy for more information
"Chinese manufacturers are focusing on quality enhancement to capitalize opportunities in international markets"
The global earthmoving equipment market comprises large number of established players including Caterpillar Inc, Komatsu Ltd, Hitachi Construction Machinery Co. Ltd, Volvo Group, Liebherr Group, SANY Group, Guangxi LiuGong Machinery Co., Ltd., Zoomlion Heavy Industry Science and Technology Co., Ltd., Terex Corp, Doosan Infracore, Deere & Company, XCMG Group and others. Chinese manufacturers had successfully capitalized opportunities in the local market and now focusing on expansions in international markets. Leading Chinese manufacturers such as XCMG, Zoomlion, SANY and LiuGong are focusing on developing international quality products to capitalize opportunities in Latin America, Middle East, Africa and emerging Asian markets.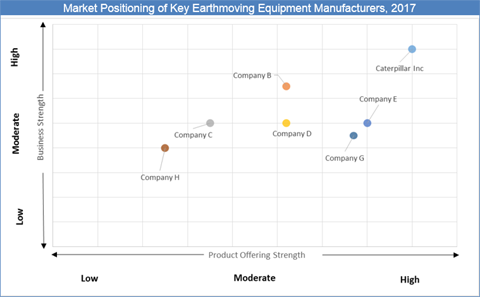 Why it is recommended to invest in our earthmoving equipment market research study?
The research report on global earthmoving equipment market offers in-depth analysis of trends and dynamics in the global earthmoving equipment market. The report offers exhaustive qualitative as well as quantitative analysis of different equipment types and their applications. The report highlights key driving and limiting factors and outlines vital opportunity areas in the global earthmoving equipment markets. The report also includes value chain analysis of earthmoving equipment industry and market attractive analysis of earthmoving equipment industry in order to help market players in their tactical decision making. The earthmoving equipment market is segmented into following categories:
ATTRIBUTE
DETAILS
Research Period
2016-2026
Base Year
2017
Forecast Period
2018-2026
Historical Year
2016
Unit
USD Billion
Segmentation

by Equipment Type (2016–2026; US$ Bn and Thousand Units)
• Crawler Excavators
• Mini Excavators
• Wheeled Excavators
• Wheeled/Crawler Loader
• Backhoe Loaders
• Skid Steer Loaders
• Crawler Dozers
• Motor Graders

by Application (2016–2026; US$ Bn and Thousand Units)
• Construction
• Mining
• Others (Agriculture, Recycling etc)

by Geography Segment (2016–2026; US$ Bn and Thousand Units)
• North America (U.S., Canada)
• Europe (Germany, U.K., France, Rest of Europe)
• Asia Pacific (Japan, China, India, Rest of APAC
• Latin America (LATAM)
• Middle East and Africa (MEA)
Our research study include market estimates for each segment mentioned above. This research study also include profiles of major layers in the global earthmoving equipment industry. Each profile includes highlights of company overview, financial performance, product offerings and recent development related to earthmoving equipment market.
By investing in our research study, our clients will get detailed analysis of the global earthmoving equipment market that would help them in formulating their market winning strategies and take vital tactical decisions.
Meticulous Research Approach
Our dedicated research team of heavy industry domain invested around 45 days to analyze trends and dynamics of the global earthmoving equipment industry and to provide precise findings to our clients. Research team exhaustively studied reliable sources including annual reports and news articles of major players, white papers, publications of different construction equipment associations, industry magazines and trade associations. Moreover, our dedicated primary research team conducted primary interviews with industry experts to understand their views and validate our secondary research findings. We have conducted telephonic interviews with industry experts located in all the regions and countries covered in the scope of the study in order to provide you precise market estimates and analysis at regional and country level. With the blend of primary interviews and secondary findings and research team's understandings, all the outlines were drawn and further validated from industry experts. After the approval from industry experts and in-house expert panels including senior analysts, research manager and quality checking team, all the findings were compiled in the client deliverable.
Historical & Forecast Period
This research report presents the analysis of each segment from 2016 to 2026 considering 2017 as the base year for the research. Compounded Annual Growth Rate (CAGR) for each respective segments are calculated for the forecast period from 2018 to 2026.
Key questions answered in this report
What is the historical and potential market size (unit sold and market value in US$ Bn) of earthmoving equipment market?
What are the key trends in the global earthmoving equipment industry?
What are the key potential areas in the earthmoving equipment market?
Who are the leading players in global market and their market winning strategies?
What are the mandatory regulations and specification required to manufacture earthmoving equipment?
Who are major customers for earthmoving equipment manufacturers and suppliers?
Which is the attractive equipment category for earthmoving equipment manufacturers?
What are the major trends in each application segment?
Which are key investment countries for earthmoving equipment manufacturers?