Industry Outlook
The gastroenterology devices market is set to reach US$ xx Mn by 2026 from US$ xx Mn in 2017 featuring magnificent growth at a compounded annual growth rate (CAGR) of 7.1% during the forecast period from 2018 to 2026. According to the latest research citing provided by World Health Organization (WHO), approximately 3 to 6 million children throughout the globe die annually due to gastrointestinal infections. The causative agents for gastrointestinal disorders are, lack of sanitation, ingestion of infected food & water, sedentary lifestyle, craving for fast food etc. In developing countries the outbreak of gastrointestinal diseases is a serious concern in hospital environment. Gastrointestinal disorders are less tolerant in the Caucasian population and so the preventive measures taken by healthcare agencies in the western hemisphere are rapid diagnosis, early treatment intervention and control the spread of infection. Technological advancement in the different types of endoscopes & bariatric surgery devices and increasing demand for minimally invasive surgical procedures drive the gastroenterology devices market growth.
Market Synopsis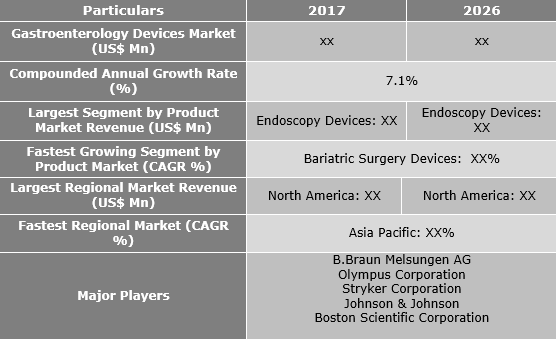 Increasing demand for minimally invasive surgery and recent technological advancement drive the endoscopy devices market
Endoscopy devices are currently leading the product segment for gastroenterology devices market. The factors responsible for the dominance of endoscopy devices are increasing demand for minimally invasive surgery such as laparoscopy and recent technological advancement in the gastrointestinal videography devices. Capsule endoscopes, hemostatic devices, endoscopic retrograde cholangiopancreatography devices and biopsy devices etc. are widely used as endoscopic devices for diagnosing and treating gastrointestinal ailment. Videoscopes are currently in huge demand due to increasing number of people suffering with irritating bowel syndrome, crohns disease etc., which requires early screening to prescribe appropriate treatment regime. Capsule endoscopy is gaining popularity on account of its ability to generate internal images of small intestines and colon regions to aid accurate laparoscopic surgery. Ostomy products are widely used in rehabilitation centers for senile patients undergoing colostomy. Electronic enteral feeding pumps are available in the market which has features such as automated flushing and delivery of hydration. Is has tremendous demand for infants suffering with malnutrition and dehydration. Bariatric surgery devices will showcase outstanding growth during the forecast period owing to the rising prevalence of obesity worldwide, binge drinking, fatty diet etc. It has proven beneficial in overcoming obesity related disorders such as diabetes, cardiovascular disease etc. Change in gastrointestinal anatomy causes the increased production of hormones which reduces appetite and stimulates the satiety center.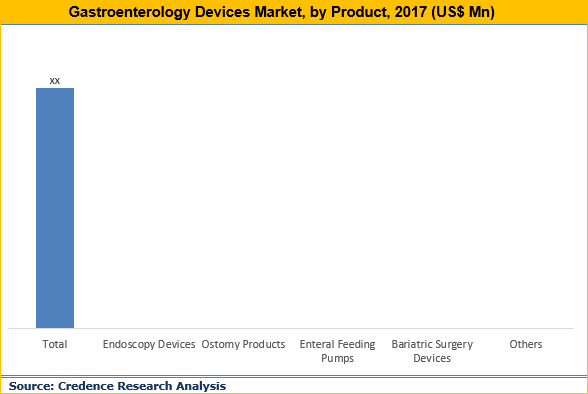 Rising prevalence of gastrointestinal disorder and obesity to drive the gastroenterology devices market in North America
In the current scenario North America is leading the regional segment for gastroenterology devices market. The key parameters that attributes to the magnificent market growth in North America are rising prevalence of gastrointestinal disorders and obesity. As per the statistics provided by Center for Disease Control and Prevention (CDC) in 2016, approximately 14.7 million people were diagnosed with ulcers in the gastrointestinal tract which is equivalent to 6% of the diagnosed ulcers in adult population. Increasing obesity in younger population, sedentary lifestyle and craving for fast food result in positive traction for gastroenterology devices market in North America. In Europe the market growth is due to presence of established healthcare infrastructure and stringent guidelines stipulated by European Medical Agency to prevent gastrointestinal illness. Presence of medical device manufacturers such as Olympus Corporation, B.Braun Melsungen AG and Karl Storz GmbH & Co., KG provide gastroenterology devices in European region. Asia Pacific serves as a potential market for gastroenterology devices market on account of rising prevalence of gastrointestinal complication and civic amenities. Presence of local players and increasing medical tourism give an impetus to the gastroenterology devices market in Asia Pacific region.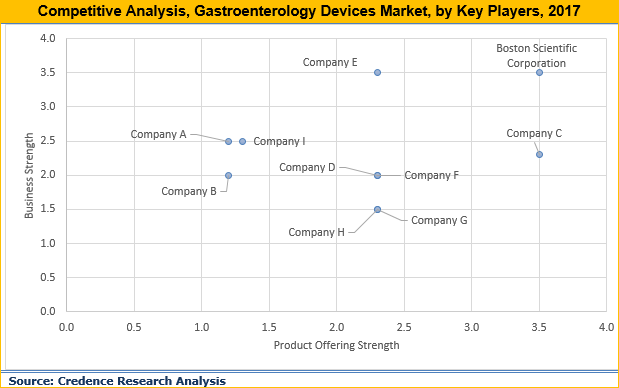 Historical & Forecast Period
2016 – Historical Year
2017 – Base Year
2018-2026 – Forecast Period
This research report presents the analysis of each segment from 2016 to 2026 considering 2017 as the base year for the research. Compounded annual growth rate (CAGR) for each respective segments are calculated for the forecast period from 2018 to 2026.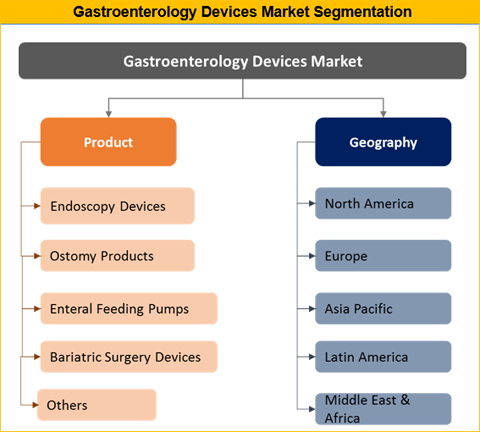 Report Scope by Segments
In the scope of the report gastroenterology devices market inorganic and organic market growth strategies were garnered to determine the market size and forecast for the duration 2016 to 2026. The segmentation is as follows:
By Product (2016–2026; US$ Mn)
Endoscopy Devices
Ostomy Products
Enteral Feeding Pumps
Bariatric Surgery Devices
Others
Geography Segment (2016–2026; US$ Mn)
North America

Europe


United Kingdom
Germany
Rest of Europe

Asia Pacific


China
Japan
Rest of Asia Pacific

Latin America (LATAM)


Brazil
Mexico
Rest of Latin America

Middle East and Africa (MEA)

Medical device manufacturers providing gastrointestinal devices are B.Braun Melsungen AG, Boston Scientific Corporation, Cardinal Health, Covidien Ltd., Conmed Corporation, Fujinon Ltd., Johnson & Johnson, Karl Storz GmbH & Co. KG., Olympus Corporation and Stryker Corporation.
Key questions answered in this report
Who are the medical device manufacturers participating in the gastroenterology devices market?
What will be the compounded annual growth rate and market estimation for the forecast period from 2018 to 2026?
What are the different complications related to gastrointestinal tract?
How is the competition among key players assessed for gastroenterology devices market?
Which is the largest and fastest growing product segment for gastroenterology devices market?
Which is the largest and fastest growing geographical segment for gastroenterology devices market?