Industry Outlook
The global geriatric population is rising at an unprecedented rate. The pool of population aged 60 years is anticipated to double until 2050 and more than triple by 2100 (rising from 962 million in 2017 to 2.1 billion in 2050 and 3.1 billion in 2100). Aging of population has profound effects in terms of disease burden and social and healthcare systems. Currently, elderly care systems worldwide are observed to be underprepared to address the increasing demand from this age group, including those in the high-income countries. Countries are facing caregiving cliff for the geriatric population. In the United States, unpaid family caregivers are observed to provide the highest assistance to chronically disabled individuals aged 65 years and above, to live in communities rather than specialized care facilities. It is also reported that in 2013, about four of every ten America adults identified themselves as primary caregivers. This number is anticipated to further rise, as the baby boom generation has entered the retirement age. Aging is a further more aggravated problem in middle- and low-income countries. For instance, in China, the world's biggest developing economy, the burden of geriatric population is exponential. In 2011 alone, 32% of the senescent population, aged 60 and above reported poor health, 38% has difficulty in daily living and 23% lived below poverty line. Furthermore, the tradition of keeping the elderly with children and grandchildren rather than care home is also changing. This is reflecting a change in society norms as a result of rapid urbanization, adoption of western lifestyle and one child policy.
Geriatric care services imply professional advocates for senior and disabled individuals while managing various types of social and health care services in order to meet long-term care needs, maintain independence for as long as possible and improve quality of life. Geriatric care services also imply experienced resource for families of the elderlies for coordinating health and psychological care with the most suitable milieu of services.
Primary gains in this market are driven by changes in demographics, including the exponential growth in baby boom generation entering the retirement age, an increasing life expectancy. Market growth is further facilitated by changing government regulations, government payments, allowing more flexibility in service and payment options. As the process of care services continue to rise, market gains will be derived from increased payments per patients. Conversely, the growth of this market is restrained by reduced affordability, and lack of reimbursements in certain regions.
Market Synopsis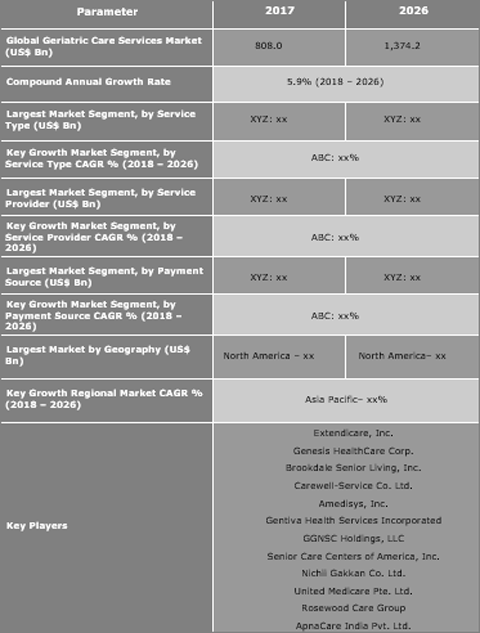 Get a sample copy for more information
"Home Healthcare Services to Progress at the Fastest Growth Rate"
In 2017, skilled nursing care facilities accounted for the largest revenue share in the global geriatric care services market. Additionally, home healthcare services segment will advance at the fastest CAGR during the forecast period, to account for over 30% of the global market through 2026. Shift in preference of senescent population to move their healthcare to home as against institutions has been a key definitive factor to this growth. Efforts to reduce inpatient costs is also a key value that has been urging hospitals to move such patient pool to home care, therefore rendering emergence of home healthcare services. Regulations supporting reimbursement to home care services are also driving the growth of this segment. Additionally, social services segment will also witness significant growth during the forecast period, particularly in high-income countries.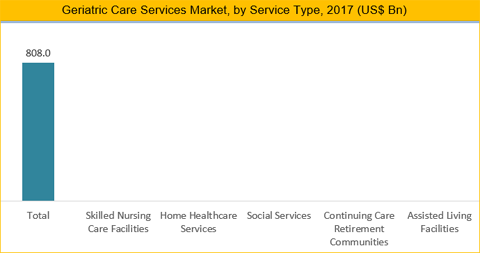 Get a sample copy for more information
"Public Expenditure to Remain the Largest Source of Payment in the Global Market"
Public expenditure from agencies such as Medicare and Medicaid is the largest payment source in the elder care services market. This segment will also progress at the slowest growth rate during the forecast period from 2018 to 2026. The restrained growth of this segment is attributed to growing scope of home and community based waivers. Out of pocket expenditure constitutes to be the fastest and most prominent source of expenditure in the global market, due to restrained support from governments in several countries. Additionally, private insurance will progress at a stable rate during the forecast period, as more and more individuals are observed to consistently opt for private insurances to avail long-term care.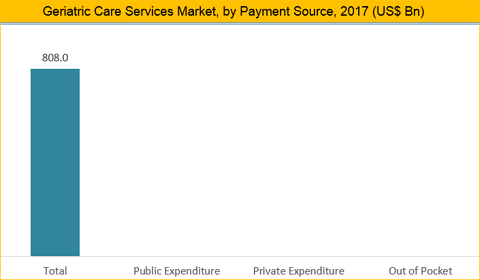 Get a sample copy for more information
"For-profit Services to Remain the Dominant Segment During the Forecast Period"
Over 70% of the residential care facilities for elderly population are private or for-profit institutions, and many of these institutions are a part of a national or international chain. In contrast, non-profit facilities and services are owned by groups with professional, charitable, religious or ethnic affiliations. Ethnic and religious groups are often mission driven, therefore implying that they have a higher purpose for serving the residents. However, these too are businesses and need to perform effective operation and comply appropriate regulations. Major drawbacks of for-profit care services such as low staffing levels, high deficiencies observed by public agencies, and causing jeopardy or harm to the residents has urged individuals to opt for non-profit institutions, therefore rendering the fastest market growth to the latter segment.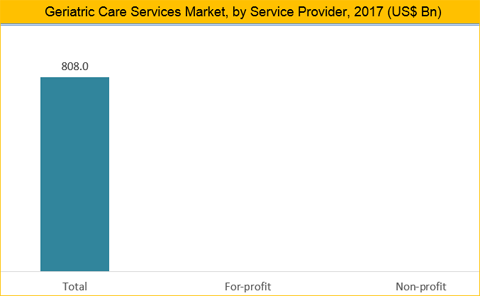 "Asia Pacific to Rapidly Advance due to Perpetually Growing Chronic Patient Pool"
In 2017, North America was observed as the largest regional market for geriatric services, followed by Europe. The two regions will maintain their dominance through the forecast period from 2018 to 2026. The senior care services market in North America and Europe are well structured and is swiftly developing. Support from governments in the form of NHS, Medicare and Medicaid for allowing long-term care to geriatric individuals is further garnering prominence to these regions. In other parts of the world, geriatric care services market is still budding, barring exceptions such as Japan, Thailand and others. Markets of China and India will face a grave situation in terms of geriatric care. The dynamics in China market are swiftly changing with perennial growth in aging population. Therefore, China is estimated to be an attractive market for investment in ventures for geriatric care services.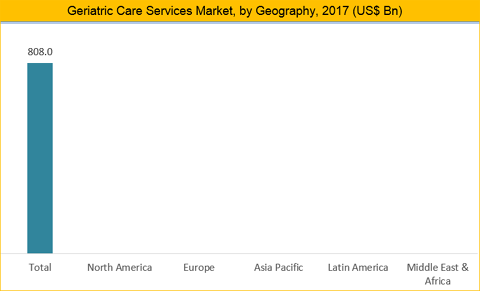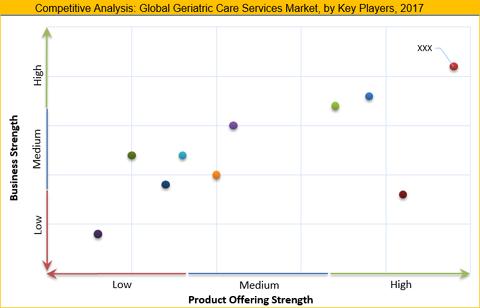 Historical & Forecast Period
This research report presents the analysis of each considered segment for the period from 2016 to 2026, having 2017 as the base year for estimations. Compounded annual growth rates (CAGRs) for each segment are calculated for the forecast period from 2018 to 2026.
Report Scope by Segments
This report presents in depth analysis of the global geriatric services industry in terms of qualitative and quantitative information. The quantitative information in this study includes market size of each of such considered segments for the period from 2016 to 2026, along with respective CAGRs for the forecast period from 2018 to 2026. The qualitative information presented in the study includes market dynamics such as the market drivers, challenges and opportunities respective to the industry. For the purpose of this study, the global geriatric care services market is studied for service type, service providers, payment sources and geography.
ATTRIBUTE
DETAILS
Research Period
2016-2026
Base Year
2017
Forecast Period
2018-2026
Historical Year
2016
Unit
USD Billion
Segmentation

By Service Type (2016–2026; US$ Bn)
• Skilled Nursing Care Facilities
• Home Healthcare Services
• Social Services
• Continuing Care Retirement Communities
• Assisted Living Facilities

By Service Provider (2016–2026; US$ Bn)
• For-profit
• Non-profit

By Payment Source (2016–2026; US$ Bn)
• Public Expenditure
• Private Expenditure
• Out of Pocket

Geography Segment (2016–2026; US$ Bn)
• North America (United States and Canada)
• Europe (U.K., Germany, Rest of Europe)
• Asia Pacific (China, Japan, Rest of Asia Pacific)
• Latin America (Brazil, Mexico, Rest of Latin America)
• Middle East and Africa (GCC, Rest of MEA)
This report includes competitive analysis of the major players engaged in geriatric care services; and also includes profiles of such players in terms of business overview, product portfolio, key developments and financial information. The key players profiles in this report include Extendicare, Inc., Genesis HealthCare Corp., Brookdale Senior Living, Inc., Carewell-Service Co. Ltd., Amedisys, Inc., Gentiva Health Services Incorporated, GGNSC Holdings, LLC, Senior Care Centers of America, Inc. Nichii Gakkan Co. Ltd., United Medicare Pte. Ltd., Rosewood Care Group and ApnaCare India Pvt. Ltd.
Key questions answered in this report
What is the market size of the global geriatric care services market in 2017 and how will it progress through the forecast period from 2018 to 2026?
How prominent is the position of home care services segment?
In which direction the regulatory environment in high-, middle-, and low-income countries progress will progress through the forecast period?
Will the non-profit services segment challenge the growth of for-profit institutions?
What is the share and public and private expenditure?
In line with changing regulations, will out-of-pocket expenditure segment be affected?
What is the market position of assisted living facilities segment?
What is the current situation of China and India markets in Asia Pacific?
What is the current and future market share of North America market?
What are the key strategic initiatives adopted by market players?