Industry Outlook
The global glycogen market volume was at 2,176.6 Ton in 2017, and expected to grow at 5.8% CAGR during the forecast period from 2018 to 2026. Glycogen is a multi-branched glucose polysaccharide that acts as an energy reservoir in animals, humans, bacteria and fungi. Glucose is the key foundation of energy or fuel in cells. At the point when the body doesn't need to consume the glucose for energy, it stores it in muscles and liver. This stored glucose is called glycogen which is composed of several connected molecules. The polysaccharide arrangement of glycogen denotes the main storage method of glucose in the body. Glycogen is an analogue of starch, a polymer that works as energy storage unit in plants. There are two major methods of glycogen production namely extraction of glycogen from natural sources such as animal tissues and shellfish and synthesis of glycogen from glucose-1-phosphate.
The use of glycogen is gaining traction owing to rising demand from current and emerging applications, advancements in technology, and demand for organic ingredients in pharmaceuticals and cosmetics. Moreover, increasing application of glycogen in food supplements and personal care and cosmetics products is expected to stimulate the demand over the foreseeable years. However, expensive raw materials and complex manufacturing process is anticipated to restrict the market growth.
The demand for glycogen is high from applications such as food, sports nutrient and pharmaceuticals amongst others. Plant based glycogen is more in demand due to its natural & abundant presence and available for cheap prices. Comparatively, the animal based are costlier than plant based. Rising awareness of requirement of glucose as an instant energy is one of the driving factors for the market, globally. More and more food supplements are now rich source of glycogen that can be consumed directly and no special formulation is required.
Expansion and product development are the key strategies being adopted by dominant players such as Glico Nutrition Co. Ltd., Thermo Fisher Scientific Inc., etc. in the global glycogen market to gain competitive edge over other market players.
Market Snapshot: Global Glycogen Market Volume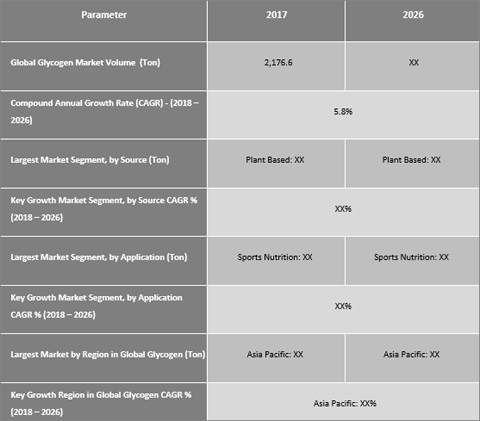 Get a sample copy for more information
Plant Based Led the Source Segment and Expected to Maintain its Dominance during the Forecast Period
By source, the glycogen market is broadly segmented into two major categories namely plant based and animal based. The animal based segment is further sub-categorized into terrestrial animals that includes rabbit, bovine, etc. and marine animals (mussel, oyster, squid, crab, lobster, etc.).
In 2017, Plant based segment accounted for the largest market value share of 77.0% of total glycogen market. Whereas, in animal based segment, terrestrial animal based accounted for 80.0% share of the market and projected to maintain its dominance during the forecast period from 2018 to 2026.
Glycogen is prepared from several plant based sources such as sweet potato, cornstarch, tubers, chia seeds, and gum powder among others. These plant sources contain high amounts of starch which is the main reservoir of glucose storage.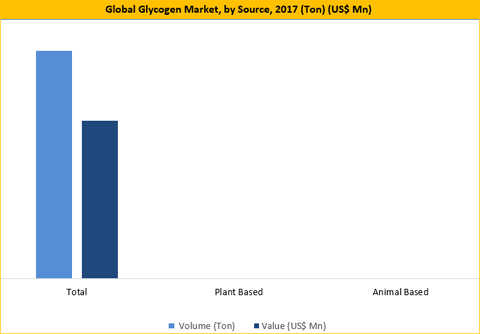 Get a sample copy for more information
Sports Nutrition Segment Dominated the Glycogen Application Market Owing To Rising Awareness among Athletes & Gym Goers Regarding Nutritional Benefits of Glycogen
The global glycogen market has been segmented into personal care and cosmetics, food, sports nutrition, pharmaceuticals and others. In 2017, sports nutrition segment held the largest share in the global glycogen market.
Glycogen in sports nutrition mainly finds application in recovery drink, supplements, sports gels and chews and sport drinks among others. Hence, wide range of application of glycogen in sports nutrition products followed by increasing awareness among athletes regarding the nutritional benefits of glycogen is projected to augment the demand of sports nutrition segment over the forecast period. Personal care and cosmetic segment is projected to tail sports nutrition segment over the forecast period. Growing use of natural ingredients in personal care and cosmetic applications is anticipated to drive the growth of the segment during the forecast period from 2018 to 2026. Others segment mainly includes dairy and infant formula among others.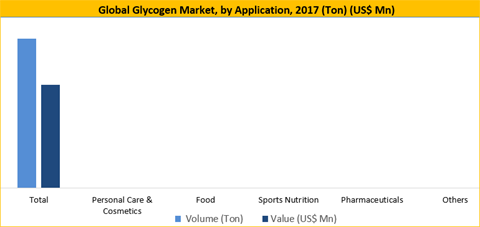 Get a sample copy for more information
Developing Economies Offering Huge Growth Potential for Glycogen Market
Asia Pacific region accounted for the largest share of glycogen market in 2017 by volume and is expected to remain dominant throughout the forecast period. Globally, the starch products prepared that are rich source of glycogen are maize, tapioca, cationic starch, gum powder, and thin boiling starch amongst others. These products are in high demand from the cosmetics industry, food and sports nutrition industries. The developing regions like Asia Pacific is also bolstering demand for glycogen. More players like India Glycol, Panel Japan Co., Ltd., and Angelini Group amongst others are venturing into glycogen full time business.
North America accounted for the second largest volume share of glycogen market. Plant based glycogen is the largest segment and primarily maize is one of the largest cereal variety to extract glycogen. The yield and pest resistance of maize crop led to its cultivation being spread globally. Starch is an important source of glycogen and is one of the most abundant storage compound in plants. The amylose and amylopectin enzymes in conjugation makes up starch and artificially produced enzymes helps in break-up of starch into glycogen. Most of the nutrition and food industry companies in North America use it for glycogen preparation.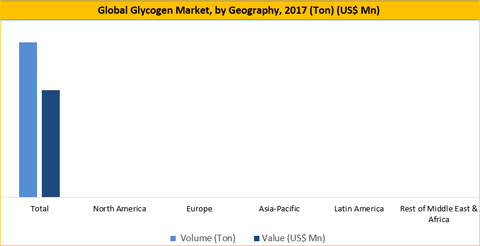 Competitive Rivalry Expected to Get Intense During the Forecast Period Owing to Low Market Entry Barrier
The competitive rivalry is currently low in global glycogen market because of limited presence of players. Majority of the key players present in the market are considerably high on product offering strength as each and every player is capable of offering wide variety of glycogen due to easy availability of sources and increasing demand from several end use applications. Market players have restricted their businesses to limited products and striving to maintain its position by offering excellent products complying highest quality standards worldwide. Also, many players are aggressively investing on product innovation and product quality maintained at their in-house R&D facilities. Few of them are possessing moderately high business strength owing to their global reach by catering to several countries through export and overseas distribution channel. Key players in the glycogen include Merck KGaA, Thermo fisher Scientific Inc., Glico Nutrition Co. Ltd., Perkin Elmer, Cayman Chemical Company, and Chem-Impex International, Inc. among others.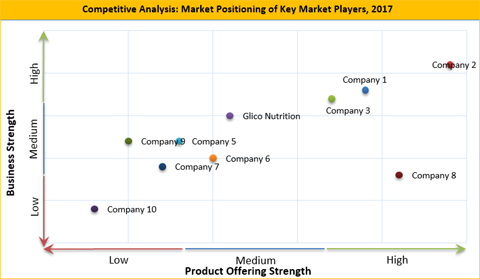 Historical & Forecast Period
Our study analyzed each market segment during the period of 2016 to 2026 with 2017 as the base year. Forecast period between 2018 and 2026 considered for the CAGR calculation.
Report Scope
The report enlightens the thorough outline of global glycogen market by categorizing the market in different segment given below:
ATTRIBUTE
DETAILS
Research Period
2016-2026
Base Year
2017
Forecast Period
2018-2026
Historical Year
2016
Unit
USD Million
Segmentation

By Source (2016–2026; Ton, US$ Mn)
• Plant Based
• Animal Based
o Terrestrial Animal Based
o Marine Animal Based

By Application (2016–2026; Ton, US$ Mn)
• Personal Care & Cosmetics
• Food
• Sports Nutrition
• Pharmaceuticals
• Others (dairy products, infant formula, etc.)

Geography Segment (2016–2026; US$ Mn)
• North America (United States and Canada)
• Europe (EU7, CIS, Rest of Europe)
• Asia Pacific (China, Japan, India, Rest of Asia Pacific)
• Latin America (Brazil, Mexico, Rest of Latin America)
• Middle East and Africa (GCC, Rest of MEA)
This research report describes leading continents and their major countries, along with profiles of key players operating in overall market and their planned developments. Our report further defines the overall market dynamics such as drivers, challenges, and opportunities prevalent in the market to understand global glycogen market more explicitly. Our in-depth quantitative and quantitative analysis of each segment up to country level highlights revenue pockets and investment opportunities in the market.
Key questions answered in this report
What are the current market trends in the glycogen market and valuable opportunities for the players?
How the environmental regulations affect global as well as the regional markets?
Which is the most lucrative region for investment?
What is the market size and trends in emerging markets?
Which are the sources for Glycogen across different geographies?
Which are major applications of Glycogen and their market sizes?
Which are the leading players and their market position?