Industry Outlook
Heavy-duty tires are the tire which is exclusively used for special heavy-duty application equipment. These equipment are used across different application such as construction equipment, mining equipment, industrial vehicles & equipment, agricultural equipment, and forestry equipment. As these equipment are used in hostile conditions in building infrastructure, tire used for these vehicles has to bear significant load and hence the demand for such tires is expected to grow at a considerable rate throughout the forecast period from 2018 to 2026.
Market Synopsis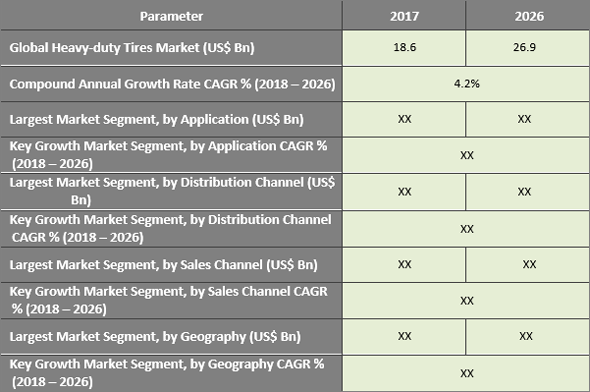 Get a sample copy for more information
"Heavy Replacement Factor Helped Aftermarket Channel to Register Higher Market Value over OEM Channel"
Heavy-duty or off-highway tires have a high replacement facto as these tires are used in extremely rugged and hostile condition. Tirs of equipment used in construction & mining, agriculture, and forestry equipment is essential to be replaced periodically for better equipment output and performance. Consequently, the heavy-duty tire market through aftermarket channel registred dominating market value compared to the OEM heavy-duty tire channel. Aftermarket distribution channel is expected to retain its dominance throughout the forecast period from 2018 to 2026.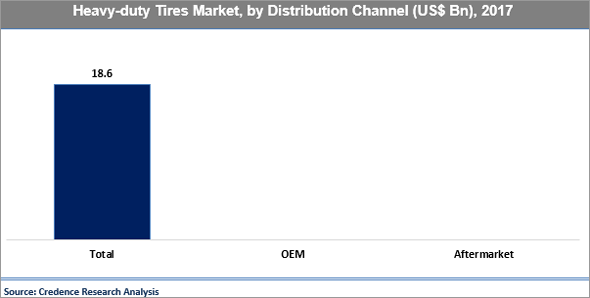 Get a sample copy for more information
"Online Retail Slowly but Consistently Denting Direct Retail Market Share"
At present, direct retail holds a major market share in the global heavy-duty tires market. Even with the proliferation of internet and e-commerce websites, consumers still prefer to procure tire for their heavy-duty equipment through retail stores or authorized retailers. Direct retail offer free installation and fair buy-back cost along with a trust factor to the consumers. However, the scenario is changing considerably and the consumers are slowly turning towards online retails. Features such as discounted price and after sale assistance by dedicated e-commerce sites helped online retail channel to grow considerably in the past few years.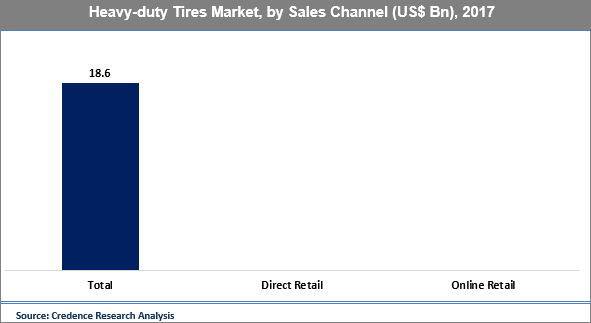 Get a sample copy for more information
"Asia Pacific Market Represents Itself as the Most Lucrative Market for Heavy-duty Tires"
Rapid industrialization and tremendous growth in infrastructure in Asia Pacific have elevated the demand for special heavy-duty application equipment. Growth in the demand for such equipment has also seriously encouraged the demand for tire used for heavy-duty equipment. Besides, proliferation of mechanization of farming especially in countries including India and China has further boosted to demand of tires used for agricultural equipment such as farm tractors and harvesters. Europe trails Asia Pacific in terms of market value. Asia Pacific is expected to retain its dominance in coming years.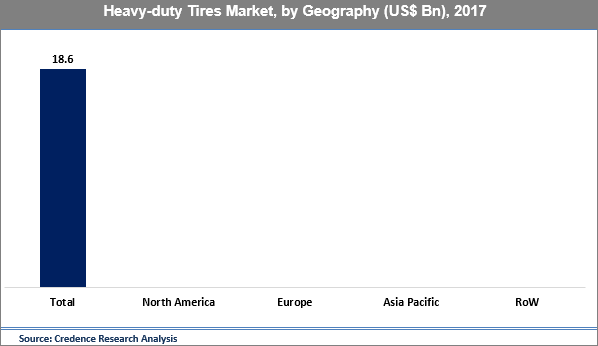 Market Segmentation
ATTRIBUTE
DETAILS
Research Period
2017-2027
Base Year
2018
Forecast Period
2019-2027
Historical Year
2017
Unit
USD Billion
Segmentation

by Application (2016–2026; US$ Bn)
• Construction & Mining Equipment
• Industrial Equipment
• Agricultural Equipment
• Forestry Equipment


by Distribution Channel (2016–2026; US$ Bn)
• OEM
• Aftermarket

by Sales Channel (2016–2026; US$ Bn)
• Direct Retail
• Online Retail


Geography Segment (2016–2026; US$ Bn)
• North America (U.S., Canada)
• Europe (U.K., Germany, France, Rest of Europe)
• Asia Pacific (China, Japan, India, Rest of Asia Pacific)
• Rest of the World (Middle East & Africa, Latin America)
Competitive Landscape
The research study covers some of the leading armored vehicles manufacturing including Bridgestone Corporation, Balkrishna Industries Limited (BKT), Continental Tires, Cavi Elettrici e Affini Torino (CEAT), Titan Tire Corporation, The Goodyear Tire & Rubber Company, Compagnie Générale des Établissements Michelin SCA (Michelin), Pirelli & C. S.p.A., Sumitomo Rubber Industries, Ltd., Hankook Tire, The Yokohama Rubber Company, Limited, Xuzhou Armour Rubber Company, Ltd., Trelleborg Wheel Systems Czech Republic (Mitas), MAITECH TIRE SRL, and Apollo Tyres Ltd. Heavy-duty tire market is characterized by a number of global and local tire manufacturers however, the market is dominated by a few brand names including Bridgestone Corporation, Michelin and Titan Tire Corporation among others. These companies had incorporated several active business propositions based on the regional markets and achieved considerable success. Small companies and new entrants are trying to follow the footsteps and create their own identity in the market. Several local and small companies are giving a tough fight for the market share to these industrial giants. However, the overall dominance of these companies is undeniable and expected to continue their trend throughout the forecast period from 2018 to 2026. The market strategies of these companies are discussed in detail in the research study.