The global Electric Vehicles Fluids and Lubricants Market is anticipated to have a market value of USD 3.31 billion in 2027 from USD 1.20 billion in 2020. It is projected to reach a CAGR of over 18.4% during the forecast period.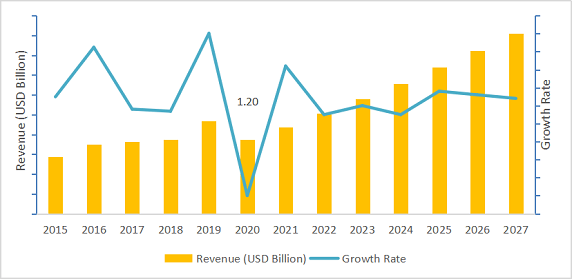 Fluids for high-voltage hybrids and electric vehicles must meet certain electrical requirements and be compliant with insulating materials. Since BEVs have up to 4X the copper content of ICE vehicles, an electric driveline fluid can also protect against copper corrosion. Credence Research is offering holistic information and absolute accuracy on the report titled "Global Electric Vehicles Fluids and Lubricants Market".
Key Market Drivers and Restraints
Factors that have high impact on the market growth of industrial electric vehicles will be covered her. Also, covers factors that may challenge or act as opportunity for market will be discussed in order to identify the revenue generation.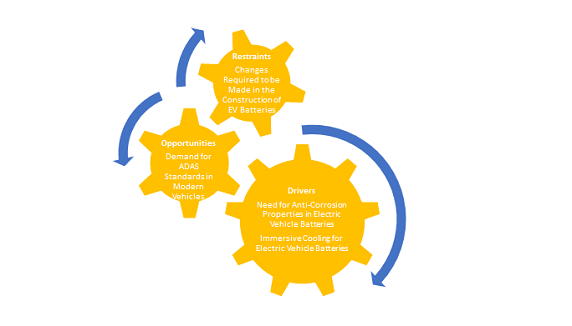 Factors that are Driving Market Growth
The growing demand for reliable and long-lasting fluids for electric vehicles is driving the global fluids market for electric vehicles. Various components of an electric vehicle, such as the battery system and the e-motors, produce a lot of heat while the vehicle is running. As a result, better thermal management in these vehicles is needed. Additives and dielectric properties have been applied to the new EV fluids, making them suitable for use in electric vehicle parts.
North America to Dominate the global market
On geographic front, the global market comprises six regions with all key economies pertaining to it. Credence Research is providing in-depth insight on prominent regions of global market. North America dominated with over 38.91% share in 2020.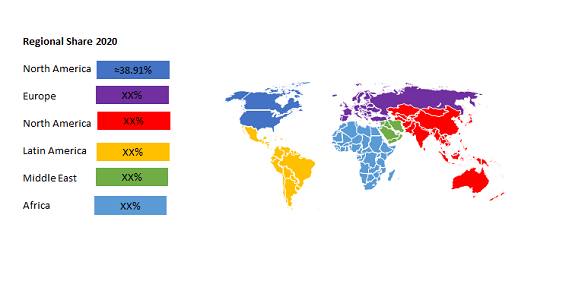 Global Market is led by the Brake Fluid
Grease, Brake Fluid, Heat Transfer Fluid, Drive System Fluid are the four Product Types of global market. In the upcoming years, revenue growth in the brake fluids segment is expected to be important. Electric vehicles are recognized for regenerative braking, which is the most common mode of operation. Mechanical regenerative brakes are not often used, and such vehicles incorporate normal brake discs for such situations, requiring vehicle to have brake fluid.
OEMs continue to dominate the global market in Distribution Channel
OEMs and Aftermarket are the two various Distribution Channels of this market. OEMs held the highest share in terms of distribution channel in 2020. The OEMs segment is anticipated to expand significantly in terms of revenue in the forthcoming year as a result of increased partnerships between key fluid suppliers and automotive OEMs to supply fluids for their EV in order to enhance driving experience.
Frequently asked questions about global industry
Which are the different Product Types present in this market?
Ans: Brake Fluid, Grease, Heat Transfer Fluid, and Drive System Fluid are the different Product Types available in the market
Who are the prominent players in the global industry?
Ans: Afton Chemicals, 3M, FUCHS, Kluber Lubrication, Motul, Infineum International Limited, M&I Materials Limited, PANOLIN International Inc., Engineered Fluids and Dober are the key players operating in this market
Which is the fastest growing Distribution Channel segment for global industry?
Ans: OEMs Distribution Channel offers tremendous opportunities to players
Which is the leading regional market for global industry?
Ans: North America has the largest share owing to various developments happening in this space
What will be the CAGR (2021 - 2027) of in global industry?
Ans: The market is anticipated to grow at a CAGR of 18.4% throughout the 2022 to 2027