"Increasing Demand for Hydraulic Pumps in Chemical Industry Globally is Driving the Hydraulic Gear Pumps Market"
Globally, the hydraulic gear pumps market is expected to grow with a CAGR of 4.2% during the forecast period from 2019 to 2027, starting from 2018. A hydraulic gear pump is defined as a pump, which has two or more than two impellers that are in a form of toothed wheels that work together. In these types of pumps, flow is produced by moving the fluid in between the two meshing gears teeth. The pumps have very narrow clearance space between the gears, through which the hydraulic liquid is pumped out.
Presently, various industries are adopting hydraulic gear pumps due to their ability to handle fluids that are too viscous for a centrifugal pump. These pumps are useful in industries including petrochemical and chemical industries. Moreover, the ability of these pumps to be controlled easily makes them a useful system for the industrial purpose. Additionally, the increasing demand for hydraulic gear pump from agriculture, industrial and construction sector is a major factor, which is driving the market.
Market Synopsis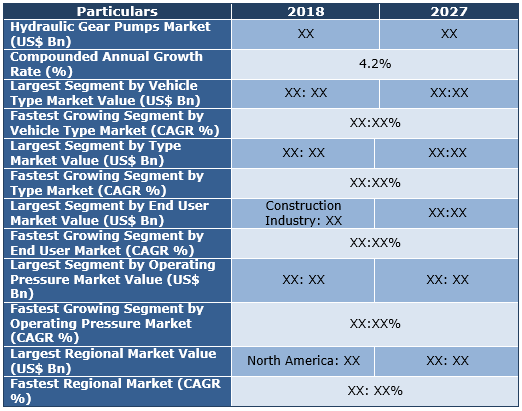 Get a sample copy for more information
"Hydraulic Gear Pumps with Construction Industry in Its End User Segment Continue Dominating the Market"
In 2018, the overall hydraulic gear pumps market is led by the construction industry in its end-user segment has more than 28.0% of the market share of the total revenue generated globally. The continuous development in the infrastructure, which includes construction of mall, commercial and residential buildings, offices, and others are a major contributor for the growth of the segment. Additionally, the growing demand of construction equipment for various operations, which includes excavation, earthmoving and material handling & lifting increases the growth of the market.
Get a sample copy for more information
"North America Dominates the Market by Region"
Hydraulic gear pumps market is led by North America with more than 30% of the market share, based on economic and technological developments in countries such as the US and Canada. The growing construction, agricultural and other industrial activities in this region also fuels the growth of the market. As per US Census Bureau from the year 2011 to 2017, the construction spending rose from US$ 788 Bn to US$ 1,231 Bn. However, Asia-Pacific region is expected to be the fastest-growing market due to increasing demand for automobiles and consumer electronics in the region.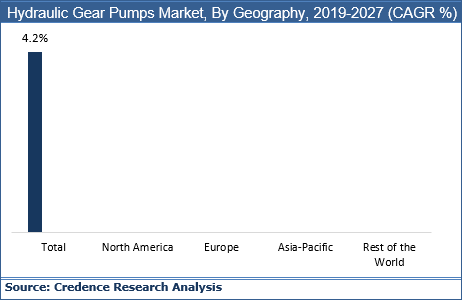 Get a sample copy for more information
Some of the prominent players operating in the hydraulic gear pumps market include Bosch Rexroth AG, Linde Hydraulics GmbH & Co. Kg, Eaton Corporation Plc, Bucher Hydraulics GmbH, Kawasaki Heavy Industries, Ltd. Dynamatic Technologies Limited, Parker Hannifin Corp , HYDAC, Gemma Automotive, Sapricon Hydraulic Industries, Marzocchi Pompe S.p.A., and Daikin Industries, Ltd..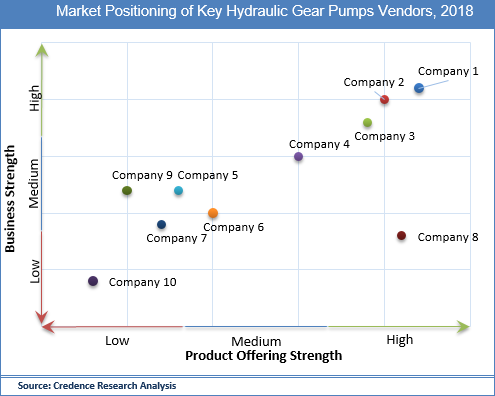 Historical & Forecast Period
This research report presents the analysis of each segment from 2017 to 2027 considering 2018 as the base year for the research. Compounded Annual Growth Rate (CAGR) for each respective segment calculated for the forecast period from 2019 to 2027.
Report Scope by Segments
The hydraulic gear pumps market report provides market size and estimates based on market dynamics and key trends observed in the industry. The report provides a holistic view of global Hydraulic gear pumps market based on vehicle type, end-user, type, operating pressure and geography. Key segments covered in the report are as follows:
ATTRIBUTE
DETAILS
Research Period
2018-2027
Base Year
2018
Forecast Period
2019-2027
Historical Year
2017
Unit
USD Billion
Segmentation

Vehicle Type Segment (2017–2027; US$ Bn)
• Heavy Duty Vehicles
• Material Handling Vehicles
• Light Duty Vehicles

End-User Segment (2017–2027; US$ Bn)
• Food & Beverages
• Chemicals
• Automotive
• Oil & Gas
• Construction
• Agriculture
• Pulp & Paper
•Others

Type (2017–2027; US$ Bn)
• Internal Gear Pumps
• External Gear Pumps

Operating Pressure (2017–2027; US$ Bn)
• Upto 100 Bar
• Upto 300 Bar
• Above 300 Bar

Geography Segment (2017–2027; US$ Bn)
• North America (U.S., Rest of North America)
• Europe (U.K., Germany, France, Rest of Europe
• Asia Pacific (China, Japan, India, Rest of Asia Pacific)
• Rest of the World (Middle East &Africa, Latin America)
Key questions answered in this report
What was the market size of hydraulic gear pumps in 2018 and forecast up to 2027?
Which is the largest regional market for construction industry end user?
What are the major trends followed in hydraulic gear pumps market across different regions?
Who is the key hydraulic gear pumps companies leading the market?
What are the key strategies adopted by the leading hydraulic gear pumps companies in market?
Unique data points of this report
Statistics on hydraulic gear pumps penetration and spending worldwide
Recent trends across different regions in terms of adoption of hydraulic gear pumps by various industries.
Notable developments going on in hydraulic gear pumps market
Attractive investment proposition for segments as well as geography
Comparative scenario for all the segments for years 2018 (actual) and 2027 (forecast)