Industry Outlook
Krill are small, up to 6 cm, shrimplike shellfish at the base of the ocean's food chain. Including 85 species of krill, the total estimated biomass of between 400 Mn and 600 Mn tones in 2016-17. For claimed health benefits of krill oil, including the management and treatment of conditions, such as hyperlipidemia, inflammation, and arthritis, there has been a noticeable increase in research and promotion of krill oil in recent years. Additionally, because krill oil contains the same docosahexaenoic acid (DHA) and omega-3 fatty acids eicosapentaenoic acid (EPA) found in fish and fish oil and phospholipid-derived fatty acids (PLFA), mainly phosphatidylcholine, known as marine lecithin. Krill oil is growing more and more popular in the public eye and in the media, as consumers are becoming more aware about the positive health benefits to the human body than fish oil. Krill oil is viewed as a viable alternative to fish oil to deliver the health benefits associated with EPA and DHA.
Krill oil can help lower blood fats and increase high-density lipoprotein (HDL), due to the presence of astaxanthin, an antioxidant that comes from the algae krill feed on, which gives krill their pink color. The majority of krill is harvested for aquaculture feed, but krill harvested for human consumption is one of two species: Euphausia Superba, or Antarctic krill; and Euphausia Pacifica, Pacific krill.
Market Synopsis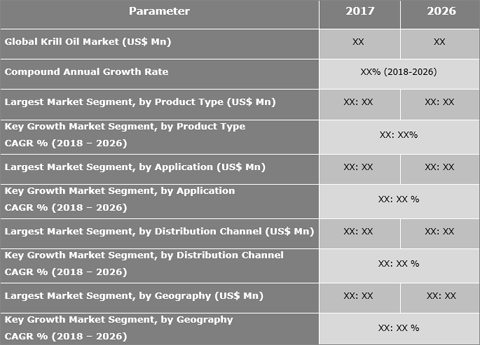 Tablet segment projected to dominate the krill oil market in upcoming years
Based on product type, global krill oil market is segmented into liquids and tablets. In the base year 2017, tablet segment dominated the global krill oil market by product type with market share of more than 60% by value and expected to maintain its pole position throughout the forecast period of 2018 to 2026.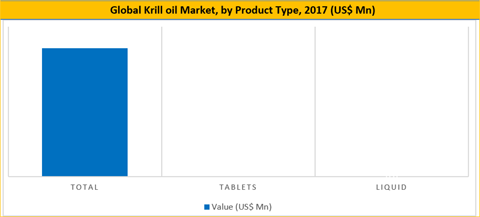 Bakery products segment to record fastest CAGR and largest share of global krill oil application market
Based on applications global krill oil market is segmented into fortified food & beverages, animal feed, dietary supplements, pharmaceuticals and other applications. In the base year 2017, dietary supplements segment dominated the global market with more than 40% of market share. Furthermore the segment is expected to witness highest CAGR from 2018 to 2026 owing increasing demand of krill oil based dietary supplements from developed countries such as U.K., Germany, France, Italy and the united states among others.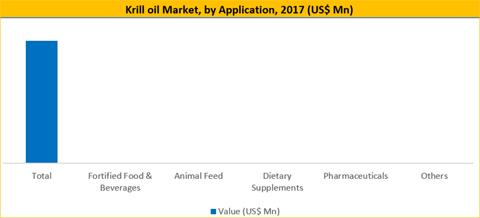 Rapid demand for krill oil in Asia Pacific projected to catapult the market growth
Krill oil market is expanding at a significant rate, mainly in Asia Pacific due to vigorous growth in the regional healthcare industry. Developing countries such as Brazil, Mexico, China, India, Iran, Saudi Arabia and South Korea expected to be the most favorable countries for market growth due to rise in awareness among consumers coupled with various health benefits associated with the use of omega-3 rich foods. Asia Pacific stands distinctly with a significant market share owing to rising disposable income, purchasing power, growing middle class population, and changing dietary habits. Moreover, growing concern over health and wellness in emerging regions of China and India along with rising per capita income is expected to bolster the global krill oil market.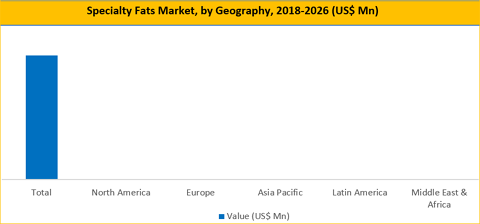 Cargill is one of the promising players in the krill oil market
There are plenty of brands present in the global krill oil market. However, market is highly consolidated as very few players have significant market share. Aker BioMarine AS, Azantis Inc, Enzymotec Ltd., ., Daeduck FRD Inc., Neptune Wellness Solutions, Norweigan Fish Oil, NutriGold Inc., NWC Naturals Inc., Olympic Seafood AS, Qingdao Kangjing Marine, RB LLC., Biotechnology Co Ltd., and Rimfrost AS. are some of the key market players in the global Krill Oil market. To maintain their dominance in this market companies are highly focusing on new product development, branding and promotional activities. Large multinationals are following similar pricing strategies and distribution channels to compete in the local as well as global market.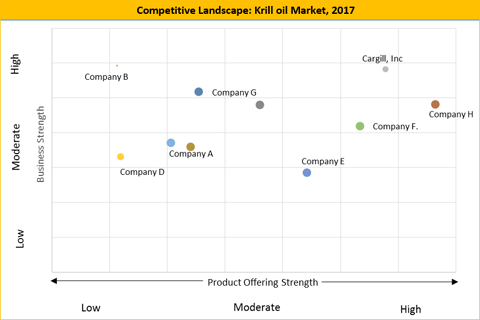 Historical & Forecast Period
2016 – Historical Year
2017 – Base Year
2018-2026 – Forecast Period
Our study analyzed each market segment during the period of 2016 to 2026 with 2017 as the base year. Forecast period of 2018 to 2026 is considered for the CAGR calculation.
Report Scope by Segments
The krill oil market report represents understanding about the current market strategies and dynamics along with quantitative and quantitative analysis of the overall market. The report enlightens the thorough outline of global krill oil market by categorizing the market in terms of form, application and geography. Our interest of publishing this broad research report is to aid the food and beverage professionals and market stakeholders in assisting decisions and strategic initiatives in the krill oil market.
Form Segment (2016–2026; Kilo Ton, US$ Mn)
Application Segment (2016–2026; US$ Mn)
Fortified Food & Beverages
Animal Feed
Dietary Supplements
Pharmaceuticals
Others
Distribution Channel Segment (2016–2026; US$ Mn)
Supermarkets/Hypermarkets
Departmental Store
Pharmacy Store
Online Store
Others
Geography Segment (2016–2026; US$ Mn)
North America
Europe

U.K.
Germany
France
Rest of Europe

Asia Pacific (APAC)

Japan
China
India
Rest of APAC

Latin America (LATAM)

Brazil
Mexico
Rest of Latin America

Middle East and Africa (MEA)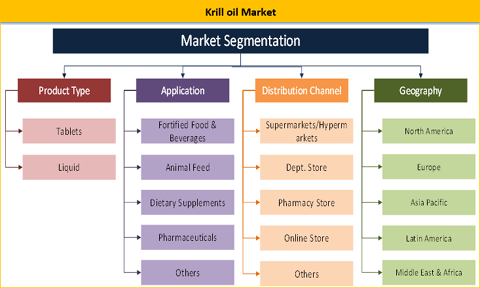 This research report describes leading continents and their major countries, along with profiles of key players operating in overall market and their planned developments. Our report further defines the overall market dynamics such as drivers, challenges, and opportunities prevalent in the market to understand global krill oil market more explicitly. Our in-depth segmentation analysis up to country level highlights revenue pockets and investment opportunities in the market. Key players profiled include Aker BioMarine AS, Azantis Inc.,Daeduck FRD Inc., Enzymotec Ltd., Neptune Wellness Solutions, Norweigan Fish Oil, NutriGold Inc., NWC Naturals Inc., Olympic Seafood AS, Qingdao Kangjing Marine, Biotechnology Co Ltd., RB LLC. and Rimfrost AS. Among others. .
Key questions answered in this report
What are the current market trends in the krill oil market and valuable opportunities for the players?
How the governmental laws affects the global as well as the regional markets?
Which are the recent innovations in the market?
Which is the most lucrative region for investment?
What is the market size and trend in emerging markets such as China, India and Brazil?
Which are the prime applications of krill oil among different geographies?
Related Reports