"Microcatheters market to exhibit productive growth during the forecast period"
The global microcatheters market is growing productively, was valued at US$ 592.4 Mn in 2018 and expected to reach US$ 904.1 Mn by 2027. Globally increasing minimally invasive surgical procedures, the high prevalence of cardiovascular disorders (majorly cardiac arrhythmia, congestive heart failure, and cardiac arrest), kidney disorders and urology disorders has significantly increased the market share in the recent years. Partnerships along with new product launches in the cardiovascular, urology and neurovascular indication segment are driving the growth in the emerging nations on a global scale.
Additionally, rising medical tourism for surgery, usage of branded microcatheters with top applications, and increasing number of hospitals along with favorable reimbursement structure fuels the demand for microcatheters globally. However, the risk of infections, the high cost of branded products, forceful price competition in the local markets mainly in the Asia Pacific and Europe are liable for limiting the overall growth of microcatheters market.
Market Synopsis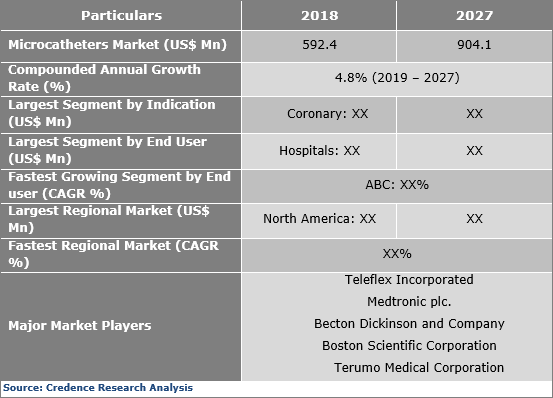 Get a sample copy for more information
"Coronary segment is expected to register higher growth by the end of 2026"
Novel technology assessment in the design of microcatheters, high prevalence for cardiovascular disorders and availability of diagnosis, delivery, aspiration, steerable microcatheters on a global scale will drive the demand during the forecast period. In addition, improved applications in coated microcatheters, tip technology and integrated microcatheters is further going to spur revenue growth during the forecast period. For e.g. Direxion™ (first Nitinol Microcatheter for enhanced steerability and control). Additionally, development in healthier reimbursement models, and new technology assessment in microcatheter technology are factors driving the overall growth of the market.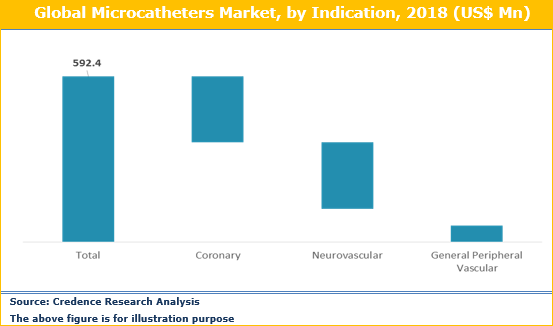 Get a sample copy for more information
"Increasing admissions due to cardiovascular disorders in the hospital segment to witness a significant CAGR"
Increasing heart related disorders, cancer, oncology, cardiovascular, and other chronic diseases are remarkable variables expected for the growth of the global microcatheters market. Increasing population along with rising hospital admissions for image-guided and minimally invasive procedures across major nations in Europe and the Asia Pacific is a major factor in escalating the growth in the end user segment. In 2018, hospitals segment generated maximum revenue share as large number of surgical and diagnostic procedures are mainly performed. Additionally, development in the clinics and ambulatory surgical centers and other cardiovascular centers has sustained the administrations of microcatheters.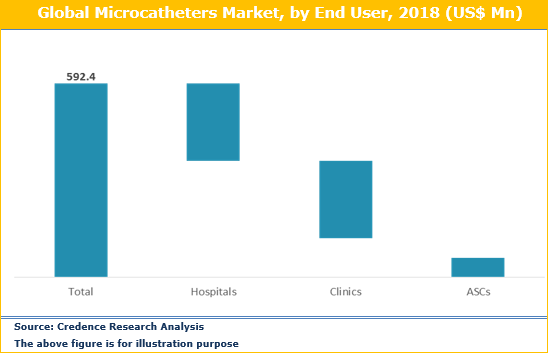 Get a sample copy for more information
"Increasing population, new product launches and the presence of top players holds North America in dominant position"
In 2018, the U.S generated maximum revenue in the global microcatheters market accredited to the increasing prevalence of cardiovascular and urology disorders, urinary tract infections, and other neurovascular disorders. Furthermore, growing minimally invasive procedures, and utilization of branded steerable or delivery microcatheters in hospitals and specialty clinics will drive the overall growth of the market. Major factors include increasing awareness about advanced catheter technology, growing FDA approvals for new products, growing prevalence of liver & kidney cancer and the presence of top catheter manufacturers in North America & Western Europe. Nevertheless, in poorer economic nations such as India, China, Brazil, and South Africa, the accessibility of advanced products are limited. Lack of qualified physicians, less appropriateness of medical treatment and the high cost of products along with procedures are factors limiting the growth of the microcatheters market.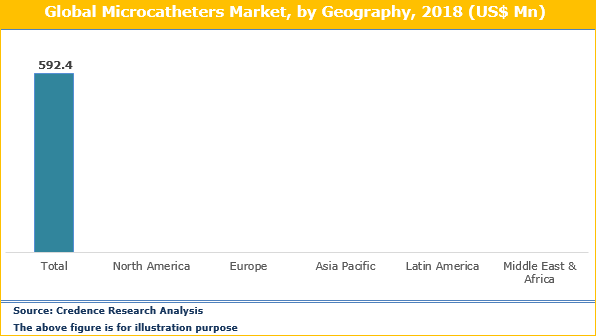 "Dominance of multinational manufacturers with strong product portfolio in the developed regions"
Major players in the Microcatheters market are Medtronic plc., Asahi Intecc USA, Terumo Medical Corporation, Boston Scientific Corporation, Tokai Medical Products, Penumbra, Inc., Cardinal Health, Inc. , Becton, Dickinson and Company, AngioDynamics, Inc., BTG PLC, Teleflex Incorporated, MERIT MEDICAL SYSTEMS, INC. and others. Top organizations are implementing growth strategies along with new technology expansion in microcatheters designs along with partnerships & acquisitions with medical technology companies. For example, in November 2018, ASAHI INTECC CO., LTD. signed an exclusive agreement with Medtronic plc. to wholly distribute its catheter and neurovascular guidewire products in the U.S market.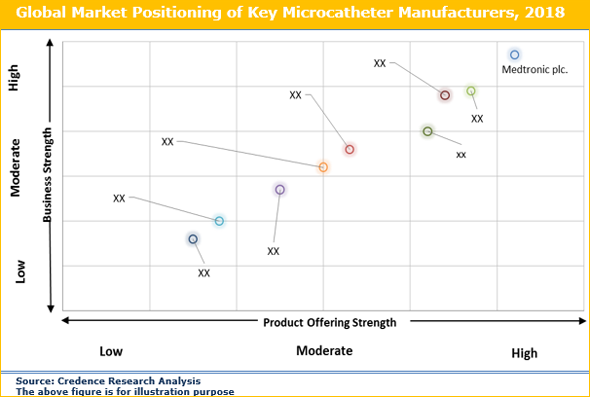 Historical & Forecast Period
This study report represents analysis for each segment from 2017 to 2027 considering 2018 to be the base year. Compounded Annual Growth Rate (CAGR) for each of the respective segments estimated for the forecast period from 2019 to 2027.
Report Scope by Segments
Market Segmentation
ATTRIBUTE
DETAILS
Research Period
2017-2027
Base Year
2018
Forecast Period
2019-2027
Historical Year
2017
Unit
USD Million
Segmentation

Indication (2017–2027; US$ Mn)
• Coronary
• Neurovascular
• General Peripheral Vascular

End User Segment (2017–2027; US$ Mn)
• Hospitals
• Clinics
• Ambulatory Surgical Centers

Geography Segment (2017–2027; US$ Mn)
• North America (U.S., Canada)
• Europe (U.K., Germany, Rest of Europe)
• Asia Pacific (Japan, China, Rest of Asia Pacific)
• Latin America (Brazil, Mexico, Rest of Latin America)
• Middle East & Africa (GCC, Rest of Middle East & Africa)
The current report also comprehends qualitative and qualitative market valuation factors such as key market drivers, market trends, restraints and opportunities that gives a better market understanding of the overall microcatheters market. Additionally, the global report also comprises graphical representation of competitive landscape based on their market initiatives and strategies, product portfolio and business strengths.
Key questions answered in this report
What are the current market trends and dynamics in the microcatheters market and valuable opportunities for emerging players?
Market positioning of major key players operating in the market?
Which segment accounts for the fastest CAGR during the forecast period?
Which indication holds a larger market share and why?
Are low and middle-income economies investing in the microcatheters market?
What is the market trend and dynamics in emerging markets such as Asia Pacific, Latin America and Middle East & Africa?