Key Market Insights
"Rapid Growth in Distributed Energy Generation expected to uplift the Global Microgrid Market"
The global microgrid market was valued at US$ 23.80 Bn in the year 2018 and expected to reach US$ 59.12 Bn by the year 2027, expanding at a CAGR of 10.7% during the forecast from 2019 to 2027.
Evolutionary changes in operational and regulatory environment of electric utilities along with emergence of distributed generation have opened alluring opportunities for on-site electricity generation. This multiple generation approach increases the reliability of power as well as generation efficiency. Additionally, mission critical facilities, large power consumers, and areas with prolonged outages have great benefits of microgrid. Furthermore, the U.S. Department of Defense (DoD) has found out that commercial grids are highly vulnerable to cyber-attacks and security threats, therefore microgrid provides a reliable environment to overcome this issue.
As per Blackout Tracker annual Report published by Eaton, power blackouts cost nearly US$ 150 Bn to the global economy and influence almost 14.2 Mn people annually. Poor maintenance, natural calamities, overloading, mall operation of control & protection systems, cyber-attacks, and equipment failure are some of the prime factors responsible for the power blackouts. Consequently, microgrid is a technology boon that we can rely on.
Market Synopsis
Get a sample copy for more information
Application Analysis
"Industrial/ Commercial Segment dominated the Global Microgrid Market in 2018"
Industrial/ Commercial application segment dominated the global microgrid market in the year 2018. In many developing as well as developed countries power outages is a common problem and due to this several industries suffer from heavy losses. As a solution, several companies in commercial & Industrial sector have switched to microgrid solution to overcome the power outage problem. In addition, this in-house distributed generation helps them in enhancing their power efficiency. Furthermore, the companies can easily integrate renewable sources for power generation to their existing grid.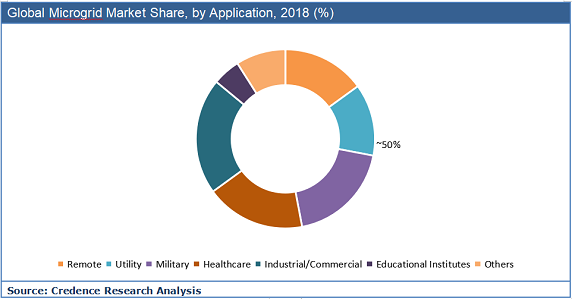 Get a sample copy for more information
Regional Analysis
"The Asia Pacific dominated the Global Microgrid Market in the year 2018 and seeks Opportunistic Growth during the Forecast Period"
The Asia Pacific held majority of the revenue share in the global microgrid market in 2018. The prime factor attributed to this is increased rural electrification program along with large number of commercial microgrid deployment in the advanced nations. For instance, the total investment on Asian microgrids expected to reach US$ 31 Bn by 2023. Remote microgrid seeks lucrative growth in the Asian countries owing to lack of robust grid infrastructure. However, Japan is majorly focused on grid-tied systems and other distributed generation technology such as Virtual Power Plants (VPP). In addition, the microgrid deployment tracker identifies 575 new microgrid project in the region that depicts the rise of the Asia Pacific market.
Apart from this Latin America assumed to be the fastest growing region during the forecast period. Among which, Caribbean market is the most opportunistic owing to series of hurricanes along with frequent other natural calamities in the near past. In March 2019, Environmental Defense Fund in Puerto Rico announced to build a low-carbon microgrid in rural areas to beat the power-cut problems during natural disasters.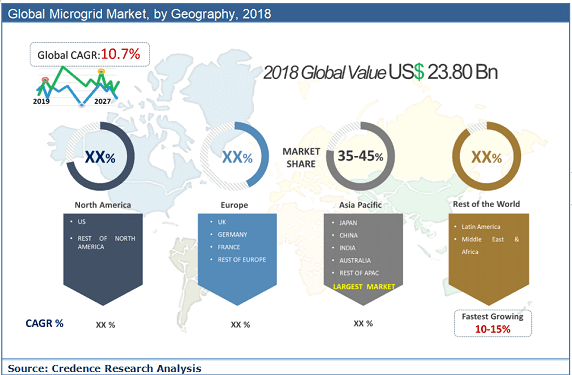 Get a sample copy for more information
Key Players & Competitive Landscape:
"The Global Microgrid Market is a Highly Competitive Market with Presence of Large Number of Players"
The global microgrid market is a fragmented market with the presence of large number of small and large players. The race to provide best quality of power in low price has turned the market to be highly competitive.
List of Companies Covered:
ABB
Siemens AG
Schneider Electric SE
S&C Electric Company
General Electric Company
HOMER Energy LLC
Eaton Corporation Inc.
Honeywell International Inc.
Exelon Corporation
Power Analytics Corporation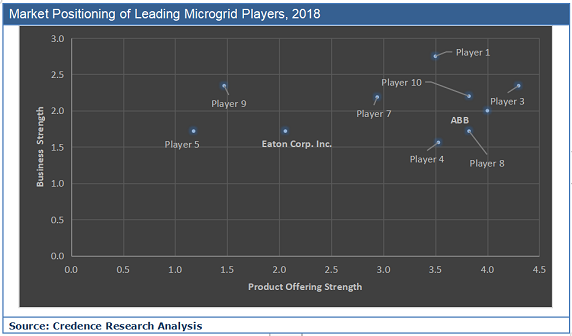 Key Industry Development:
On November 04, 2019, The Rockefeller Foundation and Tata Power announced to launch TP Renewable Microgrid Ltd., which will address one of the most pervasive challenges in modern India: the lack of access to affordable, reliable electricity for millions of rural homes and enterprises.
On March 06, 2019, Georgia Power in collaboration with Georgia Tech, announced to build a new 1.4 MW microgrid.
On September 25, 2018, Arensis, a leading international provider of decentralized energy systems, and Schneider Electric, a leader in microgrid development with integrated efficiency solutions combining energy, automation and software, announced the joint development of its smart microgrid pilot program. As part of the pilot, Arensis and Schneider Electric will develop a blockchain Application Programming Interface (API) platform for ENTRADE IO, a newly-formed company founded by the CEO of Arensis for off grid project financing and the sale of renewable energy in remote areas around the world.
Historical & Forecast Period
This research study provides qualitative as well as quantitative insights for each segment and sub-segment from 2017 to 2027, considering 2018 as the base year for the research. CAGR (Compounded Annual Growth Rate) for each segment and sub-segment calculated for the forecast period from 2019 to 2027.
Report Scope by Segments
The research study titled microgrid market offers market size and forecasts based on market dynamics and predominant trends shaping the industry. The report provides all round view of the global microgrid market based on grid type, source, storage, application, and geography. Key segments covered in the report are as follows:
ATTRIBUTE
DETAILS
Research Period
2017-2027
Base Year
2018
Forecast Period
2019-2027
Historical Year
2017
Unit
USD Billion
Segmentation

Grid Type Segment (2017–2027; US$ Bn)
• Grid-connected
• Remote Microgrid
• Networked Microgrid
• Others

Source Segment (2017–2027; US$ Bn)
• Solar PV
• Natural Gas
• Diesel Generators
• Combined Heat & Power (CHP)
• Others

Storage Segment (2017–2027; US$ Bn)
• Flywheel
• Lead Acid
• Lithium-Ion
• Flow Batteries
• Others

Application Segment (2017–2027; US$ Bn)
• Remote
• Utility
• Military
• Healthcare
• Industrial/Commercial
• Educational Institutes
• Others

Geography Segment (2017–2027; US$ Bn)
• North America (U.S., Rest of North America)
• Europe (U.K., Germany, France, Rest of Europe)
• Asia Pacific (China, Japan, India, Rest of Asia Pacific)
• Rest of the World (Middle East & Africa, Latin America)
Key questions answered in this report
What was the global market size of microgrid in 2017 & 2018?
What is estimated forecast and market projections up to 2027?
Which is largest regional market for microgrid?
Which grid type is largely preferred for microgrid on global scale?
Which is the most lucrative application in global microgrid market?
Which are the predominant trends shaping the global microgrid market?
Which is the most promising, attractive, and less-explored region in the global microgrid market?
Who are the leading players in the global microgrid market?
What are the premiere strategies adopted by the leading players in the global microgrid market?