Industry Outlook
Microplate instrumentation are important devices used in cell culture and other research. Initially used only in research settings, these equipment have witnessed adoption in disease diagnostics, and therefore in diagnostic laboratories and hospitals. Microplate instrumentation and supplies are laboratory equipment used for understanding the discovery and development of drugs, and assessing the biological, chemical and physical reactions in any research. Microplate systems and supplies are therefore imperative in testing processes such as gene expression, toxicity, protein quantification, and biological reactions. Most of these instrumentation are applied in manufacturing processes, drug discovery, disease diagnostics and bioassays. Due to their ability to analyze several samples simultaneously, the demand for microplate instrumentation and supplies is high in research settings. Continuous technological advancements have availed interactive user interface to the customers and data exchange. These devices generally operate on the principles of absorbance, fluorescence and luminescence.
The global microplate instrumentation and supplies market shall be steadily growing during the forecast period. New product developments, and growing investments for product innovations enabling reliable data generation as against traditional analysis methods are the prime drivers of the global microplate instrumentation and supplies market. Furthermore, automation in microplate readers have also augmented convenience in the use of microplates for research purposes. ,other factors that drive the growth of the microplate instrumentation and supplies market are growing research funding and number of laboratories, rise in diseases and growing need for novel treatments and drugs. However, high costs of advanced microplate readers and lack of skilled personnel ay restrain the market growth.
Market Synopsis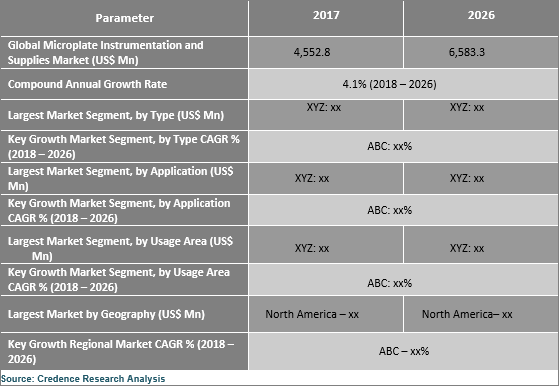 Get a sample copy for more information
"Market to witness rapid adoption of microplate readers contributing to significant revenue generation"
The major manufacturers in the microplate instrumentation and supplies industry are intensively focusing on introducing innovative instruments, and analytical tools that can be effectively and conveniently adopted in any clinical setting across several applications. Thus manufacturers are actively focusing on creating microplate readers that are fast, reduce lead time, convenient to use, while giving precise reading at optimum convenience. Such readers operate on the principle of absorbance, fluorescence, and luminescence. Major market players have also introduces customized and hybrid microplate readers suiting precise needs of users, the recent advancement being nano microplate readers for reading cell and protein proliferation. Microplate readers segment is categorized into multi-mode microplate readers (filter-based microplate readers, monochromator-based microplate readers, hybrid microplate readers) and single-mode microplate readers (absorbance plate readers, luminescence plate readers and fluorescence plate readers).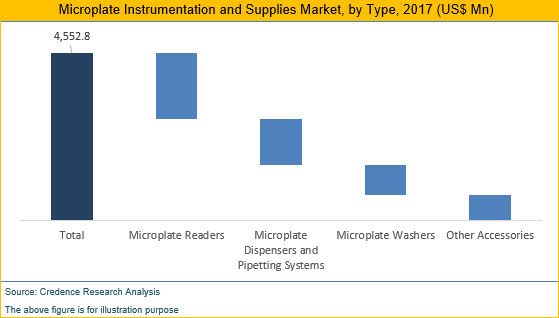 Get a sample copy for more information
"High demand for microplate instrumentation to come for drug discovery and development"
Each year the number of new molecular entities is consistently growing. The overall pharmaceutical industry is not witnessing prominent returns at it once did for lesser number of blockbuster drugs. This implies that the industry is refocusing on smaller pockets of the market and tapping smaller yet relevant opportunities to deliver potential benefits to select group of patients. This has therefore given a clearer and more prominent need for manufacturers to take correct and swift decisions on pipeline projects and also explore more efficient methods of discovering new targets. New technologies have vital value as they enable and allow simpler assay development and further removal of non-relevant or specific compounds. While new technologies are needed for a wide range of new drugs to be developed, a major part of identification of such molecules and candidates is performed with microplate readers. Thus, improvements in the field of microplate instrumentation are vital for the progress of pharmaceuticals industry.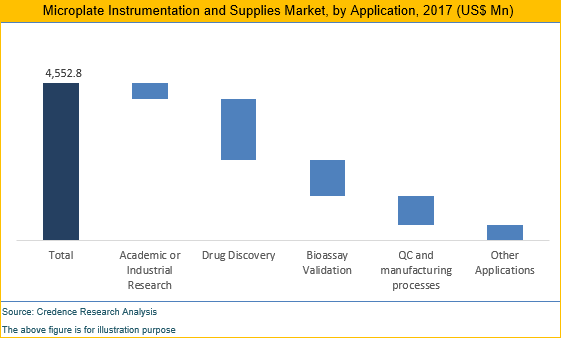 Get a sample copy for more information
"Pharmaceutical & biotech industry to gather the largest revenue share"
Pharmaceuticals and biotechnology manufacturers form the largest usage area for microplate instrumentation and supplies. Microplate instrumentation and supplies are used for either determining biological, physical or chemical events occurring in the microtiter plates, and are often used in academia and biotech and pharmaceutical industries. These devices are witnessing continuous progress towards delivering the best throughput, functionality and flexibility as the users of these systems requirement better reliability, ease of use and quicker learning curve. In research and academia, 96 well plates find the most common usage, where 384 well plates are the norm in industrial use. The newer generation of microplate readers are also being impacted by the growing need to use lesser amounts and counts of reagents and consume lesser quantity of sample.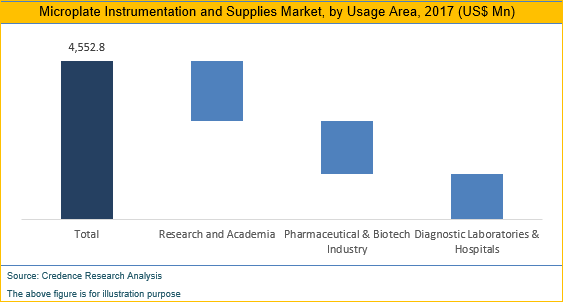 "North America and Asia Pacific are the most prominent regional markets"
Geographically, this market is categorized into North America, Europe, Asia Pacific, Latin America and Middle East and Africa. Among these, North America and Europe are the largest markets and will retain their dominance through the forecast period, attributed by high demand for new technologies, higher funding for research and development, greater awareness among researchers and domicile of major market players in the regions. The Asia Pacific market, on the other hand will be witness rapid proliferation in terms of market growth. This is mainly due to swift development of the biotechnology industry in the region, increasing outsourcing of research initiatives, and increasing funding from foreign investments and governments.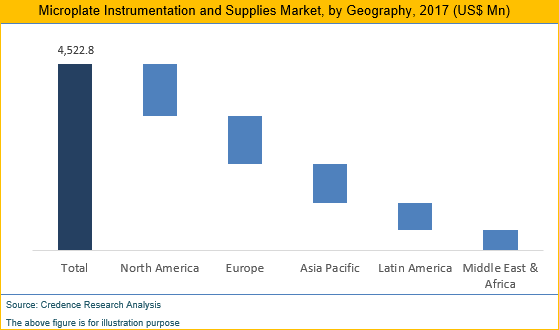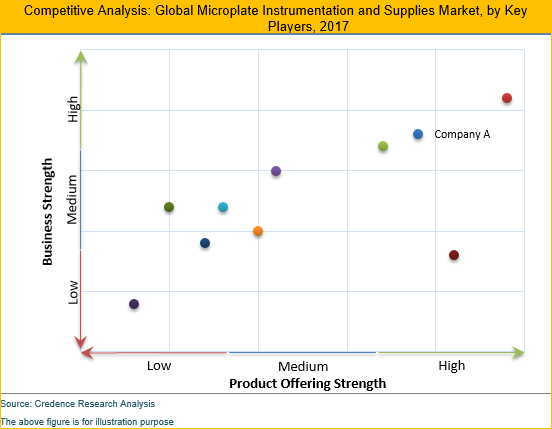 Historical & Forecast Period
This research report presents the analysis of each considered segment for the period from 2016 to 2026, having 2017 as the base year for estimations. Compounded annual growth rates (CAGRs) for each segment are calculated for the forecast period from 2018 to 2026.
Report Scope by Segments
The microplate instrumentation and supplies market report provides quantitative assessment of the industry terms of current and forecasted market size, while also presenting the market dynamics. This market is segmented based on types, applications, usage area and geography.
ATTRIBUTE
DETAILS
Research Period
2016-2026
Base Year
2017
Forecast Period
2018-2026
Historical Year
2016
Unit
USD Million
Segmentation

By Type (2016–2026; US$ Mn)
• Microplate Readers
o Multi-mode Microplate Readers
 Filter-based Microplate Readers
 Monochromator-based Microplate Readers
 Hybrid Microplate Readers
o Single-mode Microplate Readers
 Absorbance Plate Readers
 Luminescence Plate Readers
 Fluorescence Plate Readers
• Microplate Dispensers and Pipetting Systems
• Microplate Washers
• Other Accessories

By Application (2016–2026; US$ Mn)
• Academic or Industrial Research
• Drug Discovery
• Bioassay Validation
• QC and Manufacturing Processes
• Other Applications

By Usage Area (2016–2026; US$ Mn)
• Research and Academia
• Pharmaceutical & Biotech Industry
• Diagnostic Laboratories & Hospitals

Geography Segment (2016–2026; US$ Mn)
• North America (U.S. and Canada)
• Europe (U.K., Germany, and Rest of Europe)
• Asia Pacific (Japan, China, and Rest of Asia Pacific)
• Latin America (Brazil, Mexico, Rest of Latin America)
• Middle East & Africa (GCC, Rest of Middle East & Africa)
This report also includes company profiles section that gives insights on the company overview, product portfolio, financial information and key developments of major market players. The major players profiled in this report include Agilent Technologies, Inc., Beckman Coulter (Danaher Corporation), BioTek Instruments, Inc., Berthold Technologies GmbH & Co. KG, BMG LABTECH GmbH, Corning Incorporated, Eppendorf AG, PerkinElmer Inc., Thermo Fisher Scientific, Mindray Medical International Limited, Promega Corporation, Lonza Group Ltd., and Tecan Group Ltd.
Key questions answered in this report
What is the size of the global microplate instrumentation and supplies market in the historical period of 2016 & 2017?
What will be the market size of this industry during the forecast period from 2018 to 2026 and what will be the market growth rate?
How the major market dynamics have an impact on the industry growth?
What is the position of microplate readers segment and how will the further sub segments behave during the forecast period?
Which application is expected to witness rapid growth in demand for microplate readers?
What are the major movements of the key players and their sustenance strategies?
What are the key growth pockets observed in the emerging markets of Asia Pacific?