Growing power and cement industries is the major factor driving the market growth. However, rising demand for petcoke from steel and aluminum industries is another factor propelling the market demand over the forecast period. The other vital advantage that pet coke carries is its high calorific value as compared to natural gas and coal. It is regarded as being more cost competitive than natural gas and coal. Approval by regulatory agencies such as EPA and CRS to use petcoke in various industrial applications is projected to drive the market over the coming years due to its non-toxic nature.
The market for petcoke is growing substantially due to rising demand from emerging economies in Asia Pacific and RoW regions. Asia Pacific dominates the petcoke market in terms of demand and is the largest importer of petcoke. Most of the petcoke in countries such as China and India is used in power plants for generating electricity and in cement kilns due to rapid industrialization. Even in the Latin America and Middle East, substantial demand for petcoke exist owing to rising population and increasing infrastructure developments in the regions.Europe is another lucrative market for petcoke owing to rising demand of electricity in the region. Many crude oil company in Europe had delayed the cooking units to produce petcoke locally. The market for petcoke in North America is mature and is projected to witness average growth rate over the next six years. However, North America has become the major exporter of petcoke.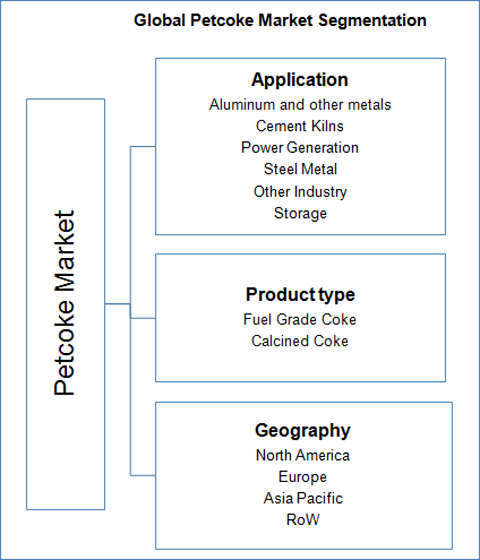 The report titled "Global PetcokeMarket- Growth, Share, Opportunities and Competitive Analysis, 2015 – 2022" offers strategic insights into the global petcoke market along with the market size and estimates for the duration 2014 to 2022. The said research study covers in-depth analysis of multiple market segments based on application type, product type and cross-sectional study across different geographies. The study covers the comparative analysis of different segments for the years 2014 & 2022. The report also provides a prolific view on market dynamics such as market drivers, restraints and opportunities.
In order to help the strategic decision makers, the report also includes profiles of the leading petcoke manufacturers, their SCOT (Strength, Challenges, Opportunities and Weaknesses) analysis and key developments. The major players profiled in the report areChevron Corporation, BP Plc, Essar Oil Ltd., ExxonMobil Corporation, Indian Oil Corporation Limited, Royal Dutch Shell Plc, Reliance Industries Limited, Saudi Arabia Oil Company, Valero Energy Corporation and Conco Philips. Further, the report also covers market positioning of the key players operating in the petcoke market. Other in-depth analysis provided in the report includes:
Current and future market trends to justify the forthcoming attractive markets within the petcoke industry
Market fuelers, market impediments, and their impact on the market growth
In-depth competitive environment analysis
SRC (Segment-Region-Country) Analysis
Overall, the research study provides a holistic view of the global petcoke market, offering market size and estimates for the period from 2015 to 2022, keeping in mind the above mentioned factors.