Positive displacement pump refers to a type of industrial pump used to displace or transfer fluid from the inlet pressure division into the discharge tube/pipe. Unlike the centrifugal pumps, positive displacement pumps are capable of moving the fluids at the same rate irrespective of the inlet pressure. Positive displacement pumps are designed to operate/transfer high viscosity fluids, fluids containing solids, thinner fluids and shear sensitive liquids. Thus, using positive displacement pumps ensures seamless transfer of nearly all type of fluids occurring across different industry verticals. This makes positive displacement pumps preferable over centrifugal sanitary pumps.
The overall positive displacement sanitary pumps market is strongly driven by the ever-rising food & beverages, pharmaceuticals and personal care industries worldwide. Growing consumer expenditure over packaged foods and personal care products is projected to ensure promising growth across these sectors. As a result, the demand for related to industrial equipment (such as sanitary pumps) would continue to register steady demand. Additionally, increasing awareness towards effective planning process coupled with the enforcement of stringent regulations towards sanitation too has been a major driving factor for the industry growth.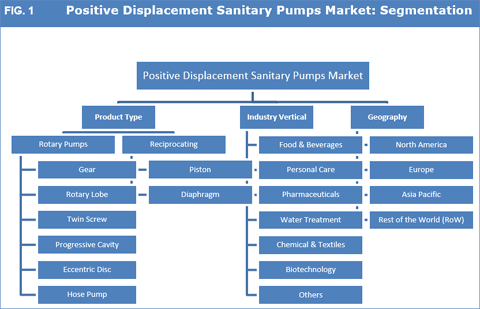 The report titled "Global Positive Displacement Sanitary Pumps Market- Growth, Future Prospects and Competitive Analysis, 2017 – 2025" offers strategic insights into the global positive displacement sanitary pumps market along with the market size and estimates for the duration 2015 to 2025. The said research study covers in-depth analysis of market segments based on pump type, industry vertical and cross-sectional study across different geographies and sub-geographical regions. The study covers the comparative analysis of different segments for the years 2016 & 2025. The report also provides a prolific view on market dynamics such as market drivers, restraints and opportunities. In addition, the report includes a section providing insights on the key trends followed in the market.
In order to help strategic decision makers, the report also includes competitive profiling of the leading positive displacement sanitary pumps vendors, their business strategy analysis, market positioning and key developments. Some of the major players profiled in the report are IDEX Corporation, SPX Corporation, Fristam Pumps USA, Xylem, Inc., PSG Dover, Alfa Laval AB, ITT Corporation and Ampco Pumps GmbH among others. Apart from the company profiles, the report includes a section covering the competitive landscape wherein the market positioning of the companies has been discussed. The section also provides a view of key business strategies adopted by the leading market players. Other in-depth analysis provided in the report includes:
Current and future market trends to justify the forthcoming attractive markets within the industrial pumps industry
Market fuelers, market impediments, and their impact on the market growth
In-depth competitive environment analysis
Trailing 2-Year market size data (2015 – 2016)
SRC (Segment-Region-Country) Analysis
Overall, the research study provides a holistic view of the global positive displacement sanitary pumps market, offering market size and estimates for the period from 2017 to 2025, keeping in mind the above mentioned factors.