Industry Outlook
In the U.S. the prevalence of pressure ulcers in intensive care units ranges from 16.6% to 20.7%. It is also reported that annually US$ 11 billion is spent on the treatment of pressure ulcers, with US$ 500 to US$ 70,000 spent on a single wound. In spite of availability of better assessment tools, new CMS ruling eliminating hospital reimbursement when stage 3 or 4 pressure ulcer is hospital acquired and emergence of new technologies to reduce pressure ulcers, the condition remains a significant healthcare problem. Traditionally, prevention and management of pressure ulcers remained the responsibility of nursing staff. However, today it is viewed more as a healthcare community problem with everyone ranging from the patient to the nursing staff is considered a stakeholder. The implications of pressure ulcers on the patients and healthcare system are vast and vary depending on the severity, tissue damage, patient condition, and effect on lifestyle. Growth in awareness regarding these implications will augment the understanding the need for implementation of effective prevention and management strategies for the patients.
Market Synopsis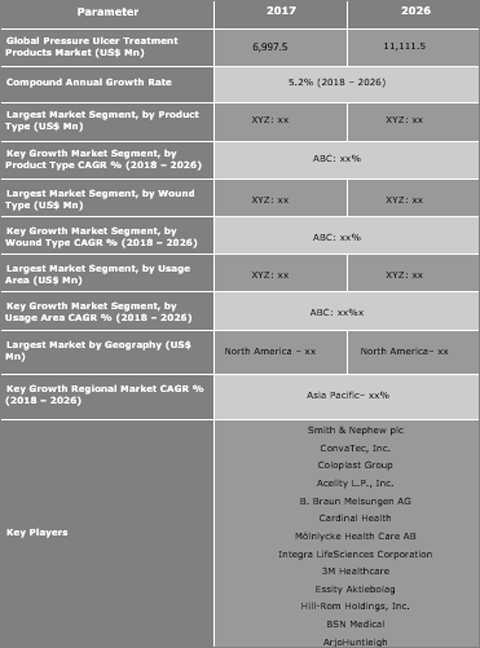 Get a sample copy for more information
"Wound Dressings to Dominate the Global Market"
Among the different types of treatment products used for pressure ulcers, dressings are observed to be the largest revenue-generating segment. Dressings are chosen depending on the nature of wound to be treated. None of the dressings used for treating pressure ulcers have a clear superiority, and the choice of dressing is on the physicians depending on the type of wound to be treated. Parameters considered for choice of dressing are depth, size, amount of exudate, surrounding skin condition and so on. Yet, advanced dressings products such as hydrocolloids, alginates, and foams, occupy larger market share. Their greater demand in treatment of advanced 3 and 4 stage pressure ulcers and higher prices of these products contribute to the dominance of these product types. Additionally, their greater efficacy in addressing the issue of exudates and better absorbent properties allow greater demand for advanced wound dressing products in the global market.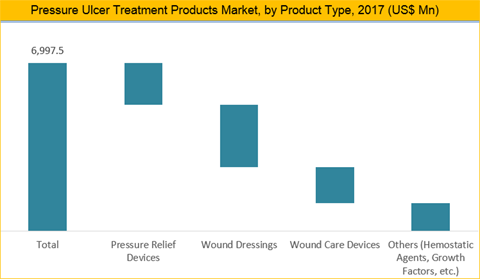 Get a sample copy for more information
"Stage 3 and 4 Wound Types to Dominate the Global Market during the Forecast Period"
Currently stage 3 and 4 bedsores occupy the largest share in the global pressure ulcers treatment products market. Precise determination of stage of these wound types and requirement of longer duration to heal such wounds mainly contribute to the prominence of this segment. A typical stage 3 wound is observed to take one to four months to fully heal. Stage 4 cases may also take several months for complete healing. Therefore the consumption of wound healing agents is high in such wound stages where the possibility of moving the patient to hospital settings is significantly high. Moreover, the requirement of advanced wound healing agents such as hydrogels, hydrocolloids, alginates and antimicrobial agents is also the highest in these wound types. Higher costs of these products, therefore also contributes to the dominance of this segment in the global market.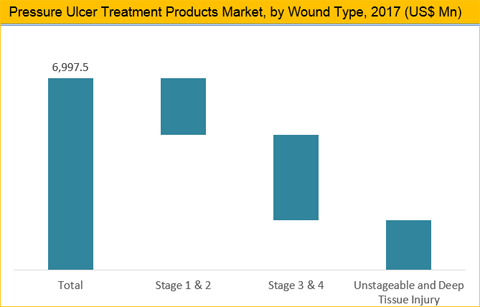 Get a sample copy for more information
"Hospital Settings to Remain the Largest Consumer of Pressure Ulcer Treatment Products"
Based on the types of usage areas, the global pressure ulcer treatment products market is categorized into hospitals, nursing homes and home care. Among these, hospitals comprise the largest segment for these products. Greater patient footfall, higher affordability for advanced products such as powered surfaces, and novel mattresses, and better reimbursements are the key factors settling the dominance of hospitals segment. The demand for pressure ulcer treatment products in nursing homes is anticipated to remain stable through the forecast period. Greater uptake of these products in nursing homes will be consistently observed in North America, Western Europe, and Japan. Additionally, though home care segment currently holds a small market share, increasing preference for moving chronic disease patients from hospitals to home care in order to mitigate cost constraints will render this segment the fastest market growth during the forecast period.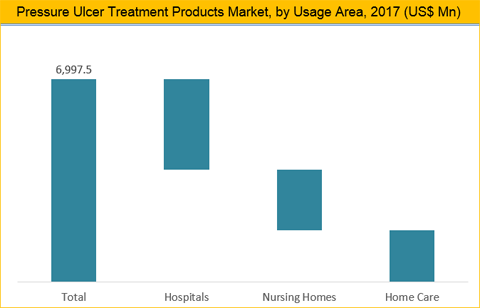 "Asia Pacific to Rapidly Advance due to Perpetually Growing Chronic Patient Pool"
North America is the current leader in the global pressure ulcer treatment products market. Significant prevalence of chronic diseases, and obesity mainly contribute to the dominance of this region. Greater affordability and existence of better reimbursement system also play a critical role in the leading position of North America market. Asia Pacific is expected to progress at a rapid pace during the forecast period. Increasing entry of domestic companies, thriving healthcare infrastructure, and increasing disposable incomes for affording advanced treatment solutions are the key features of Asia Pacific market. Realizing the untapped opportunities in Asia Pacific, several international players having stronghold in North America and Europe have enhanced their penetration activities in the region. On the other hand, lack of awareness, and lower rates of diagnosis will restrict the growth of some parts of the African markets.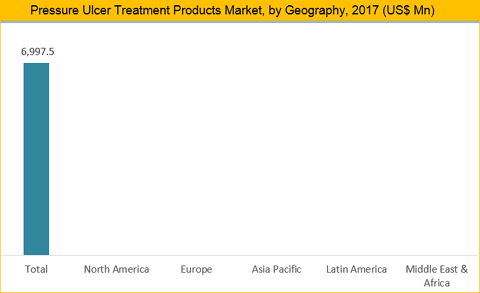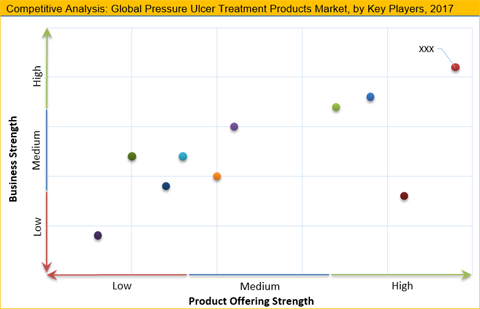 Historical & Forecast Period
This research report presents the analysis of each considered segment for the period from 2016 to 2026, having 2017 as the base year for estimations. Compounded annual growth rates (CAGRs) for each segment are calculated for the forecast period from 2018 to 2026.
Report Scope by Segments
This report presents the market analysis on pressure ulcer treatment products and offers quantitative information of the market in terms of market size and forecast the segmentation for the period from 2016 to 2026. The qualitative information incorporated in the report includes a market dynamics such as the market drivers, challenges and opportunities relevant to the industry. For the purpose of this study, the global pressure ulcer treatment products market is studied for product types, wound type, usage area and geography.
ATTRIBUTE
DETAILS
Research Period
2016-2026
Base Year
2017
Forecast Period
2018-2026
Historical Year
2016
Unit
USD Million
Segmentation

By Product Type (2016–2026; US$ Mn)
• Pressure Relief Devices
• Low-tech Devices
• High-tech Devices
• Wound Dressings
• Polyurethane Film
• Hydrocolloids
• Hydrogels
• Foams
• Alginates
• Antimicrobial Dressings
• Collagen
• Others (Gauze, Dry or Wet Dressings)
• Wound Care Devices
• Negative Pressure Wound Therapy
• Others (Ultrasound, HBOT and Electromagnetic Therapy)
• Others (Hemostatic Agents, Growth Factors, etc.)

By Wound Type (2016–2026; US$ Mn)
• Stage 1 & 2
• Stage 3 & 4
• Unstageable and Deep Tissue Injury

By Usage Area (2016–2026; US$ Mn)
• Hospitals
• Nursing Homes
• Home Care

Geography Segment (2016–2026; US$ Mn)
• North America (United States and Canada)
• Europe (U.K., Germany, Rest of Europe)
• Asia Pacific (China, Japan, Rest of Asia Pacific)
• Latin America (Brazil, Mexico, Rest of Latin America)
• Middle East and Africa (GCC, Rest of MEA)
The report also includes competitive analysis of the incumbents in the global pressure ulcer treatment products market. The study also presents brief profiling of such market players in terms of their business overview, product portfolio, financial information, and key developments. Such major market players considered in this report include Smith & Nephew plc, ConvaTec, Inc., Coloplast Group, Acelity L.P., Inc., B. Braun Melsungen AG, Cardinal Health, Mölnlycke Health Care AB, Integra LifeSciences Corporation, 3M Healthcare, Essity Aktiebolag, Hill-Rom Holdings, Inc., BSN Medical and ArjoHuntleigh.
Key questions answered in this report
What is the current market size of pressure ulcer treatment products industry?
How is pressure relief devices segmented in the global market?
At what CAGR will the global pressure ulcer treatment products market progress during the forecast period from 2018 to 2026?
What are the prevalent drivers and challenges in the global market?
Which lucrative opportunities are present in the market for new and existing players?
Which strategies are being adopted by major market players for maintaining and augmenting their market position?
How will North America fare on the global front in the light of rapid advances of Asia Pacific market?
What is the position of emerging markets of Middle East & Africa, Latin America and Asia Pacific?