Growing awareness towards water conservation and global warming has certainly stimulated the need for rainwater harvesting systems across different end-user. Government across several nations and environmental agencies are putting their sincere efforts in order to promote eco-friendly techniques such as rainwater harvesting for residential, commercial and industrial end-users. Owing to this, global rainwater harvesting market registered market value of US$ 1.35 Bn in 2017 and expected to reach US$ 2.24 Bn by 2026. The market is estimated to grow with a compound annual growth rate of 5.9% throughout the forecast period from 2018 to 2026.
Market Synopsis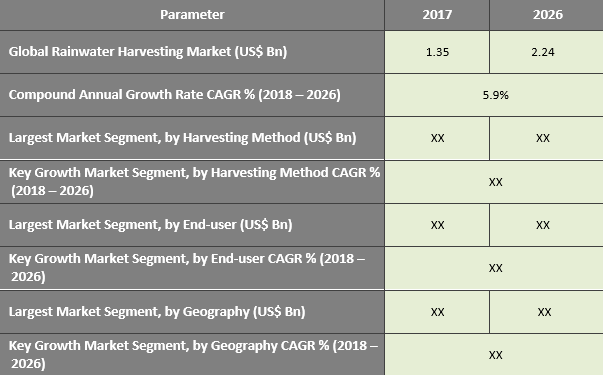 Get a sample copy for more information
Roof-based Rainwater Harvesting to Grow Firmly & Consistently in the Coming Years
Rainwater harvesting is a simple process of harvesting and collecting rainwater during rainy season and then use the water year-round. The technique is broadly classified into surface-based harvesting and roof-based harvesting. Both the techniques harvest rainwater but the surface-based harvesting involves collection of excess water flowing through earth with the help of channels and gutters in surface or underground tanks. However, this method involves collection of water with impurities from the surface and need to be purified before use. The techniques are generally incorporated by commercial and industrial infrastructure along with the roof-based system. Roof-based systems are extensively incorporated by all residential, commercial and industrial end-users. This method is simple and needs less after-treatment once the water is collected. Consequently, roof-based rainwater harvesting dominates the overall market and expected to continue its dominance throughout the forecast period.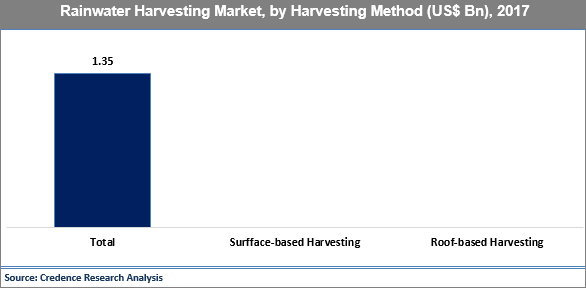 Get a sample copy for more information
Industrial and Commercial End-user Holds an Upper Hand Over Residential
Industrial and commercial end-user are locking horn with each other for the majority of market share in overall rainwater harvesting market. Government and environmental organizations across the globe introduced several incentives programs and construction mandates for commercial and industrial infrastructure for incorporating rainwater harvesting systems. This has significantly stimulated the demand for rainwater harvesting systems for commercial as well as industrial end-users. Consequently, the two end-users face each other for majority of market share. Residential end-user are gradually making their mark in the overall market. Growing sense of responsibility towards the planet and water scarcity is resulting in consistent growth of rainwater harvesting for residential end-user.
Get a sample copy for more information
Asia Pacific Soon to Offer Challenge to North America for Market Share
At present, North America emerged as the leader in the global rainwater harvesting market. Realizing the seriousness of water scarcity, the U.S. and Canada have made mandates for different end-user including commercial building including schools, malls, hospitals, and industrial building to equip themselves with rainwater harvesting. Canada is also drawing guidelines to harvest water from snow during winter and store it for other seasons. The region is expected to retain its dominance throughout the forecast period. However, Asia Pacific is making a rapid evolution in terms of rainwater harvesting installations. Several countries in this region are facing water scarcity and rainwater harvesting is the only way out for them to overcome such issues. Consequently, Asia Pacific is expected to claim major market share in coming years.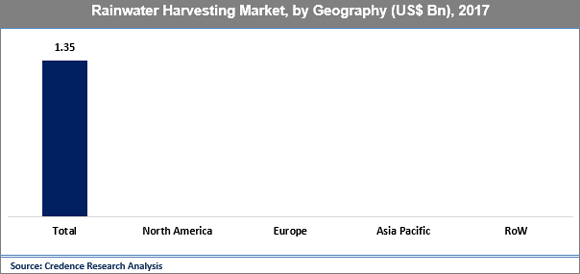 Market Segmentation
ATTRIBUTE
DETAILS
Research Period
2016-2026
Base Year
2017
Forecast Period
2018-2026
Historical Year
2016
Unit
USD Billion
Segmentation

By Harvesting Method (2016–2026; US$ Bn)
• Surface-based Harvesting
• Roof-based Harvesting

By End-user (2016–2026; US$ Bn)
• Residential
• Commercial
• Industrial

Geography Segment (2017–2027; US$ Bn)
• North America (U.S. and Canada)
• Europe (U.K., Germany, France, and Rest of Europe)
• Asia Pacific (Japan, China, India, and Rest of Asia Pacific)
• Rest of World (Middle East & Africa (MEA), Latin America)
Competitive Landscape
The research study covers some of the leading rainwater harvesting including Innovative Water Solutions LLC, Rain Harvesting Supplies, Inc., The Gulf Islands Rainwater Connection Ltd., Watts Water Technologies, Inc., WISY AG, Kingspan Group, Water Field Technologies Pvt. Ltd., Heritage Tanks, Innovative Water Solutions LLC, Graf Group, D&D Ecotech Services, Rain Harvesting Supplies, Inc., Stormsaver Ltd., and Climate Inc. The market offers tremendous growth opportunities for both well-established as well as new entrants to the market. The companies have to be on their toes to upgrade their existing rainwater harvesting techniques in order to offer maximum water harvesting to their clients. Besides, several other business strategies are discussed in details in the research report.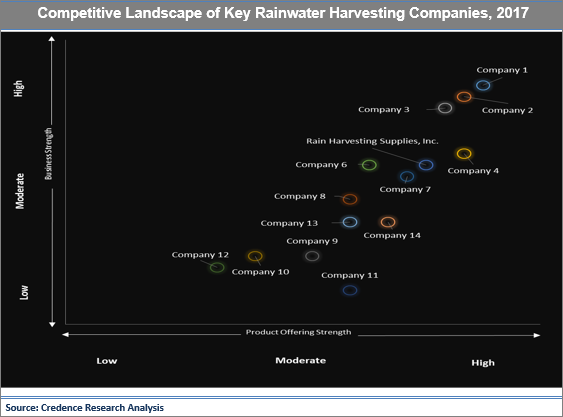 Key questions answered in this report
How water scarcity and adverse weather effect due to global warming supports the growth of Rainwater harvesting?
Which is the guidelines were drawn by the government across the globe and how these guidelines are assisting rainwater harvesting market to grow?
What are different types of rainwater harvesting techniques and their market position in terms of market value?
How advancement in imaging technology and sensors play creating a positive impact on the demand for rainwater harvesting systems?
How top grossing region such as Asia Pacific and Latin America are expected to make an impact on overall rainwater harvesting market?