Industry Outlook
Continuously growing automotive sector worldwide is helping reciprocating engines market to grow and registered global market value of US$ 197,803.5 Mn in 2017 and anticipated to exhibit a growth with a CAGR of 6.5% from 2018 to 2026. Although automotive industry is the biggest contributor to overall reciprocating engines market, these engines also find their applications across industrial, institutional, and commercial facilities for power generation. The various advantages of these engines include, quick start, follows load well, good part load efficiency and high reliability. Moreover, the use of multiple reciprocating engines can significantly increase the overall capacity of a plant. Reciprocating engines are usually fueled by natural gas, diesel, propane, or even gasoline. Increasing motor vehicle production worldwide is one of the most prominent factors complimenting the demand growth for reciprocating engines. An increase in the production of motor vehicles impacts the reciprocating engines market growth positively. However, the cyclical nature of the automotive industry is one of the factors restraining the reciprocating engines market growth.
Market Synopsis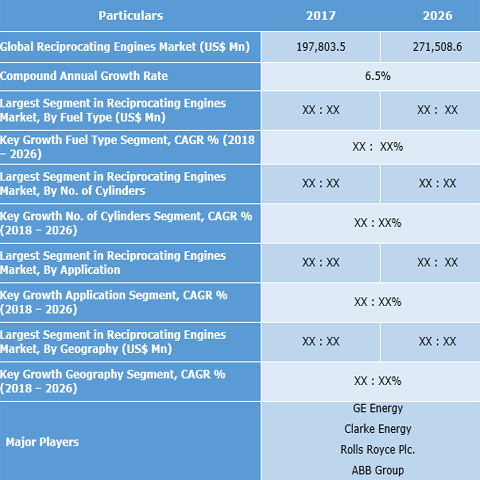 Get a sample copy for more information
"Diesel engines to propel the global reciprocating engines market from 2018 to 2026"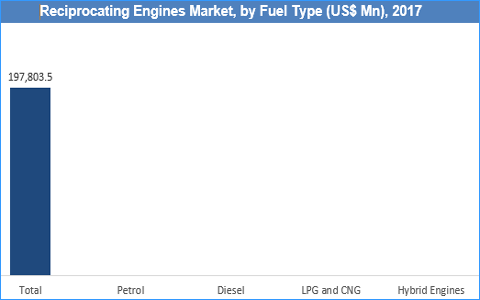 Get a sample copy for more information
In 2017, the global reciprocating engines market was dominated by diesel segment expected to maintain its dominating position throughout the forecast period from 2018 to 2026. One of the most prominent factors aiding the diesel engines segment growth is the fact that these engines offer a high degree of efficiency and fuel economy. Primarily these engines mostly find application in passenger cars & light commercial vehicles, heavy commercial vehicles, fixed-installation engines, construction & agricultural equipment, railway locomotives and ships among others. The LPG and CNG engines segment on account of increasing gasoline fuel prices and growing environmental awareness for emission control is expected to be the fastest growing segment during the forecast period.
"Application across several end-use industries made multi-cylinder engines to dominate the segment in 2017"
In 2017, the multi-cylinder engines segment held the largest share in the overall market across the globe. These engines on account of its suitability for heavy duty applications is an important factor leading to its increasing adoption. Moreover, emission policies getting stringent by the day coupled with growing awareness for pollution control are also expected to influence the multi-cylinder engines segment growth in the years to come. Thereby, the multi-cylinder engines segment is expected to maintain its dominance throughout the forecast period from 2018 to 2026.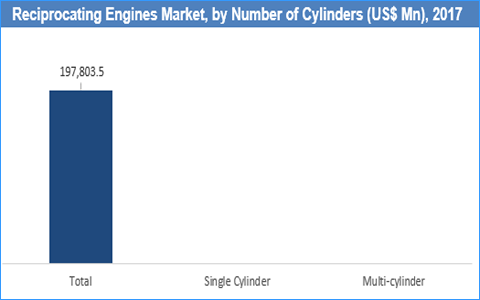 Get a sample copy for more information
"Developing economies including China and India in Asia Pacific to set the stage for reciprocating engines market growth"
Asia Pacific on account of its huge automobile industry is the largest segment in terms of geography. Moreover the fact that some of the large automobile manufacturers such as Toyota, Hyundai, and Tata among others headquartered in the region further support the market growth. Countries such as China and India on account of its expanding middle-class population has witnessed a considerable growth in the demand for automobiles in recent years. Furthermore, modernization of the agricultural sector across the region is also one of the important factors driving the reciprocating engines market growth in the region.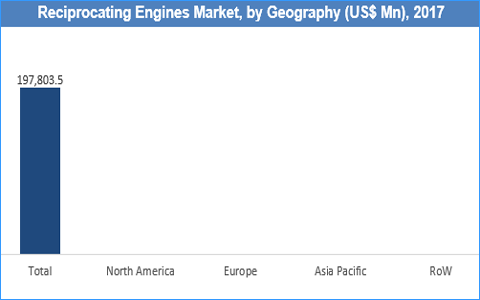 ATTRIBUTE
DETAILS
Research Period
2016-2026
Base Year
2017
Forecast Period
2018-2026
Historical Year
2016
Unit
USD Million
Segmentation

By Fuel Type (2016–2026; US$ Mn)
• Petrol Engines
• Diesel Engines
• LPG & CNG Engines
• Hybrid Engines

By Number of Cylinders (2016–2026; US$ Mn)
• Single Cylinder Engines
• Multi-cylinder Engines

By Application (2016–2026; US$ Mn)
• Automotive
• Aircrafts
• Marine
• Combine Heat & Power (CHP)
• Industrial Manufacturing and Processing
• Energy and Utilities
• Landfill Gas and Biogas
• Agriculture

Geography Segment (2016–2026; US$ Mn)
• North America (U.S., Rest of North America)
• Europe (U.K., Germany, France, Rest of Europe)
• Asia Pacific (China, Japan, India, Rest of APAC)
• Rest of the World (Latin America, Middle East and Africa)
"Stiff competition to keep major tractor manufacturers on their toes"
Overall reciprocating engines market is highly fragmented in nature characterized by some of the major players across the globe including GE Power, Siemens Energy, Caterpillar, Inc., Wärtsilä, and Rolls Royce Plc among others. New product development and product innovation are the major strategies adopted by the leading players in the global reciprocating engines market. In order to expand their product offerings and keep themselves forward in the competition, leading players in the industry are investing in research and development activities. For instance, GE Power is focusing on developing innovative reciprocating engines by understanding distinct and requirements of its customers. The company has recently introduced Jenbacher Type 9 Gas Engine which enables user to achieve 50% electrical efficiency. Siemens is also focusing on product portfolio expansion and recently added two models of reciprocating engines for distributed power generation application. This gas engine model is available with power output of 2MW and based on its E-series engines. This engine is available in two versions including SGE-86EM for 50Hz and SGE-100EM for 60 Hz applications.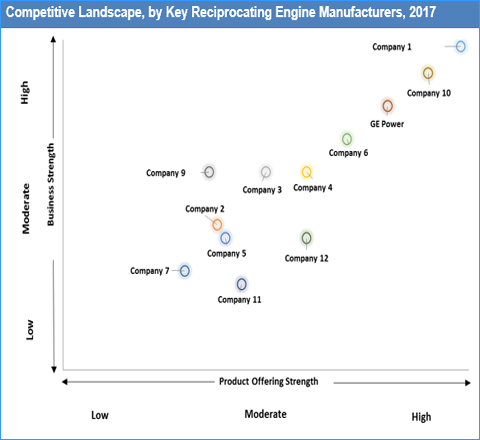 Key questions answered in this report
What are the latest market trends in the reciprocating engines market and valuable opportunities for the players?
How regulatory frameworks and government policies affect the global as well as regional reciprocating engines market?
Which are the prominent range of products are manufactured by the key players?
Which is Largent and fastest growing segment in terms of fuel type, number of cylinder and applications?
Which are the most lucrative geographical region/ country for overall reciprocating engines market?
What is the market size and trend in emerging markets such as Asia Pacific, Middle East & Africa and Latin America?