Growing technological progress and increasing numbers of applications of surgical instruments are some of the major factors driving the growth of this market. Growing instances of ophthalmic and retinal disorders in geriatric population, eye injuries and increasing prevalence of diabetes are also accelerating the growth of the global retinal surgery devices market. Conversely, high costs of surgery equipment are restraining the adoption of advanced surgical devices into the common practice. However, as the footprint of new surgical establishments is increasing in the emerging economies, uptake of new devices shall be instrumental in sustaining the global market growth. Another prominent factor supporting this market is the collection of major advantages such as minimally invasive procedures, lesser pain, reduced scarring and quick recovery period with lower procedure and management costs.
Market Synopsis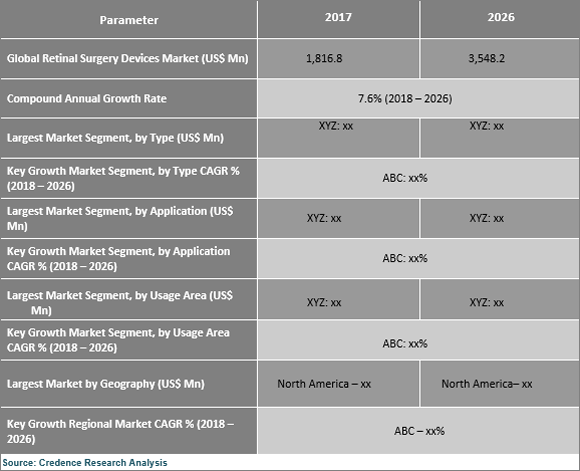 Vitrectomy packs to hold the prominent market share
In terms of device types, this market is categorized into vitrectomy machines, vitrectomy packs, microscopic illumination equipment, retinal laser equipment, retinal tamponades and sclera buckles, and surgical instruments. Of these device types, vitrectomy packs hold the largest revenue in the global market and is anticipated to retain its dominance through the forecast period. Imperative nature of these products during retinal surgeries, easy accessibility and usage prowess across several procedures are the prime aspects of this segment. Other characteristic benefits acquired from using vitrectomy packs are reduced procedure time while maintaining sterile conditions with the use of single-use instruments included in the packs.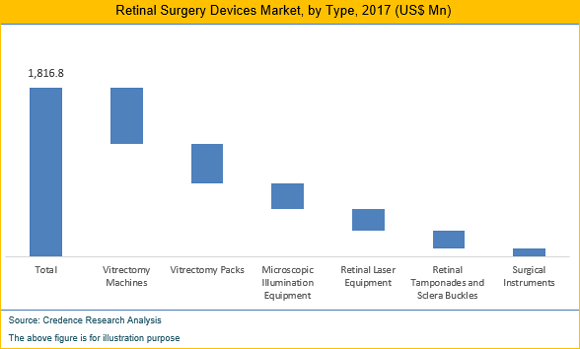 High demand anticipated for devices for treating retinal detachment
Currently, retinal surgery devices are mainly consumed in the treatment of diabetic retinopathy. High prevalence of diabetes worldwide and growing incidence of related complications such as diabetic retinopathy are driving more and more patients to seek for surgical treatments for diabetic retinopathy. This segment shall be witnessing upswing in terms of market penetration in emerging markets of China and India, as the patient pool of diabetic retinopathy is consistently growing in this region. On the other hand. Retinal detachment is expected to be the fastest growing segment during the forecast period. Prominent factors supporting the growth of retinal detachment surgical devices market are growing senescent population, and emergence of severe conditions leading to formation of scar tissue, retinal tear and so on. Moreover, growing clinical evidence establishing the benefits of surgeries for treatment of retinal detachment are also supporting the growth of this market.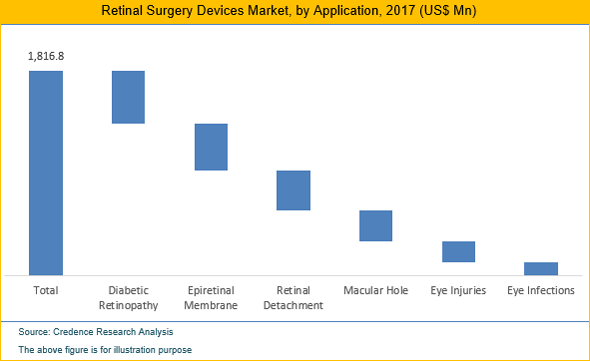 Hospitals spearhead the overall market for retinal surgery devices
Hospitals are the largest revenue generating segment in the global retinal surgery devices market. Greater patient footfall is among the most important factors attributed to the commanding hold of this segment. This leads hospitals to have greater affordability to advanced surgical solutions, better operational efficiencies, and improved treatment outcomes to the patients and so on. Furthermore, as the variety of patients coming to hospitals also makes it vital for the hospitals use retinal surgery devices. Decentralization of hospital operations and increasing initiatives by governments has led to growing footprint of ophthalmology clinics worldwide. This is observed not just to contain the procedure costs, while also allot convenience to patients located remotely.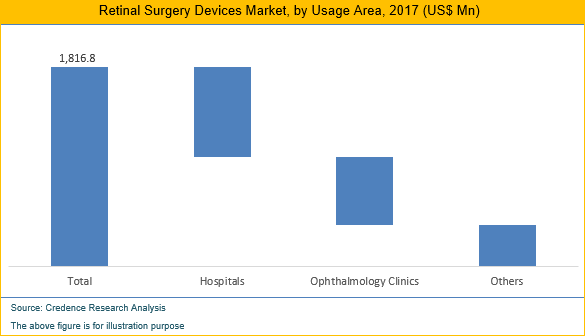 Larger incidence of ophthalmic conditions to support dominance of North America market
In the base year 2017, North America is observed to be the largest regional market of retinal surgery devices. Growing prevalence of ophthalmologic diseases in geriatric population and high prevalence of diabetic retinopathy. In the US alone about one in three diabetic patients have diabetic retinopathy. Technological evolution in the field of minimally invasive and microscopic surgeries and corresponding growth in awareness are leading more and more patients to opt for surgical measures to treat retinal diseases. Additionally, Asia Pacific is expected to record the highest market growth during the forecast period. Large population, consistently increasing prevalence of diabetes, improving healthcare infrastructure and healthcare expenditure are the key drivers of Asia Pacific market.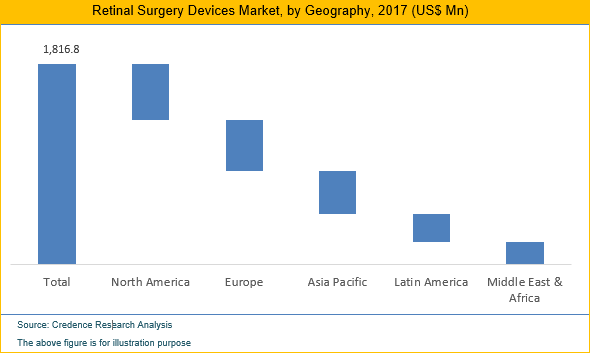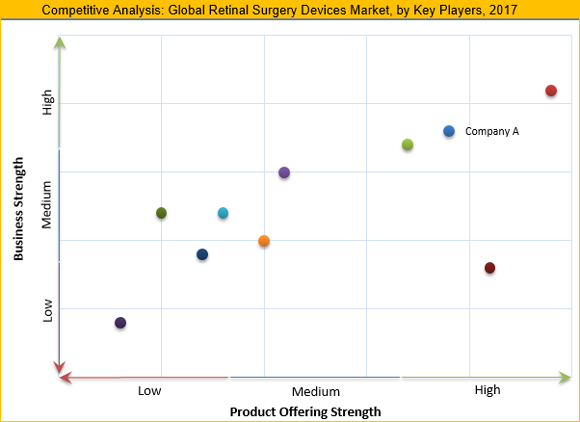 Historical & Forecast Period
2016 – Historical Year
2017 – Base Year
2018-2026 – Forecast Period
This research report presents the analysis of each considered segment for the period from 2016 to 2026, having 2017 as the base year for estimations. Compounded annual growth rates (CAGRs) for each segment are calculated for the forecast period from 2018 to 2026.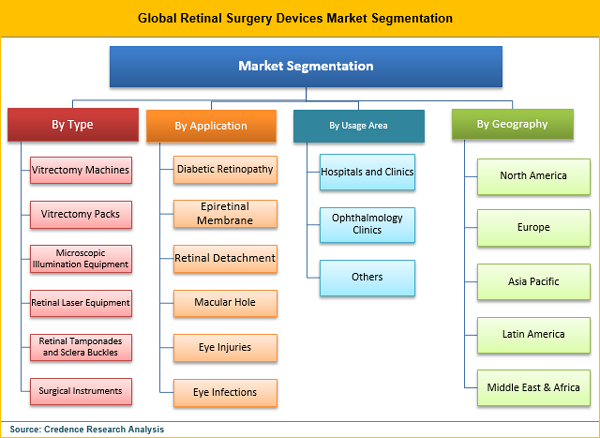 Report Scope by Segments
The retinal surgery devices market report provides quantitative assessment of the industry terms of current and forecasted market size, while also presenting the market dynamics. This market is segmented based on types, applications, usage area and geography.
By Type (2016–2026; US$ Mn)
Vitrectomy Machines
Vitrectomy Packs
Microscopic Illumination Equipment
Retinal Laser Equipment
Retinal Tamponades and Sclera Buckles
Surgical Instruments
By Application (2016–2026; US$ Mn)
Diabetic Retinopathy
Epiretinal Membrane
Retinal Detachment
Macular Hole
Eye Injuries
Eye Infections
By Usage Area (2016–2026; US$ Mn)
Hospitals
Ophthalmology Clinics
Others
Geography Segment (2016–2026; US$ Mn)
North America

Europe


U.K.
Germany
Rest of Europe

Asia Pacific (APAC)

Latin America (LATAM)


Brazil
Mexico
Rest of Latin America

Middle East and Africa (MEA)


GCC
Rest of Middle East and Africa
This report also includes company profiles section that gives insights on the company overview, product portfolio, financial information and key developments of major market players. The major players profiled in this report include Alcon (Novartis AG), Bausch & Lomb Incorporated, Carl Zeiss AG, Ellex Medical Lasers, Escalon Medical Corp., ERBE Elektromedizin GmbH, IRIDEX Corporation, Topcon Corporation, Second Sight Medical Products, Inc. and Leica Microsystems GmbH.
Key questions answered in this report
What is the current and projected market size of the global retinal surgery devices market during the period 2016 to 2026?
What is the market position of the vitrectomy packs segment in the global industry?
Which segments in terms of applications hold prominence in the global retinal surgery devices market?
What are the key opportunity zones considered in key regional market of Asia Pacific?
What are the key market entry strategies employed by the emerging players?