Market Excerpt
"The market for roof bolters is expected to witness considerable growth with increasing investments in tunneling projects across the world"
The global market for roof bolters is expected to cross US$ 3,750.0 Mn in 2026 at a CAGR of 4.2% throughout the forecast period from 2018 to 2026, with rising number of tunneling projects globally. Countries across the world are increasingly investing in tunnel projects in order to improve transportation link in major parts of the county. In addition, rising demand for commodity products also steadily supporting the mining operations globally. Stringent mining safety regulations also forcing mine operators to use advance mining equipment and solutions for better labor and mining safety.
Market Synopsis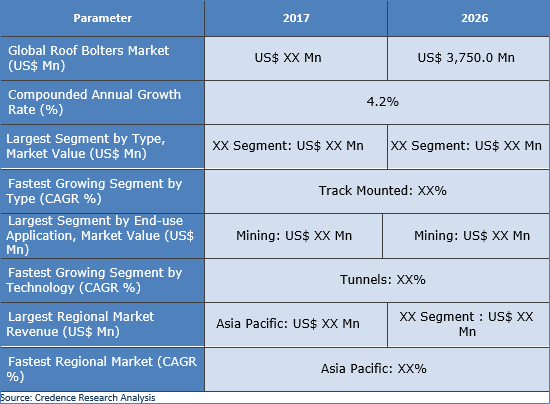 Get a sample copy for more information
"Asia Pacific is the largest market for roof bolters with increasing mining activities and tunneling projects"
The global market for roof bolters was led by Asia Pacific in 2018 and expected to remain largest regional market globally with increasing tunneling projects in major countries and steady growth in mining operations. Rising infrastructure development in India, China and Southeast Asia increasing the demand for copper, coal, iron ore and others. China is individual largest market for roof bolters in Asia Pacific as well as in the global market. China accounts for half of the global steel production and produced 886 metric ton of steel in 2018. Steady demand for steel in domestic as well as export market is supporting the steel production industry in China. India is next major market for roof bolters supported by growing mining industry in the country. Rising infrastructure development in India, increasing the demand for cement and power in the country. This is motivating domestic metal and mining operators increase their production. In addition, government introduced lucrative foreign direct investment (FDI) policies in order to encourage major foreign players mining industry to invest in the India. The government of India aims to double its production capacity to 300 million tonnes by 2030. All these factor represent considerable growth potential in the Indian mining industry. This is expected to spur the demand for mining equipment including roof bolters in India.
Increasing number of tunneling projects in Asia Pacific also represents huge opportunity for roof bolters manufacturers and distributors in Asia Pacific. The region represents second largest in number of tunnel projects in pipeline with project costs valued at US$ 560 Billion. China planned to invest US$ 169 Bn in tunnel project in pipeline. Taiwan Strait tunnel is the world's highest valued tunnel project of US$ 80 Bn planned on Fuzhou to Taipei highway. Europe expected invest highest amount of US$ 575 Bn in its projected tunneling projects. UK alone is expected to invest US$ 200 Bn in tunnel related projects with it plan to expand high speed and cross rail projects. Latin America and Africa are lucrative markets for roof bolter with increasing mining activities in the region.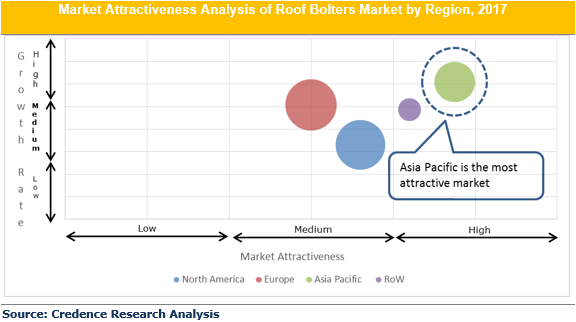 Get a sample copy for more information
"Mining is the largest application segment for roof bolter"
Roof bolters are widely used in mining, tunneling, underground power plants and storage facilities. Mining is the largest end use application segment for roof bolters. Mining application expected to remain the largest end-use category for roof bolters with steadily increasing metal and minerals production globally. Tunneling is expected to witness the fastest growth as countries across the world are investing in underground high speed and metro rail projects.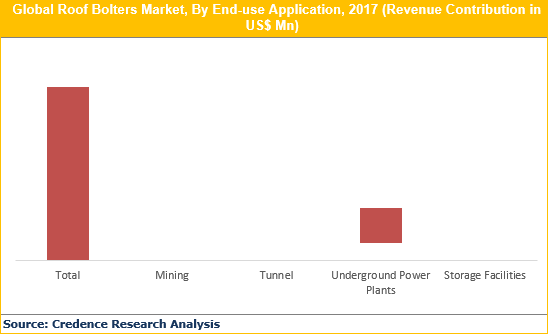 Get a sample copy for more information
"Roof bolter manufacturers are focusing on introducing advance solutions which speed up mine operations and meet safety regulations"
The global roof bolters market is dominated by the some recognized mining equipment manufacturers. Manufacturers are focusing introducing smarter machines which helps mine operators to increase their mine operation speed. Recently, Sandvik introduced DS422i cable roof bolter. This smart roof bolter provide ready data to mine operators how and where bolts were installed and other key installation details. This helps mine operators in increasing productivity and in reducing level of unscheduled maintenance. Some major players in the global roof bolters market includes Komatsu Ltd, Caterpillar Inc., Atlas Copco AB, Sandvik AB, MacLean Engineering, Eaton Corp, J.H. Fletcher & Co, Quarry Mining, Rambor and others.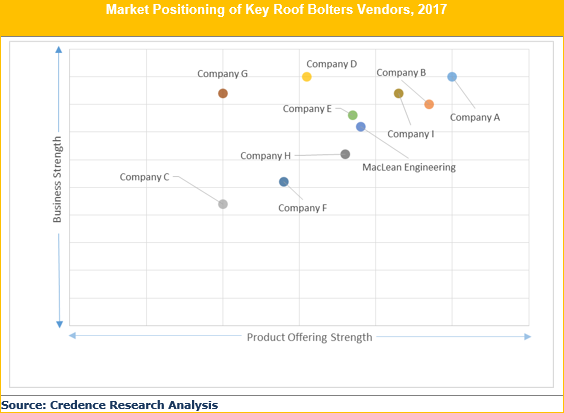 "Why it is recommended to invest in our roof bolters market research study?"
This research study on roof bolters market includes in-depth analysis of market dynamics and trends. The report also includes exhaustive analysis of different types and their end-use applications. The report provides detailed analysis of market drivers, restraints and opportunities in the global as well as in each region and country. The research study also provides quantitative and qualitative analysis for all the segments covered in the scope of the study. The report also includes value chain analysis, market positioning of major players and market attractiveness analysis which helps readers in designing their market winning strategies in competitive environments. This research study also profiles major players in the global roof bolters industry including their business strategies, recent developments, financial overview and product portfolio. The Roof Bolters market is segmented into following categories:
ATTRIBUTE
DETAILS
Research Period
2016-2026
Base Year
2017
Forecast Period
2018-2026
Historical Year
2016
Unit
USD Million
Segmentation

By Type (2016–2026; US$ Mn)
• Hand Held Roof Bolters
• Track Mounted Roof Bolters
• Single Boom
• Dual Boom

By End-use Application (2016–2026; US$ Mn)
• Mines
• Tunnels
• Underground Power Plants
• Storage Facilities

Geography Segment (2016–2026; US$ Mn)
• North America (U.S. and Canada)
• Europe (U.K., Germany, France, and Rest of Europe)
• Asia Pacific (Japan, China, India, and Rest of Asia Pacific)
• Rest of World (Middle East & Africa (MEA), Latin America)
Historical & Forecast Period
2016 – Historical Year
2017 – Base Year
2018-2026 – Forecast Period (CAGR from 2018 to 2026)
Key questions answered in this report
What is the global market size of roof bolters market?
What are the major opportunity areas in the global roof bolters market?
Which market trends and dynamics driving the growth of global roof bolters industry?
Who are the major players and their market winning strategies in the global roof bolters industry?
Which is the largest and most potential application segment for roof bolters?
Who are major regional leaders?
Who are major customers for roof bolters?