"Skincare diagnostic & treatment devices market to exhibit dynamic growth during the forecast period"
The global skincare diagnostic & treatment devices market is increasing competently, projected to grow at a CAGR of 10.2%. Worldwide, growing skin diagnostic procedures along with minimally invasive treatment has significantly increased devices. Innovative product launches in the skincare industry, high pool of individuals with numerous skin conditions and demand for skin rejuvenation are factors driving the overall growth of skincare diagnostic & treatment devices market globally. Increasing commonness of lifestyle diseases, demand for medical aesthetics, obesity, and conditions related to ageing among the female population will further spur revenue growth during the forecast period.
Market Synopsis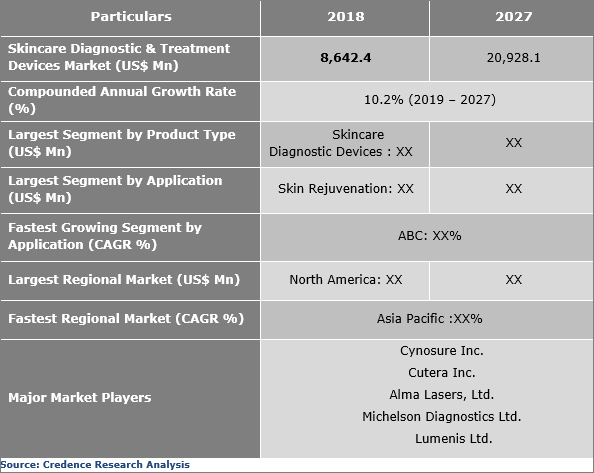 Get a sample copy for more information
"Diagnostic devices expected to register higher growth by the end of 2027"
Skincare diagnostic devices such as image guided systems, biopsy devices and Dermatoscopes are utilized majorly in dermatology centers and clinics. Treatment devices include lasabrasion devices, LED therapy devices, liposuction devices, microdermabrasion devices, cryotherapy devices and electrosurgical devices. Image-guided systems show significant growth rate due to the new technology assessment in these devices along with miniaturization. Increasing trend of anti-aging treatments, demand for skin tightening procedures, and body contouring with advanced dermatology devices are major factors driving the market growth. For e.g. increasing applications for WarmSculpting™ profile treatments, non-surgical fat reduction procedures, and other skin-tightening procedures will grow efficiently. Additionally, wide availability non-invasive fractional systems for skin resurfacing, hair removal, soft tissue repair and other treatments for overall feminine health will drive the global market.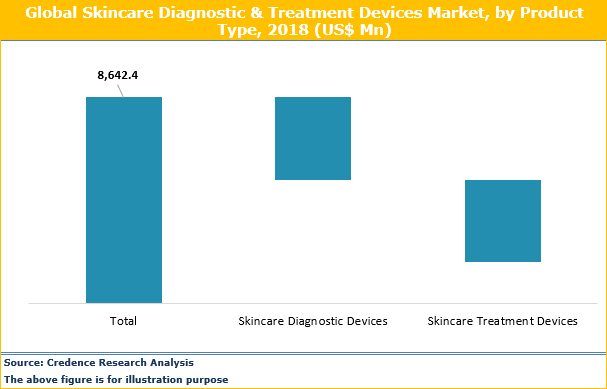 Get a sample copy for more information
"Skin rejuvenation segment expected to register higher growth by the end of 2027"
In 2018, skin rejuvenation generated maximum revenue share in the global market and will expand at a healthy CAGR. In 2018, according to a recent survey by American Society for Dermatologic Surgery, more than 85% of people are concerned by surplus bodyweight. Studies has also revealed that more individuals are now preferring non-invasive skincare treatment procedures. Growing minimally invasive treatments for skin rejuvenation and resurfacing are notable factors driving the market growth. Additionally, technology assessment in cosmetic surgeries, increasing demand for LED therapy devices, lasabrasion devices, microdermabrasion devices, and cryotherapy devices. Moreover, increasing FDA approved treatments for overall skincare will boost market growth. For e.g. Cryolipolysis (CoolSculpting®).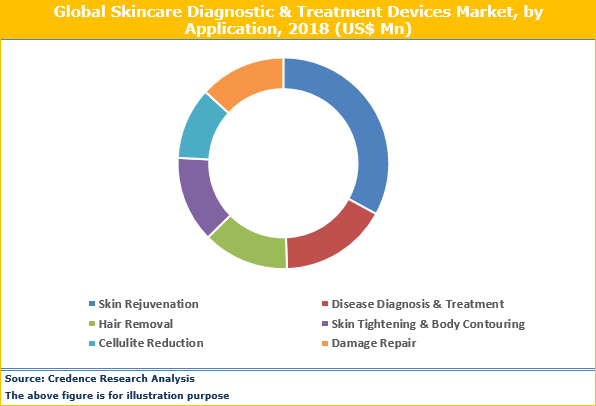 Get a sample copy for more information
"Increasing obese population, expansion of new products & skincare services, and the presence of top manufacturers holds the U.S. in dominant position"
In 2018, the U.S. is the leading market due to an increase in adoption of skincare treatment devices with growing awareness about new launch of mobile screening devices at reliable cost with enhanced accuracy. Increasing demand for devices with multiple applications for skin rejuvenation, resurfacing, and other treatment in beauty centers, Spas, and skincare clinics will drive the market growth on a global scale. The growth of medical aesthetics along with demand for the ever-expanding range of skincare diagnostic & treatment devices in the Asia, and Middle East will further spur the demand. Increasing occurrences of skin cancer and other disorders such as acne dermatitis, and psoriasis as well as other skin irregularities such as lesions, warts, and moles are factors driving growth of this market worldwide. Moreover, rising medical tourism in the developing nations for cheaper treatment options will drive market growth.
"Increased research and development with strong product pipelines in the developed regions"
Major manufacturers are emerging with safer products in the LED and laser segment with no or less side effects along with enhanced applications for different age groups. Acquisitions, partnerships, FDA clearance for new skin treatment and enhanced R&D for new launch of therapy devices will boost the market expansion of the skincare diagnostic & treatment devices globally. Moreover, increase in the global demand for aesthetic procedures such as skin tightening, rejuvenation, liposuction and body contouring or fat reduction will also drive the market growth in the near future. Nevertheless, high device cost along with procedures, competitive pricing and concern related to side effects are the few of the major restraints for the overall market growth.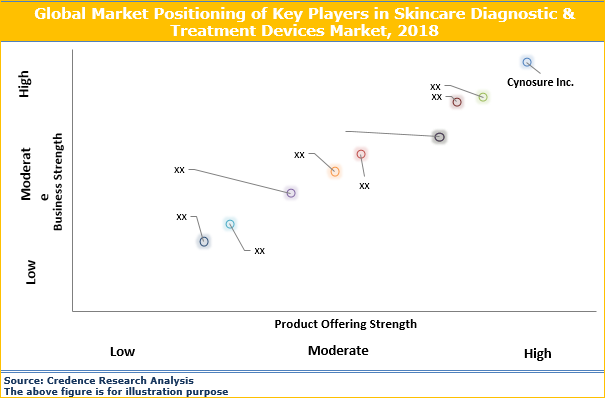 Key Developments:
In Feb 2019, L'Oréal launched AI-powered digital skin diagnostic tool, uses selfies and historic data to precisely evaluate ageing skin and deliver perfect skincare recommendations.
In Oct 2016, Dermatouch (US beauty brand) launched four new facial anti-ageing devices mainly Dermatouch Dermaclear, Dermalift, Eyesonic and Skinforce, that integrate ultrasonic, microcurrents, and galvanic wave technology, along with LED light therapy.
In Jan 2015, Observ comapny (UK) launched a new skin diagnostic machine, the Observ 520 skin analysis system.
Top Manufacturers:
Cynosure Inc.
Cutera Inc.
Alma Lasers, Ltd.
Michelson Diagnostics Ltd.
Lumenis Ltd.
Palomar Medical Technologies
Syneron Medical Ltd.
Photomedex Inc.
Solta Medical, Inc.
Merz Pharma GmbH & Co. kGaA
Koninklijke Philips N.V
Panasonic Corporation
Valeant Pharmaceuticals
ZELTIQ Aesthetics, Inc.
Galderma SA
Historical & Forecast Period
This study report represents analysis for each segment from 2017 to 2027 considering 2018 to be the base year. Compounded Annual Growth Rate (CAGR) for each of the respective segments estimated for the forecast period from 2019 to 2027.
Market Segmentation
ATTRIBUTE
DETAILS
Research Period
2017-2027
Base Year
2018
Forecast Period
2019-2027
Historical Year
2017
Unit
USD Million
Segmentation

Product Type (2017–2027; US$ Mn)
• Skincare Diagnostic Devices
o Dermatoscopes
o Image Guidance Systems
o Biopsy Devices
• Skincare Treatment Devices
o Lasabrasion Devices
o LED Therapy Devices
o Liposuction Devices
o Microdermabrasion Devices
o Cryotherapy Devices
o Electrosurgical Devices

Application (2017–2027; US$ Mn)
• Skin Rejuvenation
• Disease Diagnosis & Treatment
• Hair Removal
• Skin Tightening & Body Contouring
• Cellulite Reduction
• Damage Repair

Geography (2017–2027; US$ Mn)
• North America (U.S., Canada)
• Europe (U.K., Germany, France, Italy, Rest of Europe)
• Asia Pacific (Japan, China, India, Rest of Asia Pacific)
• Latin America (Brazil, Mexico, Rest of Latin America)
• Middle East & Africa (GCC, Rest of Middle East & Africa
The current report also comprehends qualitative and qualitative market valuation factors such as key market drivers, market trends, restraints and opportunities that gives a better market understanding of the overall skincare diagnostic & treatment devices market. Additionally, the global report also comprises graphical representation of competitive landscape based on their market initiatives and strategies, product portfolio and business strengths.
Key questions answered in this report
What are the current market trends and dynamics in the skincare diagnostic & treatment devices market and valuable opportunities for emerging players?
Which segment accounts for the fastest CAGR during the forecast period?
Which product type segment holds a larger market share and why?
Are low and middle-income economies investing in the skincare diagnostic & treatment devices market?
What is the market trend and dynamics in emerging markets such as Asia Pacific, Latin America and Middle East & Africa?