Key Market Insights
"Increasing consumer concerns towards food safety and sustainability coupled with change in consumer lifestyle will boost the market"
The global smart packaging market is growing competently, expected to grow at a CAGR of 8.3% during the estimated period from 2019 to 2027, starting from US$ 6.87 Bn in 2018.
Market Synopsis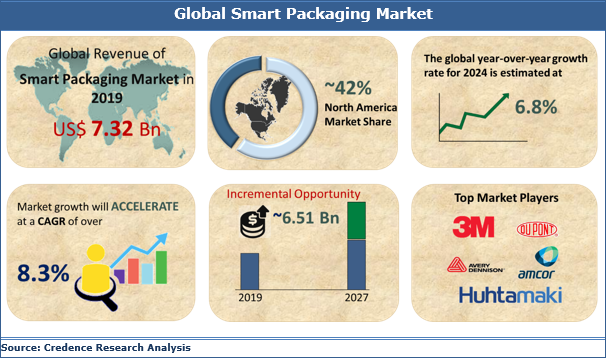 Get a sample copy for more information
Technology Analysis
"Dominance is led by the wide scale implementation of technology coupled with stringent government regulations towards food waste & safety."
Smart packaging technology is a growing industry with enormous prospective. Despite the fact, very few companies have ventured to take steps towards application of smart packaging in security, logistics, and marketing, thereby indicating active and intelligent packaging to become part of the industry in the coming years. Additionally, smart packaging systems allow a greater customization of the packaging, thereby providing a real time data access of the related products for the consumers. Furthermore, the developments in printing practices across various industries have also driven the market on a global scale. Printed technologies are providing their added functionality in the presentation and process processing like use of RFID technology and printed electronics, thereby creating a framework for the potential development of smart packaging applications.
Moreover, adoption of various updated technologies like "Thermochromic Inks", "Photochromic Inks", "Oxygen Scavenging", and "Electronic Labels and RFID" in packaging industries is projected to drive the market on a global scale. In addition, rising developments in the pharmaceutical sector on account of growing research and development in the field of drugs and medicines will enhance the expansion of market globally. Furthermore, the government initiatives like financial assistance and subsidies from government agencies such as Development Commissioner Ministry of Micro, Small & Medium Enterprises (DCMSME), Ministry of MSME, and National Small Industries Corporation (NSIC) for packaging industry is likely to drive the market. For instance, in December 2018, the government of U.K. has announced a funding package of around US $65 million for packaging system, which is projected to fuel the market demand across the region.
Get a sample copy for more information
Regional Analysis
"Rising industrialization across various regions, along with advanced technology adoption worldwide will flicker the market growth for smart packaging"
Increasing in number of industries is likely to drive the market for innovative smart packaging application, which will primarily address three business issues like "Inventory & Life Cycle Management", "Product Integrity", and "User Experience". Rising demand towards real time information system in numerous industries urge needs for the adoption of smart packaging solutions such as "Climate change indicators – temperature and humidity", and "Augmented reality insertion – 3D models". In addition, involvement of technology giant towards smart packaging systems will enhance the packing industries with eco-friendly and product efficient materials used for packaging. For instance, Dell Inc., a multinational IT firm, aims to establish a waste free packaging system through its "2020 Packaging Goal", which includes the use of recycled, composites, and organic materials for its packaging system.
North America is expected to hold a largest market for smart packing industry in 2018, owing to rapid development in the industries like pharmaceutical, food & beverage, logistics, automotive, and manufacturing in the upcoming years. In addition, increasing consumer's spending capability coupled with raising concerns towards health in the countries like the U.S. and Canada is likely to drive the demand for smart packaging. Moreover, rising government policies and mandates to enhance the packaging quality and environment friendliness, the region is projected to boost up the demand for smart packaging market growth.
Furthermore, growing application of modern technologies in the packaging industries such as nanotechnology, which is projected to gain acceptance in numerous areas like packaging, food safety, bioavailability, processing, encapsulation, and fortification among others. Moreover, growing global awareness towards negative environmental impacts of packaging along with technological improvements have driven the use of recyclable material in packaging industries.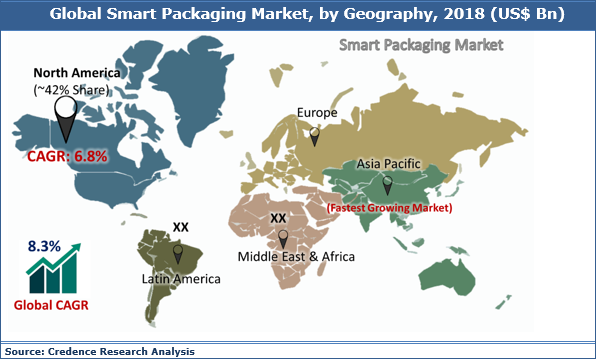 Get a sample copy for more information
List of Companies Covered:
3M Co
BASF India Ltd
DuPont
Avery Dennison Corp
Amcor PLC
Sealed Air Corp
International Paper Co
Huhtamaki Oyj
Thin Film Electronics ASA
Insignia Technologies Ltd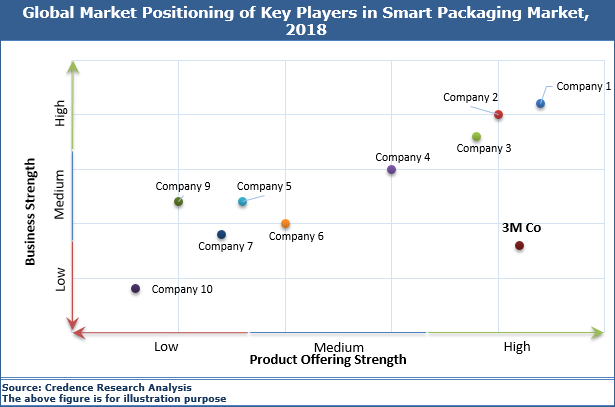 Key Industry Development:
In February 2017, Thin Film Electronics ASA and Smart Systems, collaborated with Constantia Flexibles to provide smart packaging solutions for beverage industries.
In October 2017, Thin Film Electronics ASA and Smart Packaging Solutions, had collaborated with CMSmartconnect, to change NFC smart packaging into intelligent packaging system for cosmetics brands.
Historical & Forecast Period
This study report represents analysis for each segment from 2017 to 2027 considering 2018 to be the base year. Compounded Annual Growth Rate (CAGR) for each of the respective segments estimated for the forecast period from 2019 to 2027.
Market Segmentation
ATTRIBUTE
DETAILS
Research Period
2017-2027
Base Year
2018
Forecast Period
2019-2027
Historical Year
2017
Unit
USD Billion
Segmentation

Technology Type (2017–2027; US$ Bn)
• Active Packaging
• Intelligent Packaging

Application (2017–2027; US$ Bn)
• Passenger Cars
• Commercial Vehicles Healthcare
• Automotive
• Personal Care
• Food & Beverages

Geography (2017–2027; US$ Bn)
• North America (U.S., Canada)
• Europe (U.K., Germany, Spain, Italy, Rest of Europe)
• Asia Pacific (Japan, China, India, Rest of Asia Pacific)
• Rest of the World (Latin America, Middle East & Africa)
The current report also comprehends qualitative and qualitative market valuation factors such as key market drivers, market trends, restraints and opportunities that give a better market understanding of the overall smart packaging market. Additionally, the global report also comprises graphical representation of competitive landscape based on their market initiatives and strategies, product portfolio and business strengths.
Key questions answered in this report
What are the current market trends and dynamics in the smart packaging market and valuable opportunities for emerging players?
Which segment accounts for the fastest CAGR during the forecast period?
Which technology type segment holds a larger market share and why?
Are low and middle-income economies investing in the smart packaging market?
What is the market trend and dynamics in emerging markets such as Asia Pacific, Latin America, and Middle East & Africa?