Rising penetration of smartphones and internet usage has led to high demand for mobile applications in the recent years. Further rise in penetration of mobile devices is expected to continue driving the demand for mobile applications in the coming years. Similarly, the penetration of over-the-top (OTT) services too have witnessed paradigm shift in the past few years. In addition, advancement in internet services such as 4G LTE further drives the overall mobile applications and OTT content industry. This is expected to significantly fuel the mobile internet traffic rate thereby bolstering API services such as WebRTC, RCS and location. This is one of the most significant factors fueling the telecom API market growth.
Due to growing usage of mobile applications and OTT content service, telecom operators are facing substantial competition from the related service providers. Consumers are willing to pay more for internet bandwidth as compared to the traditional telecom service. This forms a major concern for telecom operators in revenue generation. Exposing API to external/internal application developers helps the telecom operators tackling the revenue generation challenge thereby improving its market position. Telecom API refers to API solution designed for providing interface between mobile applications and some of their internal functionality. This may include sharing such as identity, location and others. Disclosing such information helps both telecom operators and application developers delivering better consumer experience.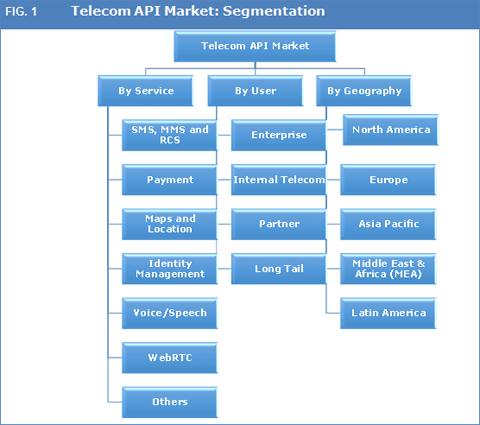 The report titled "GlobalTelecom APIMarket- Growth, Share, Opportunities and Competitive Analysis, 2016 – 2023" offers strategic insights into the global telecom APImarket along with the market size and estimatesfor the duration 2014 to 2023. The said research study covers in-depth analysis of multiple market segments based on service, user and cross-sectional study across different geographies and sub-geographical regions. The study covers the comparative analysis of different segments for the years 2015 & 2023. The report also provides a prolific view on market dynamics such as market drivers, restraints and opportunities.
In order to help strategic decision makers, the report also includes competitive profiling of the leading telecom API vendors, their SCOT (Strength, Challenges, Opportunities and Weaknesses) analysis, market positioning and key developments. Some of the major players profiled in the report are AT&T, Inc. Alcatel-Lucent, Tropo, Inc. (Cisco, Inc.), Fortumo OU, Apigee Corporation, Twilio, Inc., OrangeSA and others. Other in-depth analysis provided in the report includes:
Current and future market trends to justify the forthcoming attractive markets within the telecom industry
Market fuelers, market impediments, and their impact on the market growth
In-depth competitive environment analysis
Trailing 2-Year market size data (2014 – 2015)
SRC (Segment-Region-Country) Analysis
Overall, the research study provides a holistic view of the global telecom API market, offering market size and estimates for the period from 2016 to 2023, keeping in mind the above mentioned factors.