Overview:
The global threat intelligence market is expected to witness a growth of 17.2% CAGR during the forecast period 2018 – 2026. Threat intelligence has become an integral part of businesses due to ever-changing dynamics and technology landscape across the globe. In view of rising incidences of threat breaches and cyber-crimes, the adoption of threat intelligence solutions has surged over the last few years. In addition, rise in the adoption of cloud-based solutions and Internet of Things (IoT)-enabled devices is supporting demand for threat intelligence amongst several end-use sectors including government, healthcare, military, and BFSI among others. In order to increase the productivity, several organizations have started implementing the concept of bring your own devices (BYOD). On the contrary, the concept is unveiling the personal information and data of the user, giving rise to privacy concerns associated with data security. The security breaches that takes place in the organization often leads to financial damage or espionage motives, creating major disturbances in the business environment. Thus, security related issues such as data breaches and cyber-attacks are contributing towards increasing demand for threat intelligence services and solutions. All these factors are collectively expected to contribute towards a double digit CAGR during the forecast period (2018 – 2026). However, high cost and technical complexities associated with the deployment and lack of awareness regarding evolving cyber threats are challenging the growth of the global threat intelligence market.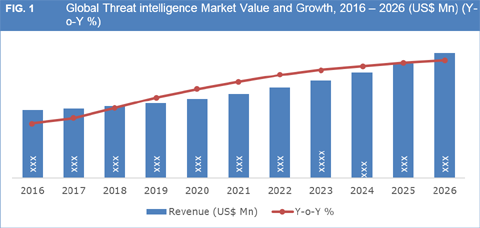 The global threat intelligence market is classified into following categories:
By Component:
By Deployment Model
By Vertical

Banking, Financial Services, and Insurance (BFSI)
IT & Telecom
Healthcare
Retail
Energy and Utilities
Manufacturing
Education
Government & Defense
Others (Transportation)

By Region

North America

The U.S.
Rest of North America

Europe

The U.K.
Germany
France
Rest of Europe

Asia-Pacific (APAC)

India
China
Japan
Rest of APAC

Rest of the World

Latin America
Middle East and Africa
The research study titled "Global Threat intelligence Market – Growth, Future Prospects and Competitive Analysis, 2018 – 2026" offers in-depth qualitative analysis on the global threat intelligence market together with the market forecasts and market sizing from 2016 to 2026. The study classifies the global threat intelligence market based on components, applications, end-use vertical, and cross-sectional insights across geographic regions. The research study conveys a complete opinion on market dynamics including market drivers, opportunities, and challenges prevailing in the threat intelligence market. Moreover, the study covers analysis on important market trends shaping the market.
To facilitate investors and decision makers, the study portrays competitive landscape covering profiles of major threat intelligence solution vendors, their market positioning, key business strategies adopted, and key developments in recent past. Major manufacturers profiled in the research study include Check Point Technologies Ltd., Dell Inc., FireEye, Inc., IBM, Juniper Networks, Inc., LogRythm, Inc., LookingGlass Cyber Solutions, Inc., McAfee, LLC, Optiv Security Inc., Symantec Corporation, Trend Micro, and Webroot Inc.
Other insights covered in the research study includes:
Relative analysis of all sub-segments for 2017 and 2026
Market sizing of historic years (2016 and 2017)
SRC (Segment-Region-Country) Analysis
Thus, the research report offers a 360 degree view of the global threat intelligence market by giving market size and forecasts.