Industry Outlook
The global transforming monitoring systems market was valued US$ 1490.3 Mn in 2017 and expected to grow at a Compound Annual Growth Rate (CAGR) of 10.8% during the forecast period from 2018 to 2026. The projected growth can be largely credited to several upcoming smart grid infrastructure projects and risisng popularity of non-conventinal energy resources across the globe. The ever-increasing demand for uninterrupted energy supply has encouraged several nations worldwide to explore new avenues for electricity generation and management. The existing electricity infrastructure is witnessing a paradigm shift from conventional to smart electrification systems in view of growing need for conserving energy and curbing environmental damage. Transformer monitoring systems continuously monitor parameters such as thermal modeling, dissolved gas analysis, partial discharge analysis, cooling, current and voltage flow and brushing monitoring. These parameters aids in evaluating the operating condition of transformers and avert potential breakdowns.
Being a vital part of an electric generation and distribution unit, failure of transformers can lead to extended power outages, environmental hazards and expensive overhauling. Transformer monitoring systems are incorporated in power generation and distribution units to address aforementioned issues and related expenses. Thus, demand for transformer monitoring systems is expected to grow consistently with expansion of electrical infrastructure. Transformer monitoring system manufacturers are focusing on enhancing the reliability of their products by incorporating modern day electronics and control systems within monitoring systems. Integration of cloud computing and big data analytics has facilitated precise evaluation of transformer health condition through system automation and real-time remote monitoring. Owing to the aforementioned features and merits offered, demand for transformer monitoring systems is expected to grow consistently among utilities in the following years.
Market Synopsis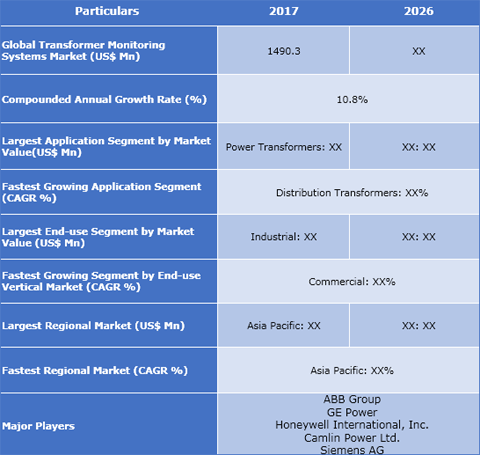 Get a sample copy for more information
"Rising energy demand and consequent increase in power generation plants to aid demand for power transformer monitoring systems"
In 2017, power transformer monitoring systems led the overall transformer monitoring systems market in terms of market value. The electricity generation infrastructure is witnessing continuous expansion and up-gradation worldwide. Governments across several nations have undertaken projects for modernizing/upgrading their aging power grid infrastructure. In order to avoid power outages and expenses associated with transformer failures, transformer monitoring systems have been increasingly integrated into the power systems. The trend is expected to continue and the segment is anticipated to continue leading the market in the following years. Rapidly growing urbanization, industrialization, and consequent rise in energy demand has encouraged governments across the globe to undertake several electrification projects. This has had positive impact on demand for both power transformers and distribution transformers. Subsequently, demand for monitoring systems for respective variants (power transformers and distribution transformers) will witness a surge in the coming years.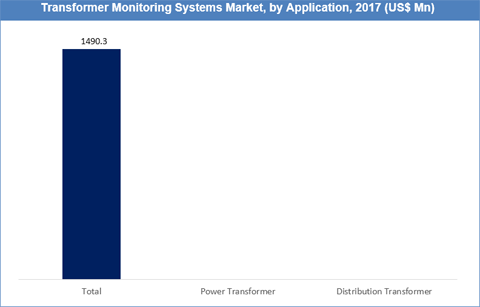 Get a sample copy for more information
"Expansion of electricity infrastructure to aid growth in Asia Pacific"
Asia Pacific dominated the overall transformer monitoring market in 2017. The market in Asia Pacific is majorly backed by demand from several developing countries including China and India. Several other countries in the region are also focusing on strengthening their electricity infrastructure to limit losses arising from issues such as power outages and system breakdown. Rapid expansion of electricity infrastructure has rendered this region as the most attractive market for transforming monitoring systems. Being an integral part of smart grids, transformer monitoring systems are expected to grow consistently throughout the forecast period from 2018 to 2026.
In terms of value contribution, North America trails Asia Pacific in the global transformers monitoring systems market. North America is relatively a mature market and expected to experience a slow and steady growth throughout the forecast period from 2018 to 2026. Increased integration of smart systems with existing electricity infrastructure in order to ensure uninterrupted electricity supply has fueled growth of the transformer monitoring systems market in North America. In addition, various non-conventional energy projects and recent overhauling of electricity infrastructure after natural calamities have collectively fueled market momentum.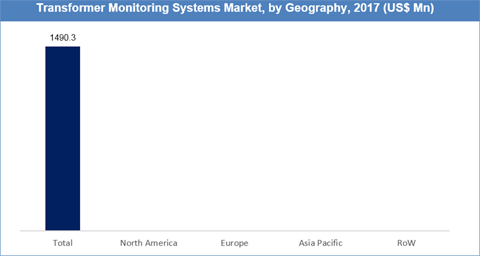 Get a sample copy for more information
Historical & Forecast Period
Considering 2017 as the base year for the research, every segment of the market is closely analyzed and are included in this report. Market value estimation and Compound Annual Growth Rate (CAGR) for respective segments and region/countries are calculated for the period from 2016 to 2026.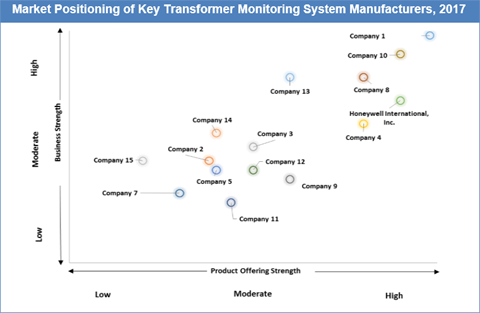 Several leading transformer monitoring systems manufacturing companies are profiled thoroughly in this report along with their key developments, strategies and market positioning in order to aid the strategic decision makers. Some of the major transformer monitoring system manufacturers profiled in the research study include ABB Group, Advanced Power Technologies LLC, Camlin Power Ltd., EMCO ELECTRONICS LLP, Eaton Corporation Plc, EDMI Ltd., GE Power, HZ Electric Inc., Honeywell International, Inc., KJ Dynatech, Inc., Koncar- Electrical Engineering Institute, Inc., Schweitzer Engineering Laboratories, Inc., Siemens AG, S&C Electric Company, Inc. and Wilson Transformer Company Pty Ltd.
Report Scope by Segments
Transformer monitoring systems market report includes detailed qualitative and quantitative analysis along with current market trends for market segments including application, end-use verticals and geography. One of the major objectives of publishing this comprehensive research study is to help transformer monitoring system manufacturers, government agencies and market stakeholders take better strategic investment decisions.
ATTRIBUTE
DETAILS
Research Period
2016-2026
Base Year
2017
Forecast Period
2018-2026
Historical Year
2016
Unit
USD Million
Segmentation

By Application Segment (2016–2026; US$ Mn)
• Power Transformers
• Distribution Transformers

By End-use Verticals Segment (2016–2026; US$ Mn)
• Residential
• Industrial
• Commercial

Geography Segment (2016–2026; US$ Mn)
• North America (U.S., Rest of North America)
• Europe (U.K., Germany, France, Rest of Europe)
• Asia Pacific (Japan, China, India, Rest of APAC)
• Rest of the World (Latin America, Middle East & Africa)
Key questions answered in this report
What are the latest market trends shaping the global transformer monitoring systems market?
How environmental factors, regulatory framework, and mandates affect the global as well as the regional markets?
What technological changes are being incorporated into the transformer monitoring systems to improve their reliability?
Which is the largest and fastest growing segment by application and end-use vertical?
Which region/country leads the overall transformer monitoring systems market in terms of market value?
What is the market size and trends prevailing in the emerging markets such as Asia Pacific, Middle East & Africa and Latin America?