Water leak detection systems are devices which are used to detect any accidental or unwanted water spillage or leakage through pipelines or plumbing fittings. Several types of water leak detection systems are available in market which can be used in a variety of applications. Certain types of water leak detectors need to be directly mounted on the pipelines in order to identify leakages. Whereas, there are other standalone water leak detectors which make use of moisture sensors, thermal or infrared sensors and acoustic sensors to identify water leakages within a close proximity. Water leak detection systems have become an essential component in various residential, commercial and industrial infrastructure. Ever increasing demand for water for numerous applications including households, commercial and industrial coupled with rising concerns pertaining to water conservation have made it imperative for end-users to deploy effective water leak detection systems.
Leading manufacturers of water leak detection systems have been engaged in design and development of advanced solutions with higher degree of precision. With the introduction of advanced electromechanical sensor technology, water leak detection systems have become more dependable in preventing any damages caused by water leakages. One of the major applications of water leak detection systems is in the wastewater treatment plants and municipal centers where it is critical to ensure optimum water processing and transport. Increasing expenditure on public infrastructure along with rising technological awareness among various governing bodies have fueled the demand for advanced water leak detection systems in the public sectors. In addition, advancement in sensor technologies have led to the growing adoption of these systems in various commercial and industrial applications in the recent years. Thereby, the overall water leak detection systems market is expected to witness continued growth during the forecast period from 2017 to 2025.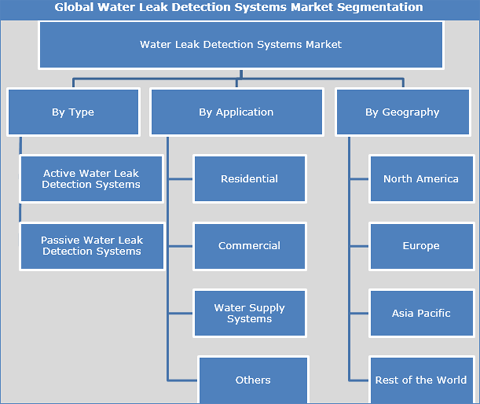 The report titled "Water Leak Detection Systems Market- Growth, Future Prospects and Competitive Landscape, 2017-2025" offers strategic insights into the global water leak detection systems market with a focus on the market size and estimates for the duration 2015 to 2025. The said research study covers in-depth analysis of market segments based on type, application and cross-sectional study across different geographies. The study covers the comparative analysis of each sub-segment for the years 2016-2025. The report also provides a prolific view on market dynamics such as market drivers, restraints, and opportunities.
In order to help strategic decision makers, the report also includes competitive profiling of the leading water leak detection system manufacturers, their strategies, market positioning and key developments. Some of the major players profiled in the report include TTK S.A.S., Honeywell International, Inc., Pentair Plc., NEC Corporation, Perma-Pipe, Inc., Aqua Leak Detection LLC, Badger Meter, Inc., The 3M Company, Schneider Electric SE, Mueller Water Products, Inc., Pure Technologies Ltd. and LeakTronics (Torque Lock Structural Systems).
Other in-depth analysis provided in the report includes:
Current and future market trends to justify the forthcoming attractive markets within the water leak detection systems industry
Market fuelers, market impediments, and their impact on the market growth
Market inclination insights and key trend analysis for water leak detection systems market
In-depth competitive environment analysis
Trailing 2-Year market size data (2015 – 2016)
Overall, the research study provides a holistic view of the global water leak detection systems market, offering market size and estimates for the period from 2017 to 2025, keeping in mind the above-mentioned factors.