Trientine hydrochloride is a liquid base polyamine which was first characterized by a German scientist named A.W. Holfmann in the year 1860-1862. He came across trientine hydrochloride when he was studying on his research topic amine chemistry in London at the Royal College of Chemistry. The British Pharmacopoeia Commission selected trientine in the year 1978 as the British approved name for pharmaceutical grade triethylenetetramine. The dihydrochloride salt of triethylenetetramine, in all countries except U.S. is named trientine dihydrochloride. The U.S. confusingly approved the name for the same product as trientine hydrochloride.
Trientine hydrochloride also known as trientine dihydrochloride is a white to pale yellow crystalline hygroscopic powder which is soluble in methanol, water but insoluble in ether and chloroform. It is known in the industry for its use as a chelating compound in removal of excess copper which accumulates in the human body. Based on applications, the global trientine hydrochloride market is segmented into epoxy curing and Wilson's disease. Among these, Wilson's disease accounted for major share of the market and is expected to increase in the near future. Trientine hydrochloride is widely used for the treatment of trientine hydrochloride and hence is expected to experience high demand from the global market. Epoxy curing is also expected to boost high growth of global trientine hydrochloride market in the near future.
Asia Pacific accounted as the largest market for trientine hydrochloride in 2015 and is anticipated to retain its position in the near future. Europe followed Asia Pacific in terms of demand and is expected to fuel demand for trientine hydrochloride in the near future. Other regions such as North America, Latin America and Middle East & Africa are also expected to boost high demand for trientine hydrochloride during the forecast period from 2016 to 2023.
Trientine hydrochloride market was valued at US$ 423.4 Mn in 2015 and is expected to reach US$ 752.9 Mn by 2023, growing at a CAGR of 7.5% during the forecast period 2016-2023.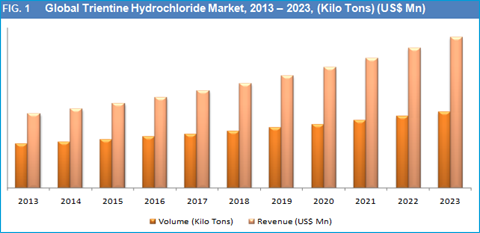 Purpose of the Report
The purpose of this strategic research study titled "Global Trientine Hydrochloride Market - Growth, Future Prospects, Competitive Analysis and Forecast, 2016 – 2023" is to provide company executives, industry investors, and industry participants with in-depth insights to enable them make informed strategic decisions regarding the opportunities in the global trientine hydrochloride market.
Target Audience
Industry Investors
Trientine hydrochloride Providers/Vendors
Research Professionals
Emerging Companies
Raw Material Suppliers/ Buyers
Product Suppliers/ Buyers
Research Institutes
USP and Key Offerings
The report titled "Global Trientine hydrochloride Market - Growth, Future Prospects, Competitive Analysis and Forecast, 2016 – 2023" offers strategic insights into the global trientine hydrochloride market along with the market size and estimates for the duration 2016 to 2023. The said research study covers in-depth analysis of multiple market segments based on applications, and cross-sectional study across different geographies. In order to help strategic decision makers, the report also includes competitive profiling of the leading trientine hydrochloride vendors, their expansion strategies, market positioning, and latest developments. Other in-depth analyses provided in the report include:
Current and future market trends to justify the forthcoming attractive markets within trientine hydrochloride industry
Market fuelers, market impediments, and their impact on the market growth
In-depth competitive environment analysis
Trailing 2-Year market size data (2013 – 2014)
SRC (Segment-Region-Country) Analysis
Overall, the research study provides a holistic view of the global trientine hydrochloride market, of growth, offering market size and estimates for the period from 2016 to 2023, keeping in mind the above mentioned factors.