Increasing growth of UAVs in the U.S. to drive the global demand for UAV chips
The UAV chips market worldwide is expected to grow with a CAGR of 9.6% during the forecast period from 2019 to 2027, starting from US$ 2.7 Bn in 2018. Unmanned aerial vehicle is a non-human pilot or passenger aircraft. UAVs — sometimes referred to as drones — may be fully or partially autonomous, but a human pilot controls them more often remotely. The chips used in these UAVs are called UAV chips. These chips are made from silicon and other semiconductor devices. There has been an increasing demand for such chips especially since the launch of several safety norms led by the government or other safety authorities. The U.S. is anticipated to dominate the global UAV chips market owing to rising demand for UAVs especially for recreational purposes.
Market Synopsis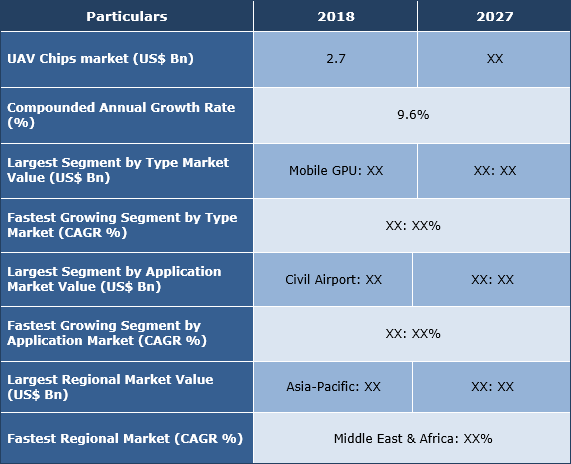 Get a sample copy for more information
Fixed Wing UAVs to dominate the global market throughout the forecast period
In 2018, the fixed wing UAVs segment dominated the global UAV chips market owing to increasing sales of fixed wing UAVs across several end use applications. People from all the age groups opting for UAVs adopt fixed wing UAVs due to easy availability, less cost and ease of operation. Morevoer, owing to the less costs, the fixed wing UAVs have witnessed huge demand from commercial and military applications. This rising number of fixed wing UAVs are in turn anticipated to drive the demand for UAV chips over the forecast period.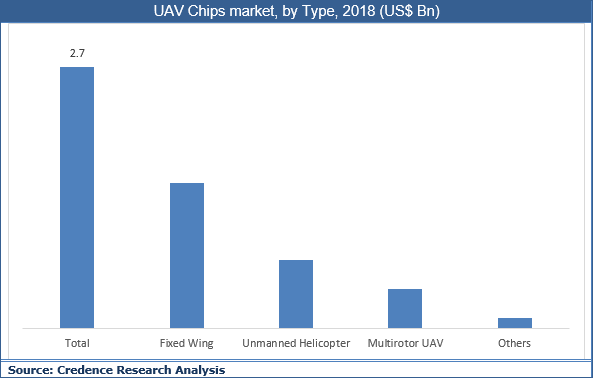 Get a sample copy for more information
Asia Pacific to Register the Fastest Growth
North America accounted for the largest share, in terms of revenue, in 2018 and is set to retain its dominance over forecast period. Favorable government initiatives towards drone advancement along with growing demand for drone-acquired data are the major factors supporting the regional market growth. In addition, the U.S. Federal Aviation Administration (FAA) has issued new regulations to provide more consistent and coherent guidance on the legal and safe operation of UAVs in commercial spaces. It is expected that such rules and regulations will reduce entry barriers and increase the adoption of regional products.
Asia Pacific is projected to witness the fastest CAGR during the forecast period. Countries such as China and Japan are increasingly accepting automation and advanced technology in order to counter rising labor costs. The higher efficiency of UAVs compared to human labor is expected to boost their adoption across the region for certain tasks, particularly in the agriculture sector. Due to several favorable regulations, drone sales in Europe are steadily increasing. Companies operating on the regional market are exploring new ways of transforming their conventional business processes by taking advantage of the benefits that drones offer.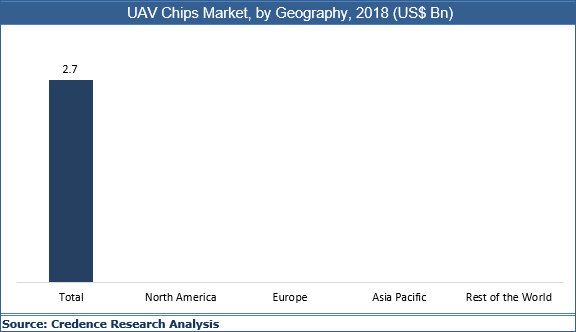 Get a sample copy for more information
Some of the prominent players operating in the UAV Chips market include Qualcomm, Intel, STMicroelectronics, TI, Samsung, ATMEL, Nuvoton, XMOS, NVIDIA and Rockchip among others.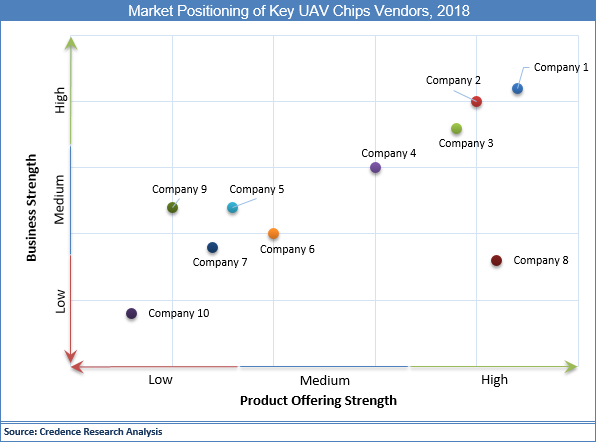 Historical & Forecast Period
This research report presents the analysis of each segment from 2017 to 2027 considering 2018 as the base year for the research. Compounded Annual Growth Rate (CAGR) for each respective segment calculated for the forecast period from 2019 to 2027.
Report Scope by Segments
The UAV Chips market report provides market size and estimates based on market dynamics and key trends observed in the industry. The report provides a holistic view of global UAV Chips market based on type, application and geography. Key segments covered in the report are as follows:
ATTRIBUTE
DETAILS
Research Period
2017-2027
Base Year
2018
Forecast Period
2019-2027
Historical Year
2017
Unit
USD Billion
Segmentation

Type Segment (2017–2027; US$ Bn)
• 8 bit
• 16 bit
• 32 bit
• 64 bit

Application Segment (2017–2027; US$ Bn)
• Fixed Wing UAV
• Unmanned Helicopter
• Multirotor UAV
• Others

Geography Segment (2017–2027; US$ Bn)
• North America (U.S., Rest of North America)
• Europe (U.K., Germany, France, Rest of Europe)
• Asia Pacific (China, Japan, India, Rest of Asia Pacific)
• Rest of the World (Middle East & Africa, Latin America
Key questions answered in this report
What are the major sustainability strategies followed by the market giants operating in the global ground power units market?
What are the major, innovative & emerging technologies in the global UAV industry?
What are the key applications in which UAV Chips plays a considerable role?
Unique data points of this report
Key trends across major regions and their countries in terms of the penetration of UAV chips across different applications
Analysis of major developments, strategies and winning imperatives adopted in the global UAV industry
Attractive investment proposition for segments as well as geography
Competitive landscape and profiles of major companies operating in the global UAV chips market