Industry Outlook
The veterinary wearable devices market is set to reach from US$ 1,325.3 Mn in 2017 to US$ 3,704.6 Mn by 2026 at a compound annual growth rate (CAGR) of 12.1% during the forecast period from 2018 to 2026. It is noteworthy to understand that in the last decade internet of things (IoT) has played a crucial role in gathering and relaying of vital health statistics pertaining to human health. The same technology is being developed with respect to animals which helps veterinarians to gain useful clinical information for real time decision making in critical illness. The major hurdle pertaining to this market is that majority of these wearable devices consume lots of power and has short battery life, hence making it impossible to gain uninterrupted wireless network to track and monitor animal physical and medical activities.
Market Synopsis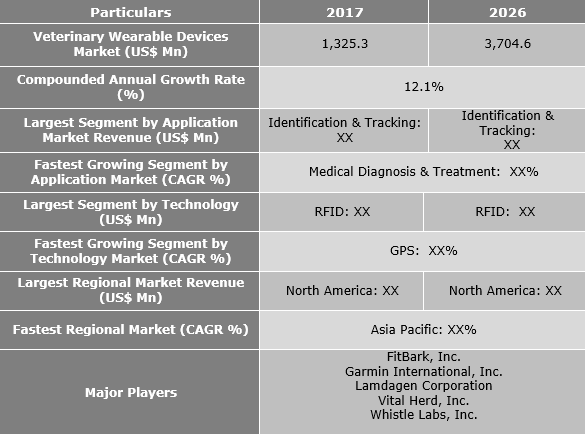 Get a sample copy for more information
"Rampant growth in cattle breeding and burgeoning requirement to maintain animal inventory drive the identification and tracking devices market"
Identification and tracking devices are leading the application segment for veterinary wearable devices market. The key factors responsible for its positive growth are rampant growth in cattle breeding and need of the hour to maintain animal inventory. These devices are useful in the creation of virtual boundaries for roaming of farm animals without the fear of being lost or stolen. Medical diagnosis and treatment is set to capture the market in the near future on account of rising prevalence of zoonotic disease and necessity to improve pet life. Veterinary wearable devices are useful in creating calorie goals for animals and monitor vital health parameters by sending mobile alerts if any abnormality is detected in animal health.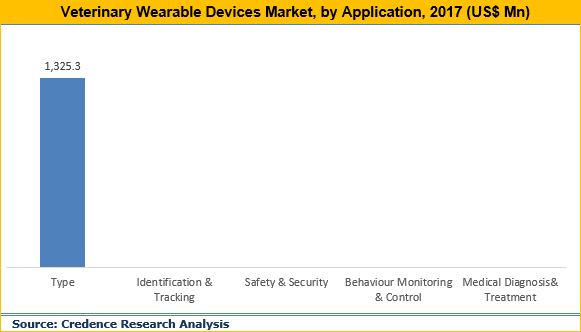 Get a sample copy for more information
"Ability to track animal health parameters and find lost pets drive the RFID technology market"
Presently RFID technology is leading the technology segment for veterinary wearable devices market. Farmers are extensively tagging their farm animals with RFID to identify each animal with their medical history and pedigree. Sophisticated technology has built new RFID tags which offer new data and options which helps in tacking animal health parameters and finding lost pets. It is being also used to manage and preserve exotic and endangered animals in wildlife habitats. GPS based devices will register excellent growth during the forecast period owing to its ability to track stolen animal and understand animal travel habits and migratory patterns of wildlife animals. Sensors have garnered tremendous attention in the last decade on account of its ability to detect various infectious disease in animals in real time without any delay.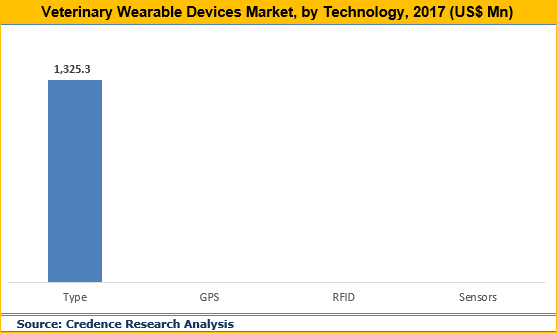 Get a sample copy for more information
"Rising awareness of sophisticated technology and increasing pet adoption drive the market growth in North America"
In the current scenario North America is dominating the regional segment with 45% market share. The primary features contributing towards its dominance are rising awareness of sophisticated technology among citizens and increasing pet adoption. Existence of major players such as FitBark, Inc., Garmin International, Inc., Whistle Labs, Inc. etc. further fortify market growth in North America region. Europe is the second largest regional market with 30% market share. Rampant growth in animal husbandry and dairy industry has led to increasing demand for ensuring safety & security and medical diagnosis and treatment of livestock. Asia Pacific accounts for a market share of 10% and will register impressive growth during the forecast period on account of huge population base of milch cattle and proactive government initiatives to protect livestock animals by remotely tracking of ruminants. It serves as a potential market for major players to promote business expansion by establishment of subsidiaries and retail outlets.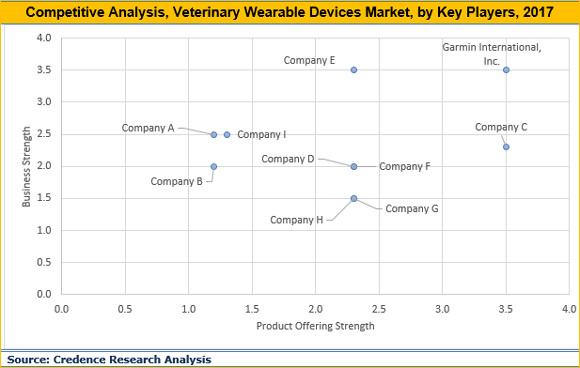 Historical & Forecast Period
This research report presents the analysis of each segment from 2016 to 2026 considering 2017 as the base year for the research. Compounded annual growth rate (CAGR) for each respective segments are calculated for the forecast period from 2018 to 2026.
Report Scope by Segments
The market segmentation comprises of by application, technology and geography.
ATTRIBUTE
DETAILS
Research Period
2016-2026
Base Year
2017
Forecast Period
2018-2026
Historical Year
2016
Unit
USD Million
Segmentation

By Application (2016–2026; US$ Mn)
• Identification & Tracking
• Safety & Security
• Behaviour Monitoring & Control
• Medical Diagnosis & Treatment

By Technology (2016–2026; US$ Mn)
• GPS
• RFID
• Sensors

Geography Segment (2016–2026; US$ Mn)
• North America (United States and Canada)
• Europe (U.K., Germany, Rest of Europe)
• Asia Pacific (China, Japan, Rest of Asia Pacific)
• Latin America (Brazil, Mexico, Rest of Latin America)
• Middle East and Africa (GCC, Rest of MEA)
Wearable device manufacturers specializing in veterinary health are FitBark, Inc., Garmin International, Inc., Inovotec Animal Care, Lamdagen Corporation, Milkline, PetPace, LLC., Tractive, TekVet Technologies Co., Vital Herd, Inc. and Whistle Labs, Inc.
Key questions answered in this report
Which wearable device companies are participating in veterinary health?
What are the latest strategic collaboration and acquisition taking place in veterinary wearable devices market?
How will the wearable devices monitor and track animal physical and mental well-being?
What is the CAGR and market size of identification and tracking application?
What is the role of biosensors in animal health?
What will be the performance of Asia Pacific region during the forecast period from 2018 to 2026?