Industry Outlook
Water being the most vital and rapidly shrinking resource on earth, equipment required to test water quality experiencing a consistent growth registering a market value of US$ 3.38 Bn in 2017. The market projected to touch US$ 5.60 Bn marks in 2026 growing with a growth rate of 5.8% throughout the forecast period from 2018 to 2026. Exploration of new water sources and treatment of wastewater are the biggest factors encouraging the need for water testing equipment and the need is not expected to cease anytime soon in coming years. Consequently, the demand for water testing equipment market is only expected to grow along with its market value.
Market Synopsis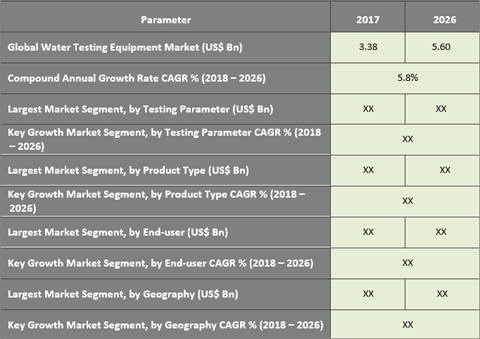 Get a sample copy for more information
"Stiff Confrontation Separates the Three Water Testing Equipment by Close Quarters"
All the three testing equipment segmented by testing parameters run in close quarters in terms of market value in 2017. All three factors including physical, chemical and biological factors play a major role in quantifying the quality of water tested. Physical factors pH, total dissolved solids (TDS), turbidity, hardness and total organic carbon (TOC) among others are measured by physical parameter water testing equipment and are extensively used for residential, industrial, pharmaceuticals, and municipal water quality checks. Chemical parameter check includes checking presence of heavy and hazardous molecules of metals and other chemical elements plays a vital role in industries, healthcare and pharmaceuticals sectors. Although on the expensive side, biological parameter water testing equipment tests coliforms, biological oxygen demand (BOD) and chemical oxygen demand (COD).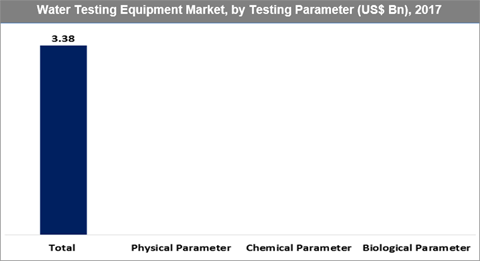 Get a sample copy for more information
"Handheld Equipment made its Way Through Other Product Type to Claim its Supremacy"
Handheld and portable water testing equipment lead the market in terms of market value. Handheld equipment is the most widely used equipment across different end-use sectors owing to their convenience and small size. Although the testing range of such equipment is limited to some degree compared to portable and Benchtop equipment, handheld is preferred by most of the end-user including industrial, hospitality and agricultural sectors. Portable equipment trails handheld equipment by close market value. In terms of accuracy and precision, benchtop equipment beats other variants and hence extensively used in research & development and healthcare end-users. Despite all factors, handled water testing equipment projected to expand at a considerable rate owing to this rate of adoption across several end-use applications.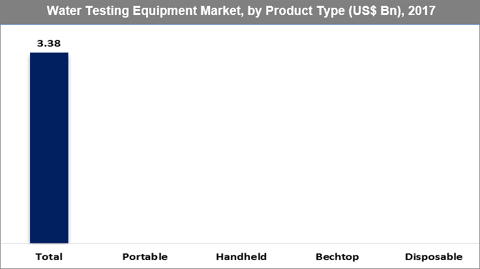 Get a sample copy for more information
"Healthcare end-user is the Biggest Ally of Water Testing Equipment Market"
Healthcare end-user is the major contributor to global water testing equipment market closely followed by government and industrial end-user. Different sectors in healthcare including pharmaceuticals and water treatment are the major consumers of water testing equipment. These sectors require optimum quality of water to be used for healthcare services and any deviation can lead to serious repercussion. Government also contribute considerably to overall market share. Government incorporation of water testing equipment for checking the public water supply and wastewater treatment facilities uplifted the procurement of equipment under this segment. Industrial manufacturing & processing, research & development, and environmental organization also have a considerable share in water testing equipment market.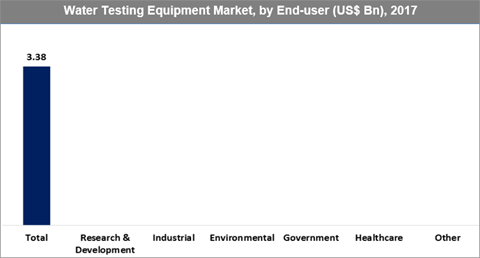 "Strict Regulation and Additional Quality Check at Every Level Lifted Water Testing Equipment Market in North America"
In 2017, America leads the global water testing equipment market followed by Europe and Asia Pacific in terms of market value. North America including the U.S. and Canada have strict regulation and guidelines with respect to quality of water. The water is checked for its quality of consumption and usage at every step and no deviation from standard value is accepted in these countries. This encouraged procurement of advanced water testing equipment for precise and accurate output at regular intervals. Europe claims a recognizable share as almost all the countries in Europe follows European Drinking Water Directive for water safety. Exploding population, growing awareness and scarcity of drinking water concentrate together with a perfect formula for growth of water testing equipment market in Asia Pacific. Consequently, Asia Pacific projected to grow with the fastest CAGR throughout the forecast period from 2018 to 2026.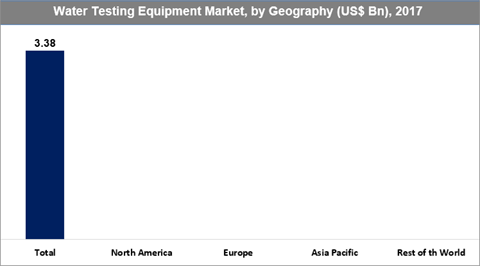 Market Segmentation
ATTRIBUTE
DETAILS
Research Period
2016-2026
Base Year
2017
Forecast Period
2018-2026
Historical Year
2016
Unit
USD Billion
Segmentation

By Testing Parameters (2016–2026; US$ Bn)
• Physical Parameters
• Chemical Parameters
• Biological Parameters

By Product Type (2016–2026; US$ Bn)
• Portable
• Handheld
• Benchtop
• Disposable

By End-user (2016–2026; US$ Bn)
• Research & Development
• Industrial
• Environmental
• Government
• Healthcare
• Other (Agriculture, Commercial, Educational Institutions, Hospitality, etc.)

Geography Segment (2016–2026; US$ Bn)
• North America (U.S. and Canada)
• Europe (U.K., Germany, France, and Rest of Europe)
• Asia Pacific (Japan, China, India, and Rest of Asia Pacific)
• Rest of World (Middle East & Africa (MEA), Latin America)
"Water testing Equipment Manufacturers Feeling the Heat of Healthy Competition in Coming Years"
With some of the top companies participating in the market, water testing equipment manufacturers expected to face intense heat in staying competitive. Companies are constantly updating their product portfolio with advanced and more precise testing capabilities. Perpetual introduction of state-of-the-art products encouraged companies to find new avenues to maintain their market position. Some of the water testing equipment manufacturing giants profiled in this research study include ABB Ltd., General Electric Company, Danaher Corporation, Thermo Fisher Scientific, Inc., Emerson Electric Co., Honeywell International Inc., Global Treat Inc., Horiba Ltd, Shimadzu Corporation, Agilent Technologies Inc., Tintometer Gmbh and Mettler-Toledo International Inc. among others.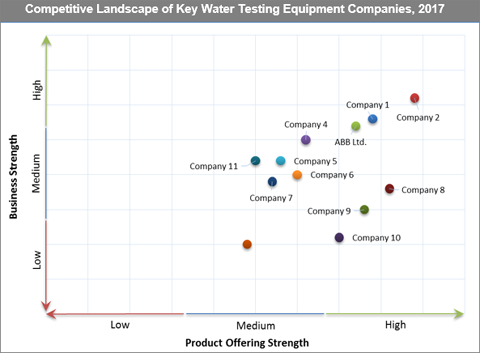 Key questions answered in this report
What are the latest trends in the water testing equipment market and potential opportunities for the players?
How government regulation and shortage of fresh & safe water will affect the global as well as regional water testing equipment market?
Which are the largest and fastest growing segment in terms of testing parameters, product type, and end-user?
Which is the most attractive geographical region/country for overall water testing equipment market?
How global warming issues play a vital role in overall water testing equipment market in coming years?
What is the market size and trends in developing regions such as Asia Pacific, Middle East & Africa, and Latin America?