Industry Outlook
Aortic stent grafts market accounted for a market value of US$ 1,605.3 Mn in 2017 and projected to grow at a CAGR of 8.1% during the forecast period from 2018 to 2026. Aortic stent grafts are used in aneurysms which is caused due to abnormally dilated arteries. The aortic stent grafts introduced are through specialized catheters that induced via minor surgical incisions in the groin. Aortic stent grafts are threaded through the abdominal aorta guided by x-ray. Thus, being a minimally invasive surgery aortic stent grafts are most preferred grafts by medical practitioners in aneurysm treatment. On 12 June 2018, The FDA Circulatory System Devices Panel of the Medical Devices Advisory Committee voted 11-4 that confirming that advantages of aortic stent grafts designed for the endovascular treatment of infrarenal abdominal aortic aneurysm overshadow the potential risks possessed by this device. The major key market drivers for the market are increasing prevalence of aneurysms coupled with geriatric population, incessant technological advancements in minimally invasive procedure techniques, and unmet needs related to healthcare & disease awareness in developing & underdeveloped countries globally.
Market Synopsis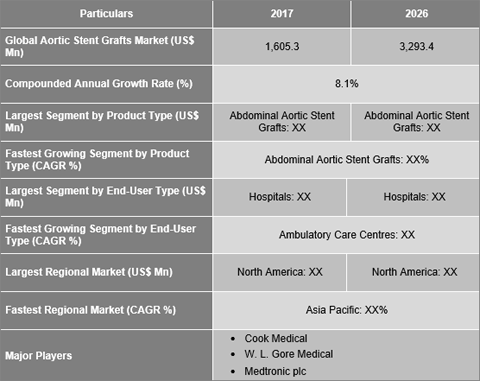 Abdominal aortic stent grafts is largest market due to increasing prevalence of abdominal aortic aneurysm (AAA)
In 2017, abdominal aortic stent grafts expected to be the largest segment due to key market drivers such as increasing adoption of minimally invasive surgeries over open surgeries, continuous development in the technology of aortic stent grafts, and long-term clinical data collected in the near future will increase abdominal aortic stent grafts demand. In 2016, abdominal aortic aneurysm specific complications were responsible for 9758 deaths in the United States, with an estimated rate of 3.0 deaths per 100,000. According to Centers for Disease Control (CDC) AAA ranks as one of the top 15 causes of death in the United States, specifically seen in people aged above 80 years.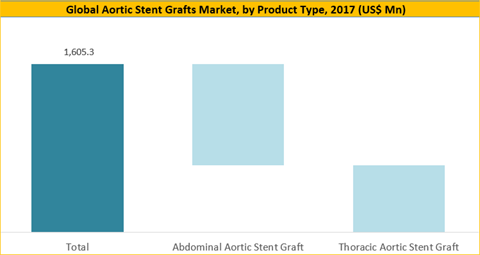 Increasing number of hospitals coupled with rising penetration of modern surgical devices expected to assist the growth of aortic stent grafts market
Hospitals segment accounted for the largest market share in year 2017 and will maintain its dominance throughout the forecast period from 2018 to 2026. The demand for skilled professionals is increasing in hospitals and expected to exhibit exponential growth in the near future with rapid increase in number of hospitals in developing countries. Supportive reimbursement policies for aortic stent grafts have also assisted the growth of aortic stent grafts market and its penetration in the market. According to a research study published in Healthcare Asia, in 2015 there were approximately 53,535 hospitals in Asia that were 33,883 in 2008, this signifies the demand growth for hospitals in Asia specifically in developing and under-developed countries. However, ambulatory care centers are growing significantly in developed and a few developing countries due to increasing demand for cost-effective, minimally invasive, and time saving aortic aneurysm treatment surgeries.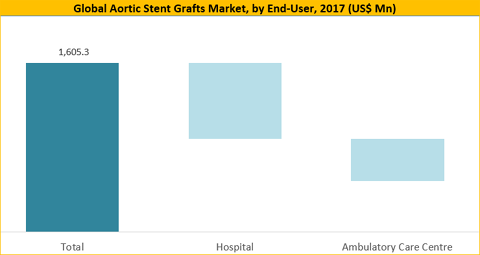 Rising prevalence of aneurysm and awareness related to early disease diagnosis is assisting the growth of aortic stent grafts market in Asia Pacific
Asia Pacific observed as the fastest growing aortic stent grafts market during the forecast period 2018 to 2026. The key drivers responsible for its growth are increasing prevalence of aortic aneurysm, rising public awareness related to early disease diagnosis, and increasing number of healthcare facilities due to spurt in economic growth of this region. North America expected to maintain its dominance throughout the forecast period due to presence of organized & supportive reimbursement policies, increasing prevalence of aortic aneurysm, and high demand for minimally invasive surgeries.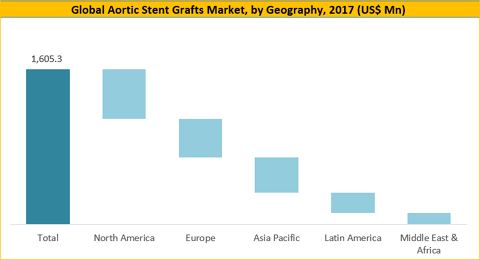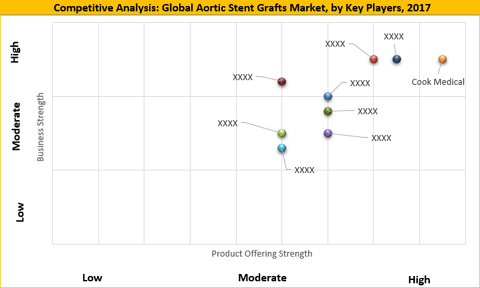 Historical & Forecast Period
2016 – Historical Year
2017 – Base Year
2018-2026 – Forecast Period
The aortic stent grafts market analyzed considering current market trends for base year 2017 and based on future trends CAGRs calculated for the forecast period from 2018 to 2026.
Report Scope by Segments
This report on aortic stent grafts market covers exhaustive qualitative and quantitative data related to the major market dynamics such as drivers, opportunities & restraints along with regional and country-specific market trends. An exhaustive summary of the global aortic stent grafts market provided in the report by segmenting the market based on product type, and geography. The objective of publishing this in-depth research report is to assist the industry stakeholders in carrying-out decisions and strategy implementation in the aortic stent grafts market.
Product Type Segment (2016–2026; US$ Mn)
Abdominal Aortic Stent Graft
Thoracic Aortic Stent Graft
End-User Segment (2016–2026; US$ Mn)
Hospitals
Ambulatory Surgical Centers
Geography Segment (2016–2026; US$ Mn)
North America

Europe


United Kingdom
Germany
Rest of Europe

Asia Pacific (APAC)


Japan
China
South Korea
Rest of APAC

Latin America (LATAM)


Brazil
Mexico
Rest of LATAM

Middle East and Africa (MEA)

This report further describes the major qualitative assessment factors including key market trends, market drivers, opportunities, and restraints, to gain precise understanding of global aortic stent grafts market. Moreover, the major players operating in the market are analyzed based several attributes such as product portfolio, business strength, and key market strategies. The report also provides attractive investment proposition based on the extensive geographical research carried out based on PESTEL analysis. Key players profiled in the report include Medtronic Plc, Cardinal Health, Inc., Cook Medical Inc., W.L. Gore & Associates Inc., Terumo Corporation Inc., ENDOLOGIX, INC., Lombard Medical, Inc., CryoLife, Inc., MicroPort Scientific Corporation, Altura Medical, and Aptus Endosystems among others.
Key questions answered in this report
Which is the in-demand aortic stent graft type in the market & Why?
What are the recent market strategies practiced by key players operating in aortic stent grafts market?
Which are the most attractive regions and countries dominating and rapidly growing in aortic stent grafts market?
Which is the largest and fastest growing aortic stent graft type globally?
What is the competitive landscape of aortic stent grafts market and strategies of key players operating in this industry?