The global Aromatherapy Oils market has bagged the revenue of USD 2,000 million in 2020 and its further anticipated to cross market size of USD 3,600 million in 2027 with CAGR of around 9% over the analysis period.
Aromatherapy Oils are essential oils extracted from herbs, flowers, barks, and leaves among others for natural healing based on aromatherapy. Aromatherapy oils help in managing pain, improving sleep quality, reducing stress and anxiety, providing relief from migraines and headaches, and improve the respiratory system. Some of the major sources for aromatherapy oils include basil, chamomile, eucalyptus, jasmine, lavender, lemon, peppermint, etc.
Rising Incidence Rate of Key Market Drivers and Restraints
Anxiety and depression is most commonly found disorder across the globe. According to WHO, more than 450 million around the world are facing problems associated with mental health such as anxiety and depression. Although there effective psychological and medicinal treatments are used to treat mental illness, aromatherapy is also widely used as essential oils are found to be very effective in reliving stress and anxiety. For instance, lavender oil is very useful for restoring sleeping cycle. This in turn driving the demand for different kinds of aromatherapy oils.
High Cost and Rigorous Regulations to Present Major Challenge for Growth
Growth of aromatherapy oils market is affected by rising prices of essentials oils and rigorous regulation from government and regulatory bodies. Scarcity of raw materials is another major concern for the manufacturers of essential oils and in turn affecting the margins. Essential oils production is expensive owing to unique attributes and requires substantial capital investment in advanced equipment's. As a result, despite their advantages, the market penetration worldwide is low.
Impact of COVID 19
The impact of COVID 19 on sales of aromatherapy oils has been remained significant in 2020 and likely to affect the market growth rate in 2021 to great extent. Shutdown of global economy and restriction on mobility of human beings had left an unparalleled impact of aromatherapy oils. However, e-commerce platform has rescued the aromatherapy oils sales to some extent as brick & mortar channels were blocked for the sales during lockdown period.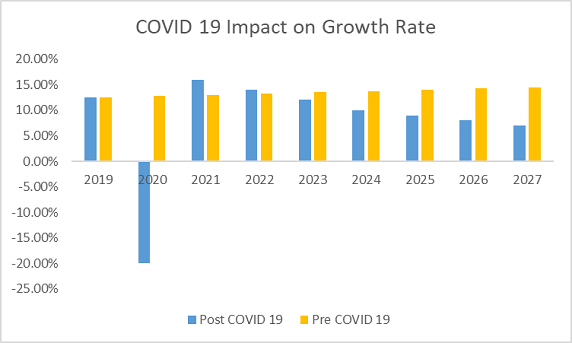 Europe Continue to Offer Strong Ground for Aromatherapy Oils
Aromatherapy oils are in great demand in Europe over the past few decades. The higher demand for aromatherapy oils in the region is outcome of the widespread awareness among the end-users. Moreover, higher purchasing power parity of end-users, increasing inclination towards use of natural products and good penetration of distribution channels across the regions is propelling the demand for aromatherapy oils in the region. However, Asia Pacific is also expected to arise as a future growth market backed by rapid growth in demand from India, China, Japan, South Korea and other prominent Southeast Asia economies. Vietnam, Indonesia, Thailand and Malaysia are prominent economies for the growth of aromatherapy oils market growth in the near future.
Hair and Skincare Products are Paving Way for the Future Growth
Hair & skincare, body ache, pain management, headaches, etc. are the major applications of aromatherapy oils. Consumers across the world are shifting towards natural products which has commenced a paradigm shift in buying patterns of the end-users. Consumer with increasing income are willing spend more for the natural and organic hair & skin care products. Particularly, millennials are major purchasing force for aromatherapy oils and expected to be major revenue channel during analytical period.
Direct Inhalation and Aerial Diffusion to Govern Delivery Modes of Aromatherapy Oils
Three modes of delivery of aromatherapy oils are aerial diffusion, direct inhalation, and topical application. Aromatherapy diffusers spread aromatherapy oils in the air and help in filling natural fragrances in the area. It helps in improving sleep, controlling appetite, reducing stress, and improving relaxation among other benefits. Direct inhalation of aromatherapy oils helps in stimulating the olfactory system, disinfecting and decongesting the respiratory system, and provide psychological relief.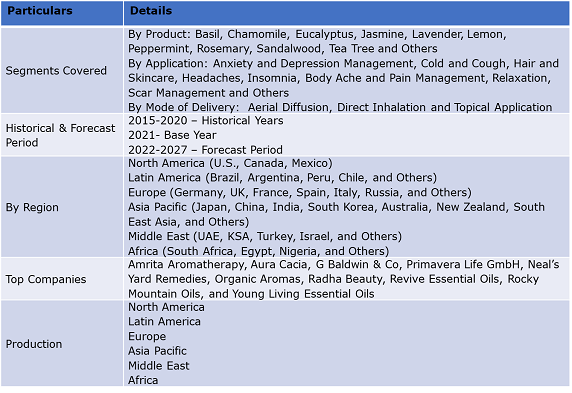 Frequently asked questions about global Aromatherapy Oils industry
What are the consequences of COVID 19 on global Aromatherapy Oils industry?

Ans: Aromatherapy Oils industry has witnessed the never before kind of consequences due to outbreak of COVID 19 pandemic and has been analyzed in detail in this latest report.
Who are the top five players in the global Aromatherapy Oils industry?

Ans: Amrita Aromatherapy, Aura Cacia, G Baldwin & Co, Primavera Life GmbH, Neal's Yard Remedies, etc. are among the top players in aromatherapy oils industry.
Which is the fastest growing application market for global Aromatherapy Oils industry?

Ans: Hair & Skincare is leading application market for aromatherapy oils on the account of increasing consumer inclination towards high quality natural products.
What are the attractive investment prepositions in the global Aromatherapy Oils industry?

Ans: Based on geography, emerging economies makes the most attractive investment options for the aromatherapy oils. With its huge population and increasing domestic demand, China and India are future growth avenues for the global aromatherapy oils industry.
What are the key challenges faced by the industry participants in global Aromatherapy Oils market?

Ans: Ever increasing prices, limited availability of raw materials and high initial investment to setup a production plant is posing major challenges for the industry participants.
What is the competitive scenario in global Aromatherapy Oils industry?

Ans: The report describes in detailed about current competitive scenario of Aromatherapy Oils industry. Aromatherapy Oils industry is characterized by the presence large number of medium and small manufacturers scattered across the world. Different species of herbs and plants are grown in different parts of world and hence market is highly fragmented.