The automotive test equipment market is predicted to witness significant growth through the forecast period 2016 – 2023 with increasing motor vehicle production across the world. In addition, the introduction of mandatory regulations to reduce fuel emission, improve vehicle safety and repair and maintenance policies in major countries across the world. All these factors are expected to drive the market for automotive test equipment in the next five years. This study on "Automotive Test Equipment Market - Growth, Share, Opportunities, Competitive Analysis, and Forecast 2016 – 2022" helps trade partner across the value chain of automotive test equipment industry to identify key investment opportunities in the market.
The research study on automotive test equipment market includes an in-depth analysis of the market driving and restraining factors related to global automotive test equipment industry. The report also provides current and future industry trends in the global as well as regional automotive test equipment market. The report includes precise information of pricing, demand-supply, and technology development. High-level analysis such as consumer behaviour analysis, PESTEL, value chain and market attractive analysis included in the report helps industry players to identify key investment areas in this industry.
The market study on automotive test equipment also provides market estimates and forecast of different types of automotive test equipment market size in the global, regional and country-level markets in terms of both revenue (US$ Bn) and volume (number of units sold). The automotive test equipment market is segmented on the basis of product type, technology and region. The report also includes cross-sectional analysis on the regional and country-level i.e. regional market size by vehicle type. This study includes market historical market size (2013 & 2014), market estimate (2015) and forecast for the period 2016 – 2022 in terms of volume and revenue.
The report profiles key players in the global automotive test equipment industry. Company profiles include extensive information about financial overview, business strategies, product portfolio, major competitors, recent developments and regional positioning of these manufacturers. The report also provides comprehensive analysis about global market competition, regional market players and suppliers and positioning of key market players in the global market along with their market winning strategies.
We have classified automotive testing equipment into following product types:
Engine Dynamometer
Chassis Dynamometer
Vehicle Emission Test System
Wheel Alignment Tester
Chassis dynamometer is commonly used for millage accumulation and emission testing. This segment accounted for the largest revenue share in 2015 and expected witness considerable growth through the forecast period 2016 - 2023. This growth is primarily attributed to its increasing installations at original equipment manufacturers' (OEM) plants. Vehicle emission test system equipment category is expected to witness the fastest growth with the initiative taken by several countries to reduce vehicle emissions and greenhouse gases (GHG). U.S., Japan, China and Europe are major markets for vehicle emission test equipment. Engine dynamometer testing equipment are used to measure torque and power from the coupled engine. Engine dynamometer is used in vehicle testing factories and automotive service centres to evaluate vehicle and engine performance. Wheel alignment testers are also expected to witness considerable growth with increasing vehicles production and introduction of wireless wheel alignment testing solutions.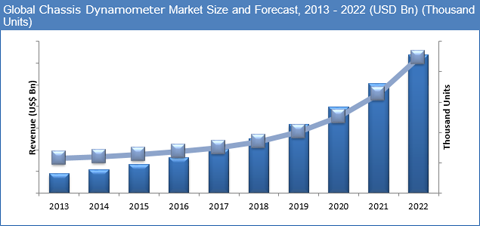 We have considered the following type of automotive test equipment to estimate the overall market size:
Handheld Scan Tool
Mobile Device-based Scan Tool
PC/laptop-based scan tool
Most of the automotive test equipment are handheld which includes emission analyzers, gas analyzers, battery testers, fuel pressure testers, air pressure and vacuum testers, thermometers, airbag scan tools and simulators, and others. The handheld scan tool segment accounted for the largest revenue share in 2015 and is expected to maintain its dominating position throughout the forecast period 2016 – 2023. Mobile device-based scan tools are expected to witness the fastest growth with continuous evolution in the user-friendly applications based car diagnostic and analyzing solutions. Vehicles manufacturers are introducing advanced vehicles equipped with electronic components and car diagnostic computers. This influencing the demand for mobile device-based scan tools. PC and laptop-based solutions are gaining popularity in wheel alignment testing application.
The global automotive testing equipment market is classified into four major regions i.e. North America, Europe, Asia Pacific and Rest of the World (RoW). The Rest of the world region is further classified into South America, Africa and the Middle East.
In addition, we have covered the following major countries in each regional market:
North AmericaU.S.
Canada
EuropeU.K.
Germany
France
Rest of Europe
Asia PacificChina
Japan
India
Australasia
Rest of Asia Pacific
Rest of the WorldLatin America
Middle East and Africa
North America is expected to witness significant demand for automotive testing equipment with increasing sale of motor vehicles, stringent emission regulations, increasing vehicle fleet and introduction of mandatory vehicle repair and maintenance laws. Asia Pacific is the largest regional market for automotive test equipment solutions and also expected to be the fastest growing regional market for automotive testing equipment throughout the forecast period 2016 – 2023 due to rising vehicle production and increasing number of independent service centers and workshops particularly in China, India and Southeast Asia.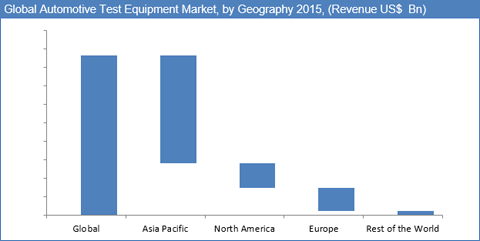 The global automotive test equipment market is classified into the following categories:
By Product Type

Engine Dynamometer
Chassis Dynamometer
Vehicle Emission Test System
Wheel Alignment Tester

By Technology

Handheld Scan Tool
Mobile Device-based Scan Tool
PC/laptop-based scan tool By Region

North America
Europe

U.K.
Germany
France
Rest of Europe

Asia Pacific

China
Japan
India
Australasia
Rest of Asia Pacific

Rest of the World

Latin America
Middle East and Africa