Industry Outlook
Bariatric surgery devices market estimated to reach US$ 3,163.5 Mn by 2026 from US$ 2,006.0 Mn in 2017, at CAGR of 5.1% during the forecast period. Bariatric surgery employs numerous techniques for treating obesity such as balloon placement or banding of the stomach. According to American Society for Metabolic and Bariatric Surgery, in 2010, sleeve gastrectomy accounted for 9.3%, while gastric bypass surgery account for 58.4% procedures and 28.8% were gastric band procedures in the United States. This trend changed within few years due to increased adoption of sleeve gastrectomy surgery, where sleeve gastrectomy and gastric bypass counted for 49% and 43.8% share respectively and the share of gastric band procedures has plummeted to 6%. Such drastic change in the adoption of procedures has affected the dynamics in the global bariatric surgery market. According to our report, the market share (in terms of value) of the gastric band has decreased to less than 10% in 2017. Containment in post-surgical infection, faster treatment outcomes, and permanent nature of this procedure have led to increased adoption of sleeve gastrectomy. Furthermore, with the increased adoption of minimally invasive therapies globally, the market of devices engaged in these surgeries have surged in the recent years. For instance, surgical stapling and trocars contribute more than 30% of the market share in 2017.
According to a study published by Gen re Business School, the prevalence of obesity in Asia Pacific vary from 28.3% in New Zealand to 1.7% in Vietnam in 2008. Further, the prevalence of obesity in china increased to 27.9% in 2013 from 11.3% in 1980. Such high growth of obesity coupled with increased prevalence in the region contributes to the growth of the Asia Pacific market. Additionally, Asia Pacific expected to be the most lucrative market owing to growing urban population, favorable government initiatives, increasing medical tourism and high prevalence of obesity. Furthermore, growth in Middle East & Africa is higher than the global growth rate of the market tailing Latin America.
Market Synopsis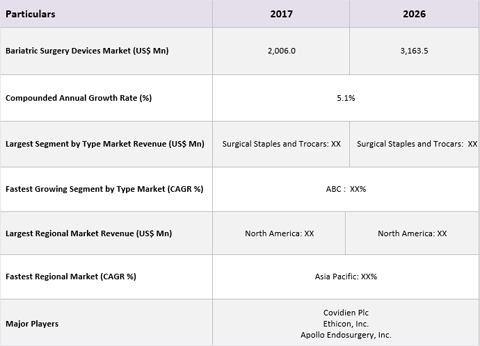 Surgical Staples and Trocars are leading the global bariatric surgery market
In 2017, surgical staples and trocars segment dominated the market with more than 30% value share. With the adoption of advanced technologies in terms of safety outcomes, the segment is expected to retain its dominance during the forecast period. Different types of bariatric surgeries utilize a variety of surgical devices ranging from adjustable gastric bands to gastric surgery clamps. Majority of the devices used in bariatric surgeries are reusable, thereby poised to grow at a steady pace throughout the forecast period. However, the adoption of the surgeries involving intra-gastric balloons and gastric bands has reduced in the recent years with the introduction of minimally invasive surgeries, which affects the growth of market for these devices. Furthermore, certain players including Medtronic have introduced implantable gastric stimulators in the market and the device has performed well in the treatment of obesity. Additionally, implantable gastric stimulators segment is opined to experience a surge during the forecast period owing to higher demand for minimally invasive therapies.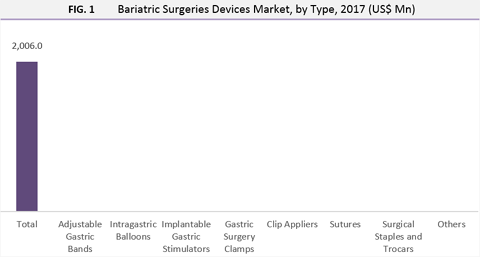 Asia Pacific estimated to experience the fastest growth during the forecast period
In 2017, the global bariatric surgery market was led by North America with more than 35% revenue share. According to the Center for Disease Control and Prevention (CDC), one-third of the U.S adults are obese. The surge in obesity cases has led to the increase in demand for bariatric surgery, thereby making North America a prominent regional market. In terms of market value, Europe followed North America in 2017 and estimated to follow the pattern during the forecast period. High obesity rates clubbed with high penetration of technologically advanced procedures are considered as major market drivers in Europe. Furthermore, promising government initiatives in the region are also estimated to play a crucial role in the growth of the market. In terms of obesity and overweight prevalence, Asia Pacific follows North America. High prevalence combined with the presence of vast available opportunities expected to aid Asia Pacific to experience the fastest growth during the forecast period.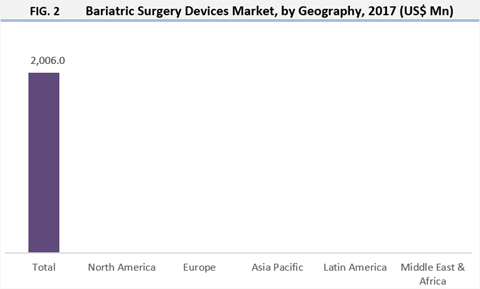 Manufactures/Key players riding high on stapling devices as major revenue contributors
In 2014, Medtronic and Covidien entered an agreement to merge with an intention to not just buy out the competition, but also diversify the product offering. Covidien has highlighted the sales of stapling devices in its annual report and titled staplers as the most prominent revenue generating products. Furthermore, the global market is projected to surge during the forecast period owing to launch of innovative technologies for the treatment of obesity. For instance, in February 2017, Medtronic launched an innovative surgical stapler for minimally invasive bariatric surgery, Signia Stapling System. The market players are focusing on the development of minimally invasive therapies for ensuring patient compliance. Other prominent players in this market include Apollo Endosurgery, Inc., Ethicon, Inc. and Intuitive Surgical, Inc.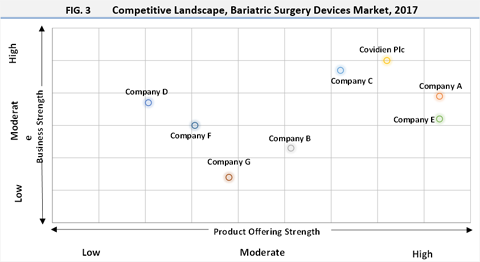 Historical & Forecast Period
2016 – Historical Year
2017 – Base Year
2018-2026 – Forecast Period
Market analysis for the period from 2016 to 2026 is presented along with Compounded Annual Growth Rate (CAGR) for the forecast period while considering 2017 as the base year.
Report Scope by Segments
This comprehensive report on bariatric surgery devices market presents the market outlook along with the market trends in different regions. The report describes the comprehensive outline of the market by segmenting in terms of type and geography. This report is primarily focused to aid the market stakeholders and healthcare professionals in making strategic initiatives and better decisions in the market.
Product Segment (2016–2026; US$ Mn)
Adjustable Gastric Bands
Clip Appliers
Implantable Gastric Stimulators
Intragastric Balloons
Gastric Surgery Clamps
Sutures
Surgical Staples and Trocars
Others (Closure Devices, Pouches, Shears, Scalpel)
Geography Segment (2016–2026; US$ Mn)
North America
Europe

Germany
United Kingdom
Rest of Europe

Asia Pacific

Japan
China
Rest of Asia Pacific (APAC)

Latin America (LATAM)

Brazil
Mexico
Rest of LATAM

Middle East and Africa (MEA)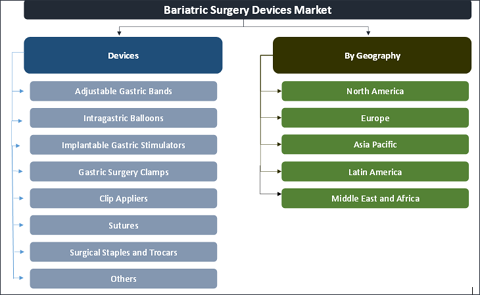 This report further elucidates the key qualitative assessment factors including market drivers & restraints, market trends to aid in enhanced understanding of bariatric surgery devices market. Furthermore, the key players are graphically mapped based on their product offering, business strength and market strategies. The attractive investment proposition is presented based on device type and geographical research. Major players that are profiled in the report include Apollo Endosurgery, Inc., Covidien Plc, EnteroMedics, Inc., Ethicon, Inc., Intuitive Surgical, Inc., Reach Surgical, Inc., Spatz FGIA, Inc., TransEnterix, Inc., and USGI Medical, Inc.
Key questions answered in this report
Which are the prominent bariatric surgery devices?
With the advent of minimally invasive therapies, adoption of which devices have surged in the recent years?
What are the current market trends in the bariatric surgery devices industry and valuable growth opportunities for the players?
Which prominent geographies are appropriate for product launch?
What is the size of North America bariatric surgery devices market; and how the other regional markets stand in the global competition?