Industry Outlook
Outsourcing of development and manufacturing activities is critically growing among several pharmaceutical manufacturers. This enables the companies to focus on their core competencies. Furthermore, research and development activities take over a significant amount of labor and expenses for many pharmaceutical manufacturers, the infrastructure cost for the same is also significantly high. Hence, the offered economic efficiency from outsourcing of drug development activities boos the demand for bioanalytical testing services.
Several blockbuster drugs from the last decades are going off patent. This will drive investments from companies for new molecule development. However, many of the major chronic disease areas are already crowded leaving a minimal scope for making a mark. This phenomenon has also led several companies to opt for initiating research in niche areas of rare diseases and palliative care. In order to ensure rapid commercialization of their products in the increasingly competitive pharmaceuticals market, more and more pharma companies are diverting their R&D activities to CROs, therefore driving the market growth. Additional drivers of this market include growing complexity of single molecule entities, growing complexity of molecules and so on. This requires the pharmaceutical developers to keep abreast with latest technologies and developments, which can be conveniently coped with opting for bioanalytical testing services.
Market Synopsis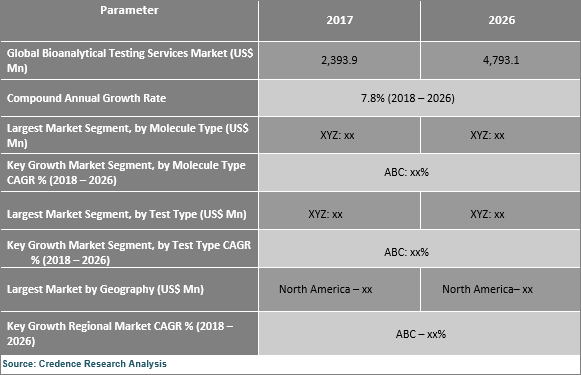 Services for large molecules to pick demand during the forecast period
Based on the molecule types, small molecule segment captures the larger share of the global bioanalytical testing services market. Small molecules occupy a significant share of the overall generic and branded drugs, and with the upcoming patent expiries of many of such entities, manufacturers will increasingly seek bioanalytical tests for further innovation in these drugs and further pipeline. Conversely, large molecule segment shall be witnessing rapid growth during the forecast period. The growth of this segment is attributed to the large biologics and amino acid based drugs pipeline. Bioanalytical testing of large molecules also require significant skills and technical expertise, which can be efficiently met by outsourcing to bioanalytical test service providers.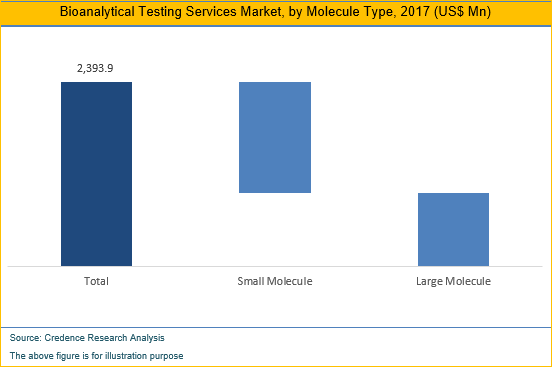 Bioavailability and bioequivalence tests to gather prominent market share
ADME testing, pharmacodynamics (PD) testing, pharmacokinetics (PK) testing, bioavailability testing, and bioequivalence testing are some of the key test types gathering the largest revenue share in the market for bioanalytical testing services. Among these bioequivalence and bioavailability testing occupy the larger revenue share in the global market, as these services have the highest registration. Other tests for pharmacodynamics and pharmacokinetics shall also pick considerable pace during the forecast period.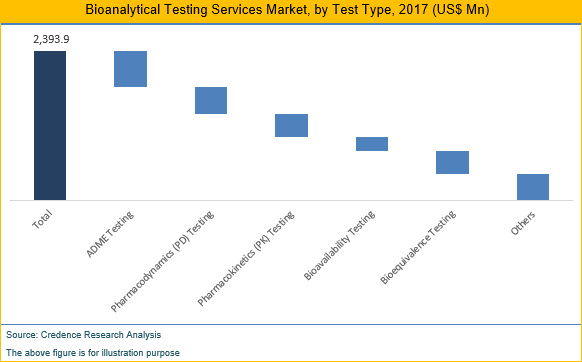 North America and Asia Pacific to determine the global market trends
At present, North America is the most prominent regional market for bioanalytical testing services. The dominance of North America is attributed to domicile of several large pharmaceutical manufacturers, large product pipeline in the USFDA, and rapid adoption of advanced analytical technologies in the region. North America is also characterized with the growing interest of drugs developers and manufacturers to reduce their research and manufacturing costs, and focus on core competencies, this is driving their interest in CDMO services. On the other hand, Asia Pacific shall be witnessing rapid growth in terms of swift influx of research outsourcing in the region. India and China are the most prominent hubs for CRO activities in Asia Pacific. Availability of services at low costs, and presence of higher skills drive the swift growth of Asia Pacific market.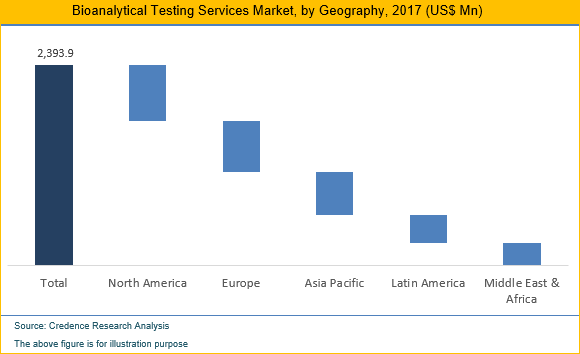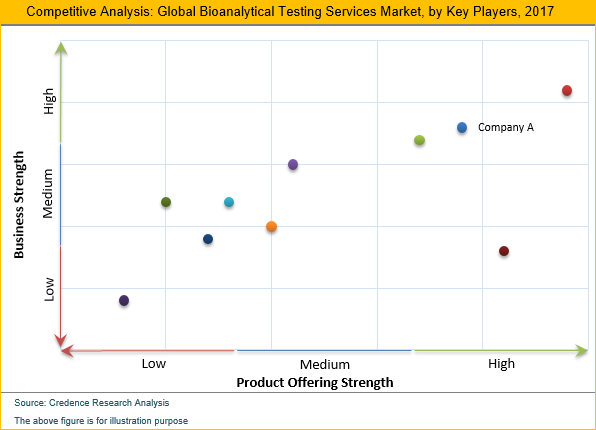 Historical & Forecast Period
2016 – Historical Year
2017 – Base Year
2018-2026 – Forecast Period
This research report presents the analysis of each considered segment for the period from 2016 to 2026, having 2017 as the base year for estimations. Compounded annual growth rates (CAGRs) for each segment are calculated for the forecast period from 2018 to 2026.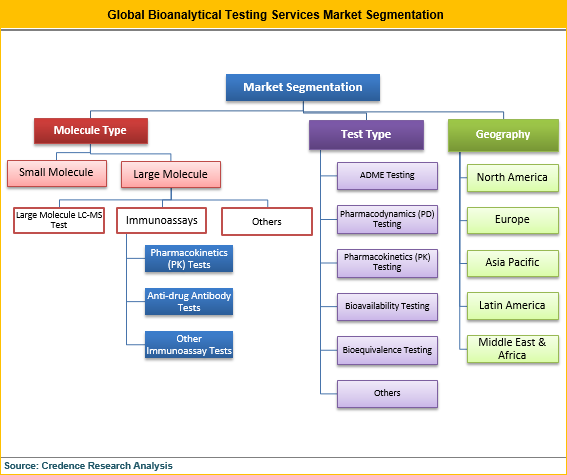 Report Scope by Segments
The bioanalytical testing services market report provides quantitative assessment of the industry terms of current and forecasted market size, while also presenting the market dynamics. This market is segmented based on molecule types, test types and geography.
Molecule Type (2016–2026; US$ Mn)
Small Molecule
Large Molecule

Large Molecule LC-MS Test
Immunoassays

Pharmacokinetics (PK) Tests
Anti-drug Antibody Tests
Other Immunoassay Tests

Others
Test Type (2016–2026; US$ Mn)
ADME Testing
Pharmacodynamics (PD) Testing
Pharmacokinetics (PK) Testing
Bioavailability Testing
Bioequivalence Testing
Others
Geography Segment (2016–2026; US$ Mn)
North America

Europe


U.K.
Germany
France
Italy
Rest of Europe

Asia Pacific (APAC)


China
Japan
India
Australia
Rest of APAC

Latin America (LATAM)


Brazil
Mexico
Rest of Latin America

Middle East and Africa (MEA)


GCC
South Africa
Rest of Middle East and Africa
This report also includes company profiles section that gives insights on the company overview, product portfolio, financial information and key developments of major market players. The major players profiled in this report include IQVIA, PAREXEL International, Tandem Labs Inc., Pharmaceutical Product Development, LLC, Covance Inc., Celerion Inc., Eurofins Scientific, Charles River Laboratories, Inc., PRA Health Sciences, Pharmaron, QPS Holdings, ICON PLC, Syneos Health, Laboratory Corporation of America and SGS SA.
Key questions answered in this report
What shall be the market size of the global bioanalytical testing services market during the forecast period from 2018 to 2026?
Which are the key attributing factors that support the upward growth of this market?
Which are the key opportunities and pain points that the current and aspiring market players require to assess?
What are the major strategies that are observed to be followed by major market players?
Which segments occupy prominent market position, and why?