"Blood dialyzer market to exhibit dynamic growth during the forecast period"
The global blood dialyzer market is increasing proficiently, expected to grow at a CAGR of 7.0%. Worldwide, the increasing prevalence of chronic or acute kidney failure and other kidney-related disorders along with hemodialysis (procedure for removal of waste from the blood) procedures will drive the overall growth of the market. Growing awareness about new synthetic membrane technology to overcome the limitations by traditional procedures along with the launch of advanced products with compatible solutions will increase the overall demand in the near future. Increasing popularity of renal replacement therapy, increasing burden of kidney diseases/urinary disorders in the developing nations, rising geriatric population, and rise in the number of U.S. FDA approvals for blood dialyzers will further spur revenue growth during the forecast period.
Market Synopsis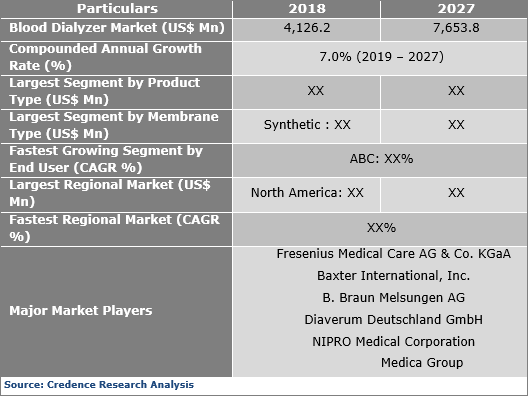 Get a sample copy for more information
"Synthetic products expected to register higher growth by the end of 2027"
Advancement in synthetic dialyzer along with the development in the field of membrane materials and biocompatibility will drive the market growth. Non-synthetic membranes types are mainly derived from natural products such as cotton and are less biocompatible compared to synthetic products. For e.g. PSf (polysulfone and a family of polysulfone blends), PES (polyethersulfone), CTA (cellulose triacetate), PMMA (polymethylmethacrylate), PEPA (PES plus polyarylate), EVAL (ethylene vinyl alcohol copolymers) and PAN (polyacrylonitrile). High flux dialyzers will generate maximum revenue share on a global scale. Membranes in the new super high-flux dialyzers are primarily PES and PSf.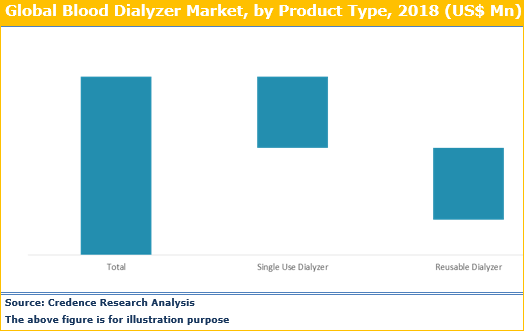 Get a sample copy for more information
"Single use dialyzers to witness a significant CAGR"
Preference for single use dialyzers generated maximum market share in 2018, reusable products may contain the risk of infection and contamination. Moreover, a large patient pool with kidney failure and renal diseases, mainly end stage renal disorder on a global scale will drive the growth globally. Advancement in synthetic membrane technology along with usage of high flux synthetic membranes in dialysis centers and hospitals offers a huge advantage in the global blood dialyzer industry. For e.g. In June 2018, FDA approved Ellipsys Vascular Access System for non-surgical dialysis fistula creation and everlinQ endoAVF receives FDA de novo marketing approval.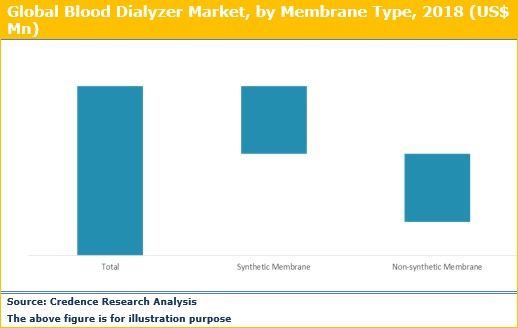 Get a sample copy for more information
"Increased research and development with strong product pipelines in the developed regions"
Major players in the blood dialyzer market are Fresenius Medical Care AG & Co. KGaA, Baxter International, Inc., B. Braun Melsungen AG, Diaverum Deutschland GmbH, NIPRO Medical Corporation, Medica Group, Dialifegroup, Asahi Kasei, NIKKISO CO., LTD., Allmed Medical Care Holdings Limited, Farmasol, Serumwerk Bernburg AG and others. Major enterprises are developing new synthetic technology and advanced biocompatible materials with collective biological solutions. New product launch, partnerships, acquisitions, technology expansion in developing nations and enhanced R&D on blood dialyzers will drive the market growth during the forecast period.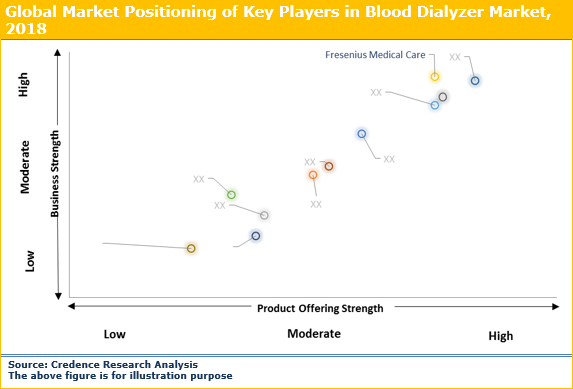 Historical & Forecast Period
This study report represents analysis for each segment from 2017 to 2027 considering 2018 to be the base year. Compounded Annual Growth Rate (CAGR) for each of the respective segments estimated for the forecast period from 2019 to 2027.
Report Scope by Segments
Market Segmentation
ATTRIBUTE
DETAILS
Research Period
2017-2027
Base Year
2018
Forecast Period
2019-2027
Historical Year
2017
Unit
USD Million
Segmentation

Product Type (2017–2027; US$ Mn)
• Single Use Dialyzer
• Reusable Dialyzer

Membrane Type (2017–2027; US$ Mn)
• Synthetic Membrane
• Non-synthetic Membrane

End User Segment (2017–2027; US$ Mn)
• Hospitals and Clinics
• Dialysis Centers
• Ambulatory Surgical Centers
• Home Care Settings

Geography Segment (2017–2027; US$ Mn)
• North America (U.S., Rest of North America)
• Europe (U.K., Germany, France, Rest of Europe)
• Asia Pacific (Japan, China, India, Rest of Asia Pacific)
• Rest of the World (Middle East & Africa, Latin America)
The current report also comprehends qualitative and qualitative market valuation factors such as key market drivers, market trends, restraints and opportunities that gives a better market understanding of the overall blood dialyzer market. Additionally, the global report also comprises graphical representation of competitive landscape based on their market initiatives and strategies, product portfolio and business strengths.
Key questions answered in this report
What are the current market trends and dynamics in the blood dialyzer market and valuable opportunities for emerging players?
Which segment accounts for the fastest CAGR during the forecast period and why?
Which product type segment holds a larger market share and why?
Are low and middle-income economies investing in the blood dialyzer market?
What is the market trend and dynamics in emerging markets such as Asia Pacific, Latin America and Middle East & Africa?