Industry Outlook
The global cancer diagnostics market to reach US$ 115.3 Bn in 2026 growing at compound annual growth rate (CAGR) of 6.1% during the forecast period from 2018 to 2026. The prime factors driving the global cancer diagnostics market is the rising prevalence of cancer worldwide. As per the World Health Organization (WHO), cancer accounted for the second leading cause of mortality, claiming to 8.8 million deaths in 2015 globally. The National Cancer Institute estimated around 1,685,210 new cancer cases in 2016 in the United States. As per the Centers for Disease Control and Prevention (CDC), cancer cases anticipated to increase by 2 million each year by 2020. Such continuous rise in prevalence of cancer would propel the demand for cancer diagnostics ensuring persistent remunerative growth across the forecast period. Advancements in omics technologies, imaging techniques, surge in government funding for cancer research, growing healthcare expenditure and demand for personalized medicines would further propel cancer diagnostics market during the forecast period. Development in genomics and next generation sequencing technique have revolutionized cancer diagnostics and cancer management by analysing multiple biomarker and mutations for early cancer treatment regimes. Development in radiology techniques also known radiomics have benefitting effects of cancer diagnostics market. For instance, radiological imaging are non-invasive in nature and provides 3D picture of solid tumor unlike conventional biopsies and can be performed multiple time with any adverse effects on the body. Development of technologically advanced mammography, PET and SPECT scan, and other imaging modalities for cancer detection have positively impacted the cancer detection accuracy and projected to contribute substantial market revenue during the forecast period.
Market Synopsis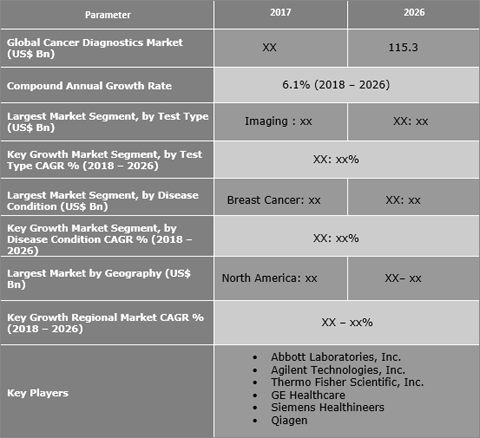 Get a sample copy for more information
Advent of Cancer Biomarker Technique to Drive the Market during the Forecast Period
In 2017, imaging segment held the largest share in the global cancer diagnostics market. Imaging techniques are the usually the first type of test carried out for any cancer diagnostics along with number of genomics and laboratory tests. Advancements in the medical devices market space have positively impacted the growth of imaging segment in cancer diagnostics owing to accurate results, better tumor outlook, non-invasiveness and quick solutions. Biomarkers have proved fruitful for diagnosis, monitoring and predicting the therapeutic treatment and its efficacy. For instance, the widespread application of prostate specific antigen (PSA) and BRCA gene in the screening of prostate cancer and breast cancer respectively have led to the discovery studies for different types of cancer as well. For example, in the near future a serum or urine test may derive clinical decisions in every phase of cancer. Thus complementing and substituting the current invasive techniques.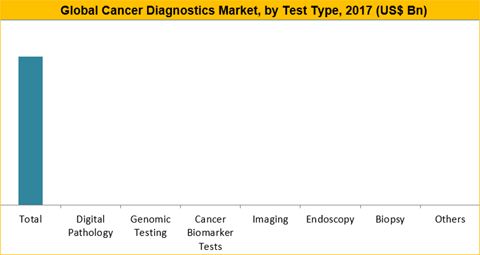 Get a sample copy for more information
North America Held Lion's Share in Cancer Diagnostics Market
North America being the spearhead in the cancer research have emerged as the leading market in cancer diagnostics market, while Asia Pacific is heading towards being the hub for oncology research due to growing contract research organizations and increased investments from industry giants. Hence, Asia Pacific is projected to proliferate rapidly during the forecast period. Huge investment by government research institutes in discovery of novel cancer diagnostic techniques have boosted the growth in various cancer detection techniques. U.S. have highly supported the development of novel cancer biomarker tests due to its accuracy in early detection of cancer. For instance, Mammaprint is a gene expression-based biomarker that predicts the recurrence of breast cancer after chemotherapy. Asia Pacific is holds a high potential in the cancer diagnostics market due to high target population in the region. Developing healthcare infrastructure, availability of sophisticated imaging center in Japan, China, Australia and India will further drive the market in the region.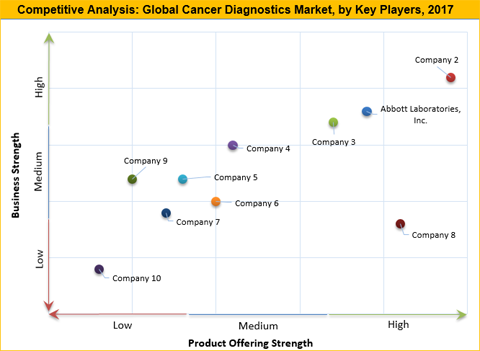 Get a sample copy for more information
Historical & Forecast Period
This research report presents the analysis of each segment from 2016 to 2026 considering 2017 as the base year for the research. Compounded annual growth rate (CAGR) for each respective segments calculated for the forecast period from 2018 to 2026.
Report Scope by Segments
Cancer Diagnostics market report furnishes quantitative analysis along with its latest market trends. The market is segmented based on test type, disease condition, and geography.
ATTRIBUTE
DETAILS
Research Period
2016-2026
Base Year
2017
Forecast Period
2018-2026
Historical Year
2016
Unit
USD Billion
Segmentation

By Test Type (2016–2026; US$ Bn)
• Digital Pathology
• Genomic Testing
• Cancer Biomarker Tests
• Circulating Tumor Cells (CTC) Tests
• Prostate Specific Antigen Tests
• Alpha-Fetoprotein (AFP) Test
• Cancer Antigen Tests (CA 19-9 Test, CA 125 Test)
• EGFR Mutation Tests
• HER2 Test
• BRCA Test
• Others (KRAS Mutation Tests, ALK Test and CEA Tests)
• Imaging
• Positron Emission Tomography (PET) Scan
• Magnetic Resonance Imaging (MRI) Scan
• Computed Tomography (CT) Scan
• Mammography
• Ultrasound
• Endoscopy
• Biopsy
• Others (Barium Enema, Bone Scan)

By Disease Condition (2016–2026; US$ Bn)
• Breast Cancer
• Lung Cancer
• Prostate Cancer
• Blood Cancer
• Colorectal Cancer
• Ovarian Cancer
• Liver Cancer
• Other Cancers (Skin Cancer, Kidney Cancer, Cervical Cancer)

Geography Segment (2016–2026; US$ Bn)
• North America (United States and Canada)
• Europe (U.K., Germany, Rest of Europe)
• Asia Pacific (China, Japan, Rest of Asia Pacific)
• Latin America (Brazil, Mexico, Rest of Latin America)
• Middle East and Africa (GCC, Rest of MEA)
Market is studied in order to understand the current dynamics and future trends in the global cancer diagnostics market. The study includes market size and forecast for all considered segments presented in the report for the period from 2016 to 2026, along with respective compound annual growth rate (CAGRs) for the forecast period from 2018 to 2026, considering 2017 as the base year. The prominent players operating the global cancer diagnostics market are Abbott Laboratories, Qiagen, F. Hoffman-La Roche, Alere, Inc., GE Healthcare, Siemens Healthineers, Agilent Technologies, among others. The companies are engaging in mergers and acquisitions to maintain competency in the market. In 2017, Abbott Laboratories, Inc., acquired Alere, Inc. to extend its product offering in cancer diagnostics and other point-of-care diagnostics solutions.
Key questions answered in this report
How the global cancer diagnostics market will perform during the forecast period from 2018 to 2026?
What are the latest trends in the cancer diagnostics market and valuable opportunities for key players?
Who are the leading players in the global cancer diagnostics market?
Which is the leading/and fastest region in the global cancer diagnostics market?
Currently, what are the regulatory structure for the cancer diagnostics?
What are drivers and restrains governing the global cancer diagnostics market?
What is the future of cancer diagnostics and how it will shape the cancer detection and therapeutic management