Cement is a binding agent and a key ingredient in concrete and mortar, which is mainly used in construction industry. The demand for cement is strongly correlated to the rate of economic development. Cement manufacturing is the third largest energy consuming and CO2 emitting sector. It is widely used in residential end-sue segment. Cement is used in several other nonresidential applications and infrastructure projects. Increasing demand from these end-use segments is projected to propel the demand for cement during the forecast period.
Considering the economic overview of the market, Asia Pacific is expected to account for a major revenue share of the global cement market. In 2016, Asia Pacific accounted for more than 70% market revenue share in global cement market. This is attributed to strong growth in residential construction sector especially in India and China. Market size and forecast of each end-use segment is presented for the period 2015 to 2025 along with respective CAGR % for the forecast period 2017-2025.
Geographically, the global cement market is studied for the following regional markets:
North America
Europe

Germany
Denmark
Belgium
Great Britain
Poland
France
Spain
Switzerland
Italy
Czech Republic
Russia
Rest of Europe

Asia Pacific

China
India
Japan
Kazakhstan
Rest of Asia Pacific

Latin America

Brazil
Mexico
Rest of Latin America

Middle East and Africa

Algeria
Turkey
Dubai
Saudi Arabia
Egypt
South Africa
Rest of Middle East & Africa
The market size and forecast for the period 2015-2025 along with the CAGRs for the period 2017-2025 for the mentioned segments are also presented in this study.
Qualitative information sets such as market dynamics (drivers, challenges and opportunities) and market inclination insights are provided in this market assessment report. Tools such as competition assessment and attractive investment proposition are also included in this study for assessment of market competition. The report concludes with company profiles section that highlights key information about the major market players operating in the global cement market.
Anhui Conch Cement Co., Ltd., CEMEX S.A.B. de C.V., China National Materials Co., Ltd., Eurocement Group, UltraTech, Taiheiyo Cement Corporation, Heidelberg Cement AG, LafargeHolcim Ltd., China Tianrui Group Cement Company Limited, China Shanshui Cement Group Ltd., Buzzi Unicem S.p.A., CIMPOR - CIMENTOS DE PORTUGAL, SGPS, S.A., Siam Cement Group Public Company Limited, Jaypee Group, Vicat SA, Dangote Group, Fars & Khuzestan Cement Co., OYAK (Ordu Yardimlasma Kurumu) Cimento A.S., Cementir Holding S.p.A., Ramco Cements Ltd., Mitsubishi Materials Corporation, TPI Polene Public Company Ltd., Limak Holding A.S., Saudi Cement. ITD, JK Cement Ltd. are few key manufacturers in the global cement market.
The global cement market is expected to reach over US$ 725.26 Bn by 2025, growing at a CAGR of 7.3% during the forecast period 2017-2025.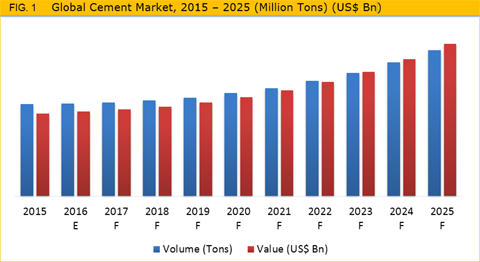 Purpose of the Report
The purpose of this strategic research study titled "Global Cement Market - Growth, Opportunities, Share & Competitive Analysis, 2017 – 2025" is to offer industry investors, company executives, and industry participants with in-depth insights to enable them make informed strategic decisions related to the opportunities in the cement market.
Target Audience
Industry Investors
Cement Providers/Vendors
Research Professionals
Emerging Companies
Raw Material Suppliers/ Buyers
Product Suppliers/ Buyers
Research Institutes
USP and Key Offerings
The report titled "Global Cement Market - Growth, Opportunities, Share & Competitive Analysis, 2017 – 2025" offers strategic insights into the overall cement market along with the market size and estimates for the duration 2017 to 2025. The said research study covers in-depth analysis of multiple market segments based on types, end-use and cross-sectional study across different geographical regions.
In order to help strategic decision makers, the report also includes competitive profiling of the leading players in cement market in terms of business description, financial performance, product portfolio, and business strategies. Other in-depth analysis provided in the report includes:
Current and future market trends to justify the forthcoming attractive markets within the cement industry
Market drivers, market impediments, and their impact on the market growth
In-depth competitive environment analysis
Historical Years market size data (2015 & 2016)
Overall, the research study provides a holistic view of the treatment global cement market, offering market size and estimates for the period from 2017 to 2025, keeping in mind the above mentioned factors.